ROBERT GORDON LAING (1891-1957)
EUPHEMIA "EFFIE" BEGG (1894-1944)
(Last Updated: May 22, 2015)
Robert Gordon (Bob) LAING was born May 28, 1891 in Pollockshields East, Glasgow, Scotland, son of Janet MOULTRIE and John Cook LAING (1854-1937) from Scotland, an Analytical Chemist and later an Accountant.
Inspiration for this Page came from Robert's great grandson Brent LAING through donations. I hope to develop the LAING family history more thoroughly in cooperation with him. In fact most of the information comes from Family Trees that were created by Brent LAING and Heather PYRCH (also a LAING descendant) on Ancestry.com.
Immigrated to Winnipeg
1912
In 1912 Robert (age 21) immigrated to Canada (Winnipeg) with his parents.
World War I
1914-1918
On Aug 4, 1914 Great Britain (Canada on Aug 5) declared war on Germany and Austria-Hungary to uphold treaties with France and Belgium which were under German attack. This marked the beginning of World War I.
On July 7, 1915 Robert enlisted with the Canadian Over-seas Expeditionary Force at Winnipeg. In his Attestation Papers he was described as 24 year old farmer; 5' 8", fair complexion, hazel eyes and light brown hair. He was a member of the Winnipeg Grenadiers and the 54th Fort Garry Horse Regiment. He stated his next-of-kin as his father, John LAING of 358 Lipton Street in Winnipeg.
In the 1916 Census Robert's parents (Janet and John LAING) and his sisters Nettie (age 35) and Alma (age 31) were enumerated at 629 Spruce Street in Winnipeg. His father was listed as an Accountant at that time.
November 11,1918, Armistice Day (Remembrance Day) marked the end of the First World War.
Marriage to Effie BEGG
1920
On Oct 9, 1920 Robert married in Selkirk to Euphemia "Effie" BEGG, daughter of Margaret Jane FIDLER & Robert James BEGG (1860-1927). ** MORE ABOUT ROBERT JAMES BEGG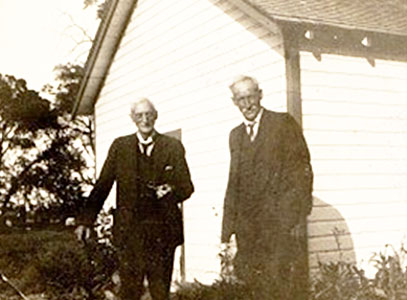 Bob's father, John Cook Laing, and Effie's father, James Robert Begg
(From Heather Pyrch)
Census of 1921 in the RM of 2113 Roseburg Street, St James (Winnipeg): Robert Gordon LAING, Market Gardener, age 26, and his wife Euphemia, age 27.
In 1923 daughter Ethel Doreen was born in Selkirk. In 1925 daughter Yvonne was born.
At some point Bob became a Poultry Inspector with the Government of Canada.
On Sep 28, 1928 twins Gordon Ian and Mae were born in Moose Jaw, Saskatchewan.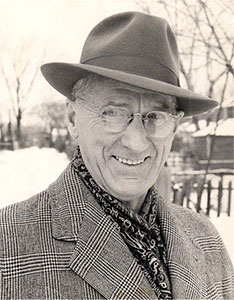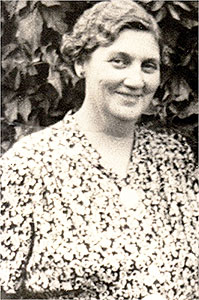 Robert Gordon Laing and Effie (nee Begg) Laing
(From Heather Pyrch)
Ontario
At some point Bob and his family moved to Ontario.
World War II
1939-1945
On Sept 4, 1939 Canada and Britain declared war on Germany, and almost immediately new recruits began pouring into Winnipeg to sign up with the Winnipeg Grenadiers and the Royal Rifles of Canada.
On April 4, 1945 Euphemia (nee BEGG) LAING died in North Bay, Ontario.
On May 7, 1945 Germany surrendered and the War in Europe ended; the next day, May 8, is declared VE Day.
By 1949 Bob was living on Christie Street in Toronto where he lived the rest of his life (Voters Lists).
On Aug 14, 1957 Robert Gordon LAING died in Toronto.
Comments and queries at this link: FORUM DISCUSSING the ROBERT GORDON LAING FAMILY
============================= Family Details =============================
Children:
1. Mar 2, 1923 ETHEL DOREEN LAING
2. 1925 YVONNE LAING
3. Sep 28, 1928 MAE (Twin) LAING
4. Sep 28, 1928 GORDON IAN (Twin) LAING