JOHN COOK LAING (1854-1937)
JANET PAIRMAN MOULTRIE (1857-1924)
(Last Updated: August 30, 2017)
On Dec 20, 1854 John Cook LAING was born in Denny, Stirlingshire, Scotland, son of Elizabeth COOK & William LAING (b-1816). ** MORE ABOUT WILLIAM LAING
Marriage to JANET MOULTRIE
1884
Around 1884 John was married to Janet Pairman MOULTRIEin Scotland, daughter of Catherine PETTIGREW & Alexander MOULTRIE.
Scotland Census 1901: Hazelbank, Lanarkshire County, Parish of Cadder (Eastern Dictrict): John LAING, Unemployed Analytical Chemist; age 46; wife Janet, age 43. Children: Catherine (age 15), Nettie (14), William (12) and Robert (age 9). Mother-in-law Catherine MOULTRIE, age 72 (born c1829 in Glasgow).
In 1908 eldest son William married Verna MAWSON, daughter of Martha J NORRIS & George MAWSON (1846-1923).
Immigrated to Canada (Winnipeg)
1912
In 1912 John LAING brought his family to Canada (Winnipeg).
World War I
1914-1918
On Aug 4, 1914 Great Britain (Canada on Aug 5) declared war on Germany and Austria-Hungary to uphold treaties with France and Belgium which were under German attack. This marked the beginning of World War I.
Census of 1916 in Winnipeg (629 Spruce St): John LAING, Accountant, age 61; wife Janet, age 58. Children: Cathie (age 31) and Nettie (age 30).
November 11,1918, Armistice Day (Remembrance Day) marked the end of the First World War.
In 1920 son Robert married Effie BEGG in Selkirk (MB), daughter of Margaret Jane FIDLER and Robert James BEGG (1860-1927). ** MORE ABOUT ROBERT JAMES BEGG
Census of 1921 in Ottawa (254 Cooper St): John LAING, Accountant age 66; wife Janet, age 63. Children: Nettie (age 35) and Alma (age 31).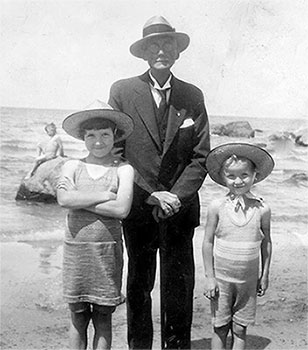 John with granddaughters Doreen and Yvonne Laing (Son Robert's daughters)
(Shared by Heather Pyrch)
On Nov 4, 1924 Janet (nee MOULTRIE) LAING died in Ottawa.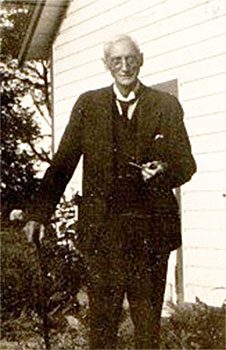 John Cook Laing at the Begg residence (From Pyrch)
On Aug 1, 1937 John LAING diedin Winnipeg.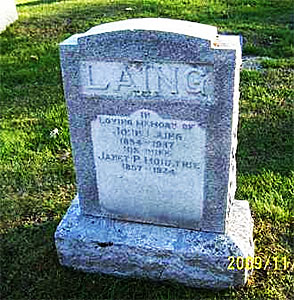 LAING John Laing 1854-1937 His Wife Janet P. Moultrie 1857-1924
Comments and queries at this link: FORUM DISCUSSING the JOHN COOK LAING FAMILY
============================= Family Details =============================
Children:
1. Nov 23, 1884 CATHERINE MOULTRIE LAING
2. Jun 3, 1886 NETTIE MOULTRIE LAING
3. May 6, 1888 WILLIAM ALEXANDER LAING (m. Verna MAWSON)
4. May 28, 1891 ROBERT GORDON LAING (m. Effie BEGG)
** MORE ABOUT ROBERT GORDON LAING