CAPTAIN HUGH COCHRANE (1879-1947)
SOPHIA SPENCE (1886-1974)
(Last Updated: November 26, 2014)
Hugh COCHRANE was born 1879 in St Andrews Parish (St Peters Reserve), son of Hannah STEVENSON and WILLIAM COCHRANE (1842-1882). ** MORE ABOUT WILLIAM COCHRANE
In 1882 his father (William COCHRANE) died when Hugh was just three years old, and his mother (Hannah) remarried to Samuel MARSH (1856-1932), a Blacksmith from England. ** MORE ABOUT SAMUEL MARSH
Hugh received his education at the St Peters and Selkirk schools.
In 1898 his mother (Hannah) died when Hugh was 19 years old. His step-father (Sam MARSH) then married his sister, Sarah Jane COCHRANE.
In the 1901 census, Hugh (age 21) was staying in Selkirk with his brother, David COCHRANE (age 25).
In 1905 Hugh COCHRANE was Captain of the SS Princess which sank in a storm near Berens Island the following year (1906).
A quote from Bruce Cherney regarding the Sinking of the SS Princess: "Captain Hugh Cochrane of Selkirk, called a "master mariner," told the inquest he had sailed on the Princess the previous summer and the vessel "had not leaked to any extent and had engines powerful enough to make headway against a heavy sea." He called Captain Hawes a good seaman who was never heard to say the Princess was unfit for the North Basin."
** MORE ABOUT CAPTAIN JOHN HAWES and the SINKING OF THE SS PRINCESS
Marriage to Sophia SPENCE
1907
Around 1907 Hugh married Sophia SPENCE, daughter of Mary Ann THOMAS and Thomas SPENCE (1860-1889) from St Peters.
Census of 1911 in Selkirk (Taylor Ave): Hugh COCKRANE (age 33), wife Sophia (age 24) and daughters Gladys (age 3) and baby Mary Eleanor.
Hugh & Sophie (From Art Adams)
The child is their eldest granddaughter, Beatrice (nee Corrigal) Bennett (Thanks to Maureen Bennett)
Census of 1916 in Selkirk: Hugh COCHRANE (age 38); wife Sophia (age 28). Children: Gladys (age 8), Eleanor (6) and Olive (age 4).
Census of 1921 in Selkirk (Lot 10 in St Peters): Captain Hugh COCHRANE, age 42; wife Sophia, age 32. Children: Gladys (age 13), Mary Eleanor (11) and Olive (age 8).
In 1925 eldest daughter Gladys married James CORRIGAL in Winnipeg, son of Jessie BILLINGTON & Roderick James CORRIGAL (1869-1939).
T.C.B. Boern spoke of a 1925 trip with Captain Hugh COCHRANE on the SS Grand Rapids.
In 1933 daughter Olive married Leslie "Chappy" ADAMS in Selkirk, daughter of Harriet JOHNSTONE and Joseph ADAMS (1868-1953). ** MORE ABOUT JOSEPH ADAMS

In 1938 daughter Mary Eleanor married Thomas MORRISON in Selkirk, son of Maggie Ann SMITH and Thomas MORRISON (1910-1949).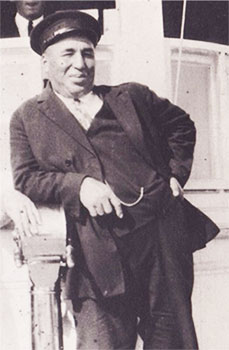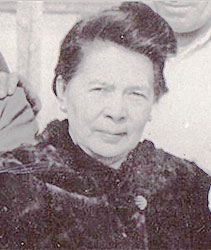 Captain Hugh Cochrane and Sophia (From Art Adams)
On Christmas Eve (Dec 24) of 1947 Captain Hugh COCHRANE died in Selkirk. He was buried in the Old St Peters Church Cemetery.
From his obituary: For 15 years Hugh was the Captain of the Grand Rapids, one of the largest steamboats to ply Lake Winnipeg waters. Other boats he served on were the City of Selkirk, Lady of the Lake, the Garry and the Princess. Hugh's last ship was the Suzanne E.  ** Interestingly, the Suzanne E was another ship that sank in a storm on Lake Winnipeg in 1965.
** MORE ABOUT the LEGEND of the SUZANNE-E
On Apr 30, 1974 Sophia (nee SPENCE) COCHRANE died in Selkirk.
Comments and queries at this link: FORUM DISCUSSING the FAMILY of CAPTAIN HUGH COCHRANE
============================ Family Details ============================
Children:
1. Mar 12, 1908 GLADYS IRENE COCHRANE (m. William James CORRIGAL)
2. Mar, 1910 MARY ELEANOR COCHRANE (m. Thomas MORRISON)
3. 1912 OLIVE BLANCHE COCHRANE (m. Leslie "Chappie" ADAMS)