SAMUEL MARSH (1856-1932)
NANCY COCHRANE
ANN (HANNAH) (nee STEVENSON) COCHRANE (c1843-1898)
SARAH JANE COCHRANE (1877-1913)
(Last Updated: October 18, 2014)
Samuel MARSH was born Sep 28, 1856 in Oldham, Lancashire, England.
In 1879 Sam immigrated to Canada; St Andrews Parish in Red River.
Marriage to Nancy COCHRANE
1881
On Oct 22, 1881 Sam married Nancy COCHRANE in St Andrews Parish, Red River. ** From Scrip - Nancy's origins are uncertain at this time.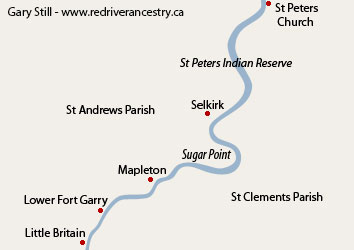 Marriage to Hannah COCHRANE
1886-1898
On June 24, 1886 Sam married Widow Hannah (nee STEVENSON) COCHRANE in St Clements Parish, daughter of Elizabeth JOHNSTON and John Thomas STEVENSON (1818-1868). Hannah was the widow of William COCHRANE (1842-1882). ** MORE ABOUT WILLIAM COCHRANE
Census of 1891 in St Andrews Parish: Samuel MARSH, age 38; wife Hannah, age 45. Step-children: David COCHRANE (age 16); Hugh COCHRANE (age 14) and Sarah J COCHRANE (age 14).
LAC:  Outside Dates:  1891-92 Application of Samuel MARSH as Administrator for Grant of Scrip of his deceased wife, Nancy MARSH.
On Feb 28, 1898 Hannah MARSH died in St Andrews, age 52.
Marriage to Sarah Jane COCHRANE
1898-1913
Sam married Dec 22, 1898 in Selkirk to Sarah Jane COCHRANE, probably the daughter of Mary Ann STEVENSON and William COCHRANE(1841-1882). ** It looks like Sam married his step-daughter? Sarah Jane's origins are under review.
Census of 1901 in the Town of Selkirk: Samuel MARSH, age 44); wife Sarah J, age 23. Children: Frank (age 2) and Samuel (age 6 months).
Census of 1906 in St Peters Parish:  Samuel MARSH, age 49; wife Sarah, age 30. Children: Frank (age 7), Samuel (5), Reuben (3), Ruth (2) and twins Edwin & Eliza(both 7 months old).
Census of 1911 in St Peters Parish:  Samuel MARSH, age 54, a Blacksmith; wife Sarah, age 35. Children: Frank (age 12), Samuel (10), Reuben (8), Ruth (7), Edwin (5) and William (age 2).
In 1911 their last/ youngest child, Lawrence was born.
On May 9, 1913 Sarah Jane (nee COCHRANE) MARSH died in St Andrews Parish at the age 39.
World War I
1914-1919
On Aug 4, 1914 Great Britain (Canada on Aug 5) declared war on Germany and Austria-Hungary to uphold treaties with France and Belgium which were under German attack. This marked the beginning of World War I.
On Nov 22, 1915, Samuel MARSH, a 59 year old widowed Blacksmith enlisted for war service in Selkirk, stating his next-of-kin as his daughter, Ruth MARSH of Selkirk (Ruth would have only been about 11 years old then). On Aug 31, 1916 Sam was discharged as 'Medically Unfit'.
Census of 1916 in St Peters: Samuel MARSH, widowed, age 53 (?). Children: Frank (age 17), Samuel (15,) Reuben (13), Ruth Mary (12), Edwin (10), William (7) and Lawrence (age 4).
November 11, 1919, Armistice Day (Remembrance Day) marked the end of the First World War.
Census 1921 in St Andrews Parish (River Lot 46): Sam MARSH, age 64 and widowed. Children: Frank (age 22), Sam (20), Reuben (19), Edwin (15), William (11) and Lawrence (age 10).
In 1927 eldest son Frank married Eliza Jane HOURIE in Winnipeg, probably the daughter of Mary Elizabeth CHASETELLAINE and Oliver Adolphus HOURIE (1860-1919).
On Jan 21, 1932 Samuel MARSH died in Selkirk at the age 74.
In 1932 son Samuel Frederick married Kathleen Margaret EWART in St Vital, daughter of Emma Viola MOXLEY and Joseph EWART (b-1869), an Office Clerk from Ontario.
In 1933 son Edwin married Nettie JABOGRUSKI in St Clements, daughter of Pauline ZIBRISKI and Andrew ZABORGRUSKI (1891-1956).
Son William married Janet SIDEY, daughter of Mildred WELLS and Percy SIDEY (1891-1967).

Perhaps around 1944-45 son Reuben married a lady named Alice of uncertain origins.

Youngest son Lawrence married Clara Eleanor (Kelly) SHIELS, daughter of Gosie and George SHIELS (b-1886).
** Further review is underway regarding the origins of Sam's wives.
Son Reuben Drowns in Lake Athabasca
1956
In 1956 son Captain Reuben MARSH went to the Lake Athabasca to work for the Northern Transportation Co. He was reduced to Mate for one year on the Tug Clearwater until he learned the waters. That fall the Clearwater sank in Lake Athabasca with eight men aboard who were all presumed drowned, including two Manitoba men, Ruben MARSH (age 53) of Selkirk, and Byron HJORLEISSON (age 17) of Riverton. The Free Press report of the sinking indicated that Ruben was survived by his wife, Alice Jean, one son, Douglas, one daughter, Marilyn and three brothers, Lawrence of Flin Flon, Samuel of Selkirk and William of McCreary.
Comments and queries at this link: FORUM DISCUSSING DESCENDANTS of SAMUEL MARSH
============================ Family Details ============================
Children by Sarah Jane COCHRANE:
1. Jan 1, 1899 FRANK MARSH (m. Eliza Jane HOURIE)
2. Feb 2, 1900 JOHN MARSH (Died in infancy, age 1)
3. Feb 23, 1901 SAMUEL FREDERICK MARSH (m. Kathleen Margaret EWART)
4.  Oct, 1902 CAPTAIN REUBEN MARSH (m. Alice)
5. Jan, 1904 RUTH MARY MARSH (m. Ernest William McKAY)
6. May, 1906 EDWIN (twin) MARSH (m. Nettie JABOGRUSKI)
7. May, 1906 ELIZA (twin) MARSH (Died age 24)
8. Jan 25, 1909 CAPTAIN WILLIAM MARSH (m. Ida Lillian Janet SIDEY)
9. Jun 15, 1910 BEATRICE MARSH (Died in infancy)
10. Sep 10, 1911 LAWRENCE MARSH (m. Clara Eleanor (Kelly) SHIELS)