WILLIAM COCHRANE (1842-1882)
HANNAH (ANN) STEVENSON (1846-before 1898)
FRANCOISE "FANNY"(nee ISBISTER) PAQUETTE (1839-?)
(Last Updated: August 28, 2014)
William COCHRANE was born around 1842 in Red River, son of Elizabeth GIBSON and William COCHRANE (1811-1894).
William and Hannah (Ann) STEVENSON
1866
Around 1866 William married Ann STEVENSON in St Peters, daughter of Elizabeth JOHNSON and John Thomas STEVENSON (1818-1868), a Treaty Indian. Son Miles was born around 1867.
Canadian Confederation and a Red River Rebellion
Manitoba becomes a Province
1867-1870
On July 1, 1867 the British colonies in North America were united under the British North American Act to become the Dominion of Canada. Sir John A MACDONALD (1815-1891) was appointed as Canada's first Prime Minister.
On Oct 11, 1869, Louis RIEL (1844-1885) placed his foot on the surveyors' chain to tell them their work was finished! This marked the beginning of the Red River Métis Rebellion. When it was all over, RIEL's Provisional Government accepted the terms of the Manitoba Act and on July 15, 1870 Manitoba became the fifth province of Canada, the Canadian Government having acquired the territory previously governed by the HBC.
Census of 1870 in St Clements Parish, Lot 70: William COCHRANE (age 28); wife Ann (age 24) and son Miles (age 5).
William and Fanny (nee ISBISTER) PAQUETTE)
1871
William apparently parted ways with Ann to re-marry around 1871 to Fanny ISBISTER who had divorced her previous husband (Baptiste PAQUETTE).  

Francoise Fanny ISBISTER was born in 1839, daughter of Fanny SINCLAIR and John ISBISTER (1794-1884) from the Orkneys of Scotland, the Hudson's Bay Company (HBC) post master at Norway House.

According to Sprague & Frye ID-4017, around 1863 Fanny was married to Louis PRUDEN at Norway House, son of Josephte JOLICOEUR & Peter PRUDEN (1807-1889). ** This record is rather dubious in that Fanny makes no mention of such a marriage in her Scrip affidavit of 1875 in which she only mentions her previous marriage to PAQUETTE prior to her marriage to William COCHRANE. ** MORE ABOUT PETER PRUDEN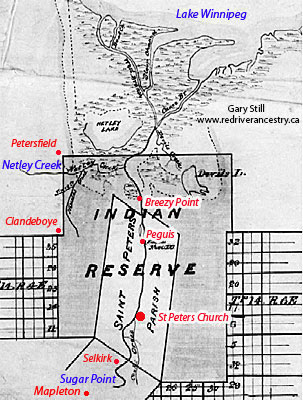 Plan showing St Peters Reserve No.1 after 1871
On Aug 3, 1871, Chief Red Eagle (Mis-koo-ki-new) Henry PRINCE signed Treaty Number One on behalf of the St Peters Band of Indians. ** MORE ABOUT TREATY NO.1 and CHIEF HENRY PRINCE
In 1875 Fanny (nee ISBISTER) b-1842 claimed Scrip as the wife of William COCHRANE, stating that she was formerly married to Baptiste PAQUETTE who she divorced in 1862.
Winnipeg Free Press Apr 21, 1876 regarding the St Peters Chieftainship: This article includes a long list of Band Members which includes a William COCHRANE SR, Alexander COCHRANE and Adam COCHRANE.
Census of 1881 in St Andrews Parish:  William COCHRANE (age 40); wife Annie (age 35). Children: Miles (age 14), Albert (10), David (6), Sarah (4) and Hugh (age 2).
William COCHRANE Dies
1882
On June 9, 1882 William COCHRANE died. He would have only been about 40 years old. On Aug 19 that year an Administrator's Notice was published in the Free Press regarding the estate of William COCHRANE deceased, late of the Parish of St Peters dated July 27, 1882 at Peguis, MB.
In 1886 son Miles married Catherine Louise McCORRISTER in St Andrews, daughter of Elizabeth SMITH & James McCORRISTER (1810-1883).
From DIA Correspondence:  Mrs. MARSH's (Hannah's) first husband, William COCHRANE applied for and received on his own behalf and on behalf of his wife and children Half-breed Scrip as long ago as 1878. - - She applied for a Discharge from Treaty (St Peters Band)  in the spring of 1886 in order to get her Scrip as she was to get married shortly to a White Man (Samuel MARSH) and did not wish to have anything to do with the Band.
Widow Hanna re-marries to Samuel MARSH
1886
In 1886 Annie (Hannah) re-married to Samuel MARSH in St Clements.
** MORE ABOUT HANNAH and SAMUEL MARSH
In 1888 son David married Sarah Ann SUTHERLAND in St Clements. ** Anyone know Sarah Ann's origins?
It seems that Ann Hannah (nee STEVENSON) MARSH must have died before 1898, because that year daughter Sarah Jane married Samuel MARSH in St Andrews, apparently her step-father.
Around 1907 son Hugh married Sophia SPENCE, daughter of Mary Ann THOMAS and Thomas SPENCE (1860-1889)
.
Comments and queries at this link: FORUM DISCUSSING the WILLIAM COCHRANE FAMILY
============================ Family Details ============================
Children by Hannah STEVENSON:
1. 1867 MILES COCHRANE (m1. Catherine Louise McCORRISTER, m2. Sophia Lydia THOMAS)
2. 1871 ALBERT COCHRANE
3. Jan 19, 1875 DAVID COCHRANE (m. Sarah Ann SUTHERLAND)
Children by Fanny ISBISTER:
1. Apr 4, 1877 SARAH JANE COCHRANE (m. Samuel MARSH)
** MORE ABOUT HANNAH and SAMUEL MARSH
2. 1879 CAPTAIN HUGH COCHRANE (m. Sophia SPENCE)
** MORE ABOUT CAPTAIN HUGH COCHRANE