ALEXANDER MONTGOMERY MUCKLE (1844-1908)
JANET GUNN (1846-1930)
CHAPTER THREE
CLANDEBOYE - PETERSFIELD
(Last Updated: September 10, 2012)
For more about Alexander MUCKLE, his youth and his ancestors, click on this link: THE MUCKLE STORY – CHAPTER ONE

For more about the Alex MUCKLE Story after Confederation, during the Riel Rebellion and the creation of Manitoba, click on this link: THE MUCKLE STORY – CHAPTER TWO
Mrs. MUCKLE comes to Manitoba
Wemyss SIMPSON becomes Commissioner of Indian Affairs
1871
Of a retiring disposition, the MUCKLE brothers never applied for medals, and though suffering from great losses during the Riel trouble, when others were clamouring for indemnities, they quietly began to build their homesteads on Muckle Creek.The Indian name for Muckle Creek was Mokigewin or "Boiling Up River" (the creek has many small springs). In 1982 the property was the residence of Debbie & Charles AIME and family (Bob).
Mrs MUCKLE had no more reason to remain in the east. She was prevented from forming a lasting bond with her granddaughter Anna HARRISON; son Henry was gone now and her remaining two sons were in Manitoba. In late May, 1871, Mrs MUCKLE and daughter Minnie joined Alex and Robert in Manitoba. Her sons had already established farmsteads at Muckle Creek.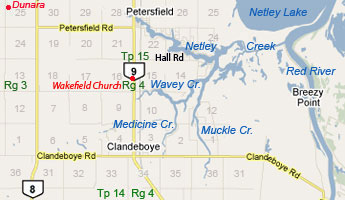 The Clandeboye originally named by Mrs. Muckle was actually her residence,
located almost three miles west of the present-day Town of Clandeboye as shown on this map.
Upon her arrival Mrs MUCKLE named her new home Clandeboye, after her birthplace in Ireland. It is named after Lord DUFFERIN's estate of the same name, located south of Belfast between Holywood and Bangor in Northern Ireland. Viscount CLANDEBOYE was a former Governor General of Canada (Bob).
In 1871, Wemyss SIMPSON (1824-1894) was appointed as Canada's Commissioner and General Indian Agent for the Northwest, to negotiate treaties with the Indians of the region.
On July 18, 1871, SIMPSON issued a proclamation inviting the Indians to meet with him at Lower Fort Garry. To add circumstance to the negotiations, Governor ARCHIBALD asked Major IRVINE of the garrison to provide some soldiers, commenting that "Military display has always a great effect on savages, and the presence, even of a few troops, will have a good tendency." It was as a soldier then that Alex MUCKLE was introduced to the subtleties of Indian affairs that would lead to his eventual appointment as an Indian Agent in his own right.
Indian Treaties One and Two
By the end of August SIMPSON's negotiations culminated with the signing of Indian Treaties One and Two, the first such treaties concluded by the new Dominion of Canada.
Another Fenian Invasion
In October of 1871 Manitoba had a minor brush with the Fenians, an invasion led by William Bernard O'DONOGHUE (1843-1878). Major IRVINE mustered 200 of his active militia, and joined by volunteers numbering nearly 300. This raid had been anticipated, and reinforcements were sent to the garrison at Lower Fort Garry. IRVINE set out in December (with them went 200 Métis, including RIEL and Ambroise LEPINE). Alex MUCKLE was no stranger to Fenian invasions. Six years ago, as a young man, he had taken part in the 1866 Battle of Ridgeway and the Battle of Fort Erie against the same foe. As fate would have it, however, the expedition was not needed; American troops had crossed from Pembina on the 5th, rounded up the Fenians, and escorted them home. It was probably around this time that Alex became Major Alexander MUCKLE.
On Nov 18, 1871 Colonel Thomas SCOTT (1841-1915) arrived at Red River to assume command of the increased military force at Red River.
1872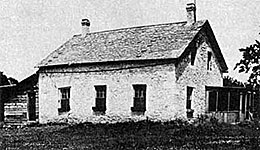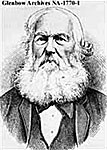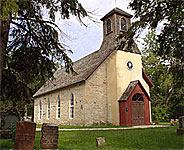 Left: Gunn's House & stone Manse; Centre: Honorable Donald Gunn; Right: Little Britain Church
In 1872 Janet GUNN was a 26 year old school teacher at Little Britain (not far from Lower Fort Garry). She was the youngest daughter of the Honorable Donald GUNN (appointed to the Legislative Council of Manitoba in March of 1871). Donald GUNN was born in Scotland; an HBC fur trader in the far north until he retired in 1823 and settled in the Little Britain area (Lockport) where he took charge of the CMS parish school as a teacher for many years. As a politician, Donald served his community in many other capacities including Police Magistrate, Justice of the Peace, Post Master, and Inspector of Fisheries. This old patriarch (he was 75 years old now) had fathered a dozen children. Janet was the only child still living at home in 1872. ** MORE ABOUT DONALD GUNN
Janet would later reminisce on her younger years: "In 1868, after I left Miss Davis's school, I was appointed teacher in the school at Little Britain. Before long I had a hundred children in that school, some of them big boys, but I managed to keep order without having to use very often the willow stick which I had within reach of my desk. I was big and strong myself then, and weighed more than a hundred and seventy pounds."
It was in 1872 that soldiers from Lower Fort Garry under Honorable Alexander MORRIS helped to raise the walls of the Little Britain Church and Manse. Honorable Donald GUNN participated in the work as well. The stonework was done under the supervision of John CLOUSTON and Duncan McRAE. It was probably during occasions such as this that Alex MUCKLE and Janet GUNN (his wife-to-be) got to know each other well.
In mid October, 1872, Lt Gov ARCHIBALD departed and Alexander MORRIS became the acting Lieutenant Governor of the North-West Territories.
Treaty No. 3, the "North-West Angle Treaty,"
1873
In June 1873, Joseph PROVENCHER (1843-1887) was appointed resident Indian Commissioner in place of SIMPSON. PROVENCHER served under MORRIS during the negotiation of Treaty Three, "The North-West Angle Treaty" with the Ojibwe of the Lake of the Woods area. This Treaty was finally signed on Oct 3, 1873, after some difficulties and almost three years of protracted negotiations.
Alex marries Janet GUNN
1874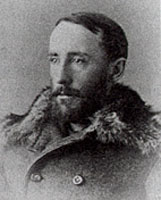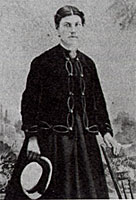 Alexander Muckle - Janet Gunn
On Feb 6, 1874, Alex married Janet GUNN at the Old St Andrews Church on the Red. Janet said that soon after they were married they lived at Riding Mountain. "I turned to account the knowledge of the Indian language which I had picked up, by using it in teaching the Indians of that neighbourhood," she said. They probably resided there while Alex was involved with the Treaty Four negotiating team.
Treaty Four (Qu'Appelle Treaty)
In August of 1874 Lieutenant-Colonel William Osborne SMITH(1833-1887), having replaced SCOTT (retired), took command of Military District No. 10. That year SMITH commanded a column of over 100 men who provided a guard for Lt-Gov Alexander MORRIS and Commissioners LAIRD and CHRISTIE as they marched to the Qu'Appelle lakes (The Fishing Lakes), 351 miles west of Winnipeg to negotiate Treaty Four (the Qu'Appelle Treaty) with the Cree and Saulteaux Indians.
Alex & Janet at Clandeboye
1875
In 1875 the Government began accepting applications (claims) for Land Grants and Half-breed Scrip. Anyone who was not a Treaty Indian, but was a resident of Manitoba at the Time of the Transfer (July 15, 1870), was entitled to these grants.
On Apr 6, 1875 Alex received patent for 80 acres on the W ½ of NE-2-15-4-Epm on Wavey Creek, just north of his mother's residence. On Apr 17, 1875, his first child (John McClure) was born.
On July 27, 1875, Janet MUCKLE (of Clandeboye, MB) claimed her Half-breed Scrip.
Treaty Five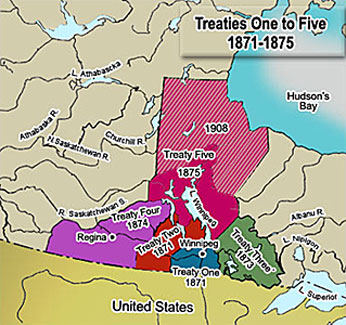 On Sep 17, 1875, Treaty Commissioners MORRIS and McKAY left Fort Garry aboard the Hudson's Bay Company steamer Colville. They proceeded to Berens River where, in short order, they secured that band's acceptance of the treaty terms. From there, they quickly pushed on to Norway House where many people had earlier expressed a desire to move south and establish an agricultural colony. When the treaty was signed there, the commissioners agreed that any who left the original settlement would receive a reserve at their new location. A number of them subsequently moved to Fisher River.
Adhesion by Saulteaux or Chippewa and Cree Indians: Agreement made Sep 20, 1875 at Norway House by Commissioners: Lt. Governor of Manitoba, Alexander MORRIS and Hon. James McKAY. The name A.M. MUCKLE, J.P. (Justice of the Peace) appears as Witness to this Treaty.
The First Post Office at Clandeboye
1876
On June 1, 1876 the first Post Office at Clandeboye was opened with Robert MUCKLE as its first Postmaster.
Daily Free Press (Winnipeg); June 14, 1876: Clandeboye:  Believing that any word relating to the prosperity of our Province is welcome I take the opportunity afforded by the establishment of a post office to put our thriving settlement before the public. Situated on the banks of Wavy, Medicine and Muckle Creeks is a beautiful stretch of rolling prairie - - We propose next winter getting out the necessary timber for a church and school, but in the meantime have service every Sunday at 9 am in one of our settler's houses, a large number of Indians attending regularly. Signed by '"Elkcum" (MUCKLE spelt backward).
Adhesions to Treaty Five
On Sep 7, 1876, Alex was one of the signatories of Treaty Five (Adhesion) at The Pas. In a letter dated Oct 10, 1876  to Hon. Alexander MORRIS, Lieutenant Governor, Fort Garry, from Commissioner Thomas HOWARD: - - I would now mention the very valuable services rendered the Government by the Rev. Mr. COCHRANE, who acted as interpreter at the Dog Head, Berens River, Grand Rapids and the Pas, and who was at all times ready to give his advice and assistance; as well as by Mr. A. M. MUCKLE, who accompanied me and assisted in making the payments
In 1876 Dr David YOUNG (1847-1931) appointed Indian Agent for Indian reserves at Brokenhead River, St Peters, Fort Alexander and other Reserves on the south part of Lake Winnipeg as may be conveniently reached by him. MHS: In 1877 he became Indian agent and medical officer for the Clandeboye Indian Agency.
St Louis (Later Petersfield)
RM of St Andrews: Petersfield has an interesting history. Originally, it was called St. Louis, for its founder, Romuald Gadeau Xavier SAINT LOUIS. Much is learned about the culture of the district from Frank WALTER's book "Pieces of the Past". Mr. St. LOUIS discovered the area now known as Petersfield when he came to explore the area with his friend Alexander MUCKLE, who had established a new life on Muckles Creek, almost three miles east of Clandeboye.
On Nov 30, 1878, Janet's father (Donald GUNN) died at the age of 81.
In the 1881 Census of St Andrews Parish, Alex was enumerated as age 36; wife Janet as age 35 and  children as John M (age 6); Letta (4); Anna (2) and baby Alexander (11 months).
Alex becomes an Indian Agent
1881
On Dec 31, 1881 Edgar DEWDNEY (1835-1916) was made Lieutenant Governor of the North-West Territories. He then asked Alex MUCKLE to accept the important post of Agent for the St Peters Indians, including Fort Alexander and Brokenhead Bands.It would seem that up to this point Alex's involvement with treaty negotiations had all been as a member of military escorts.
Selkirk Incorporated as a Town
1882
On June 15, 1882 the Town of Selkirk was incorporated with James COLCLEUGH (1841-1918) as the first Mayor. At that time it was still believed that the new CPR mainline from the east would pass through Selkirk. There were already branch lines on both sides of the river, from Winnipeg to Selkirk and East Selkirk, with Selkirk at the crossroads. In that belief, the town was booming (a veritable land rush) and COLCLEUGH was at the forefront of the land speculators. He circulated a petition which called on the Federal Government to put the St. Peter's reserve up for sale, as it was a "drawback to our growth and prosperity." Such feelings were shared by other land-grabbers, touching off an Indian Land Claim Dispute that would last for more than a century. It should be noted that very soon afterwards the Government chose Winnipeg for the main east-west rail route, and Selkirk was no longer a boom-town.
The existence of the privately held river lots within the boundaries of the St Peters Reserve, and the conflicts that arose as a result, would plague the DIA for decades. One source of conflict concerned the right of Treaty Indians to sell property owned by them prior to Treaty One. There was a divergence of opinion among high-ranking officials of the Department on this point. SIMPSON believed that the St Peters Indians could not be prevented from selling their holdings, given that it had been agreed at the Treaty negotiations that the river lots would remain their own property, whereas the Minister of the Interior had made public statements to the contrary. The latter view subsequently became the official position of the Department.
In 1882 William PRINCE (b-1830) replaced his father (Henry PRINCE) as Chief of the St Peters Band. Band Councillors were John "Long Jake" PRINCE (1858-1910), MATWAKAKETCOT, John FLETT Jr and Thomas SMITH.
Discontent on the St Peters Reserve
1883-1884
In 1883 Lawrence VANKOUGHNET was the Deputy Superintendent General of Indian affairs; Ebenezer McCOLL (1835-1902) was the Inspector of Agencies and Accounts (essentially Agent MUCKLE's boss).
William PRINCE was enjoying the power and prestige of his new chieftainship, but by 1883 he had developed a strong dislike for Agent MUCKLE whose influence in Band affairs seemed to outweigh his own. PRINCE became so incensed with MUCKLE that on October 8, 1883, he wrote a letter to VANKOUGNET with a list of complaints against him, and demanding that he be replaced with a new Agent. The letter was signed by the chief, and supposedly by Councillors FLETT & SMITH. This was followed by another long list of complaints and demands to various DIA administrators, including Sir John A MACDONALD himself.
A flurry of letters and telegraphs were soon flying back and forth amongst the administrators of the Indian Department in Manitoba and Ottawa with charges and counter-charges.
Told to conduct an enquiry, McCOLL organized a meeting that was held on March 26, 1884 at the St Peters School House. In attendance was Mr MUCKLE, the Indian Agent, Archdeacon COWLEY, Rev Benjamin McKENZIE, Rev Father ALLARD and several hundreds of Indians, half-breeds and white settlers living within the limits of the Reserve.
Numerous reports are documented regarding that meeting of March 26. It was alleged that Chief PRINCE had forged the signatures of his councilors on some of the letters he sent. Unaware that McCOLL had copies of all of his correspondence, PRINCE was startled when McCOLL began to read his complaints out loud, publically to everyone, item by item. He tried to interrupt McCOLL, was chastised and he and SMITH stormed out of in a rage, demanding that all the Indians follow him, which they refused. Except for SMITH, the other tribal councilors and tribesmen were disgusted with his performance and refused to support him, demanding he be dismissed as chief. I won't attempt to go into detail here about the numerous details of the items discussed, or the various accounts of what took place. Essentially, MUCKLE was totally vindicated and the Band reaped very little benefit from the whole fiasco.
Numerous of his colleagues and members of the Band rallied in Alex's defence with letters support and praise. An excerpt from a letter he later sent to McCOLL: "I am proud to be able to state that not one man amongst the Band (and in one of the largest meetings I have ever seen in St Peters). No not one of them, Non-Treaty or Indian, could get up and face me with a single charge or corruption of any kind whatever." The whole matter gradually faded away and Alex was able to resume a more peaceable and normal existence.
On Mar 3, 1886 son Robert James Tannant was born, Alex's last/ youngest child.
Final Years
1897-1908
On Aug 1, 1897 Alexander MUCKLE retired as an Indian Agent. He died on Jan 14, 1908 at the age of 64.  On Nov 5, 1930 Widow Janet MUCKLE died at the age of 84.
Please post comments & queries at this link:  FORUM DISCUSSING THE MUCKLE FAMILY
========================= Family Details =========================
Children:
1. Apr 17, 1875 JOHN McLURE MUCKLE
2.  Feb 21, 1877 LETITIA MARGARET "LETTA" MONTGOMERY MUCKLE (m. Donald GUNN)
3. Jan 24, 1879 ANNA HOLLINS MUCKLE (m. John C ELLIOT)
4. May 14, 1880 ALEXANDER MONTGOMERY MUCKLE JR (m. Katherine (Kathleen) BOYD)
5. Mar 3, 1886 ROBERT JAMES TENNANT (MONTGOMERY) MUCKLE (m. Hannah Estelle (Isabelle) JENSEN)