GEORGE HENRY BEGGS (1862-1926)
ELLEN MAYO (1871-1946+)

(Last Updated: November 12, 2016)
George Henry BEGGS was born Aug 14, 1862 in the USA, parents uncertain at this time. In 1871 he came to Canada.
George and Ellen MAYO
1881
Around 1881 George was in a connubial relationship with Ellen MAYO, the daughter of Mary DANIEL and Benjamin Johnston MAYO (1832-1920). ** MORE ABOUT BENJAMIN JOHNSTON MAYO
Son Henry BEGGS was born in July of 1882.
On Feb 7, 1899 George married (church-wed) Ellen MAYO in Winnipeg.
Census of 1901 in Winnipeg: G.H. BEGGS, Machinist, age 37; wife Ellen, age 30. Children (born MB): Henry (age 18), Eveline (8) Grace (6) and baby Benjamin.
Census of 1906; Lot 63, RM of St Andrews: Harry G BIGGS (Henry George BEGGS), age 40; wife Ellen, age 38. Children: Henry (age 23), Eveline (14), Grace (11), Anthony (4) and Hazel (age 1). Lodgers: Augustus MAYO, age 38 (Ellen's brother; born 1868 in MB) and McCurdy DANIELS, age 24 (born 1882 in MB; Ellen's nephew). ** McCurdy being son of Louisa Rose MAYO (Ellen's sister) and Thomas DANIELS b-1850.
** Lot 63 on the St Andrews Map of 1870 was occupied by Philip KENNEDY (1818-1873). It is in the vicinity of the Old St Andrews Church and the historic Captain Kennedy House.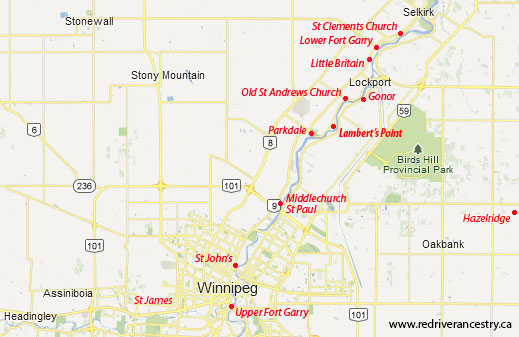 From Manitoba Free Press article: One noon in the month of April, 1910, Grace (George's daughter) took her little sister and brother to the end of the car track in North Winnipeg and speeded them on their journey to their home near Lockport. She was supposed to go home herself but did not.
A week passed and she did not appear and her parents became very worried. They had notified the police authorities and they were on the lookout for her. - - The story of her disappearance was published in the Free Press and she was located shortly after. Instead of going home as she had promised she had gone to the home of a friend and paid a visit, forgetting about the untold worry she was causing her own family.
US BORDER CROSSINGS: Arrival at Winnipeg, July, 1910: George Henry BEGGS, Machinist, age 47 (born 1863 USA). Wife: Ellen BEGGS, St Andrews (MB).
Census of 1911 at 469 Alexander Ave. in Winnipeg:George BEGGS, age 48; wife Ellen, age 36. Children: Eveline(age 19), Grace (17), Anthony (8) and James (age 1. **Alexander Avenue is located in Winnipeg's north end.
From Free Press Nov 11, 1914: The preliminary hearing of Grace BEGGS and Harry MASON will proceed at 10 o'clock this morning before Magistrate Turrene in the St Boniface police court. - - "I don't believe Grace is as bad as she is painted" said George BEGGS, the father of the girl who is charged jointly with Harry MASON with the murder of John J McCOLM. Mr BEGGS was sitting in the lobby of a downtown hotel yesterday as he spoke. His right leg has been permanently disabled by an accident and the crutch he uses to hobble about on lay at his side. He is part Indian, but his dark complexion is paled to sallowness and his body is greatly emaciated from the ravages of consumption. He came to Winnipeg a few days ago when he learned of his daughter's trouble. For a moment he did not seem particularly affected by his offspring's trouble. But he became serious after a few words were spoken. "She left home on Thanksgiving day to come to Winnipeg and work," he said. "We live on a farm near Lockport, you know. She was always a pretty good girl at home; maybe a little wild, but not bad. We thought she was working here in town. There she was living with that scamp. I guess she got into bad company here, all right. She may have been doing wrong, but I don't think she is as bad as she has been painted in the papers. Sure, I am going to St Boniface to hear her trial - - "
From Free Press Mar 11, 1915: Henry MASON's death sentence was commuted to a life imprisonment. His companions (during the murder), Sidney KNOTT and Grace BEGGS, are each serving sentences now - - The girl is at Kingston and KNOTT at Stony Mountain.
In 1921 daughter Grace married Ernie TOGGWEILER in Selkirk. He was born 1888 in Switzerland and came to Canada in 1910.

Census of 1921 in Selkirk (Phyllis St): Ellen BEGGS, age 48. Children: James Edwin (age 10) and Ernest (age 8). In HH-245 are Emil (or Ernest) TOGGWEILER, age 33 (born 1888 in Switzerland; immigrated 1910) and his wife Grace, age 26 (born 1895 in MB). This would be Ellen's daughter Grace.
On Apr 7, 1926 George Henry BEGGS died in Winnipeg, age 63.
I don't have a date when son James married Elizabeth Evelyn SIGURDSON, daughter of Helga and Herman SIGURDSON (1897-1976).
In the 1945 obituary of Gus DANIELS, Ellen BEGGS is mentioned as his surviving sister.
In 1946 Daughter Grace died as Mrs. James GILBOY. Her obituary indicated she was survived by her mother, Mrs. Ellen BEGGS of Winnipeg and three brothers: Harry of Toronto, James of Vancouver and Ernest of Winnipeg.
In a 1951 Free Press article, James GILBOY (age 71) was described as "The grand old man of petty crime in Winnipeg who, police said, has been sentenced close to 400 times, has been consigned to a "warm place for the winter" (three months in jail).
In the 1946 obituary of daughter Grace GILBOY, Ellen was mentioned as her surviving mother.
Comments and queries at this link: FORUM FOR DISCUSSING THE FAMILY OF GEORGE HENRY BEGGS
========================== Family Details ==========================
Children:
1. Jul, 1882 HENRY BEGGS
2. Jan, 1893 EVELINE BEGGS
3. Dec 24, 1894 GRACE BEGGS (m1. Ernest TOGGWEILER. m2. James Michael GILBOY)
4. Oct 26, 1896 GEORGE BEGGS (Died in infancy)
5. Jul 25, 1899 BENJAMIN BEGGS (Died in infancy)
6. Jul 24, 1903 ANTHONY DAVID BEGGS (m. Katherine)
7. Sep 1, 1905 HAZEL EZELLA BEGGS
8. Jan 24, 1907 ERNEST BEGGS
9. Jun 6, 1908 MARY ELLEN BEGGS
10. Sep 20, 1910 JAMES EDWIN BEGGS (m. Elizabeth Evelyn SIGURDSON)
11. Oct 14, 1912 ERNEST BEGGS (m. Isabelle FRASER)