GEORGE WILLIAM "BILL" SANDERSON (1844-1936)
ELIZABETH BARBARA ADAMS (1850-1873)
EUPHEMIA WHITFORD (1854-1914)
(Last Updated: September 09, 2013)
George William "Bill" SANDERSON was born Sep 29, 1844, at York Factory (Athabasca re Scrip), son of Elizabeth ANDERSON & James SANDERSON (1816-1850), a Half-breed HBC voyageur.
This narrative is being further developed in collaboration with John VIVIAN, George William's great grandson. John made a donation and is providing extra information by way of the Forum (See Forum link below).
For simplicity, let's call him "Bill", although he is just as often referred to as "George" in various other sources. John VIVIAN refers to him as "Geordie-Bill".
In the spring of 1850 Bill's father, James SANDERSON died by drowning in Lake Manitoba. Bill would have only been about six years old. Bill's mother re-married to William SUTHERLAND (b-1825).
In his last years (mid 1930's) Bill's niece, Mary Sophia DESMARAIS (b-1875) recorded Bill's recollections of his younger days. Mary Sophia was the daughter of Bill's sister-in-law, Mary Ann WHITFORD and Henry Charles DESMARAIS (1846-1891). Thanks to John Vivian we can all see the narrative at this link: THROUGH MEMORY'S WINDOWS
Canadian Confederation
Red River Rebellion
Manitoba becomes a Province
Bill marries Elizabeth ADAMS
1867-1870
On July 1, 1867 the British colonies in North America were united under the British North American Act to become the Dominion of Canada.  Sir John A MacDONALD (1815-1891) was appointed as Canada's first Prime Minister; a month later he won the first federal election. William McDOUGALL (1822-1905) became the Minister of Public Works, and he began nnegotiations to acquire Rupert's Land from the HBC; surveyors were sent out to prepare the way for an expected influx of settlers.
Marriage to Elizabeth ADAMS
Around 1869 Bill married Elizabeth Barbara ADAMS, daughter of Anne HAYWOOD and George ADAMS (1796-1865).
In 1869 Louis RIEL (1844-1885) began to organize resistance to the transfer of the North-West to the Dominion of Canada without prearranged terms. This marked the beginning of the historic Red River Metis Rebellion.
** MORE ABOUT the RED RIVER REBELLION in WIKIPEDIA
During the Rebellion, Bill SANDERSON was imprisoned by RIEL's Metis at Upper Fort Garry under suspicion that he was associated with Major Charles BOULTON. He was kept in a cell next to Thomas SCOTT (1842-1870), and remembered when SCOTT was taken away to be executed by RIEL in the spring of 1870.
** MORE ABOUT CHARLES BOULTON in DCBO
** MORE ABOUT THOMAS SCOTT in DCBO

On June 5, 1870 son John was born at High Bluff, Manitoba (St Francois Xavier Parish) where the family was recorded in the census that year on Lot 54 (John as age 1).
On July 15,1870 Manitoba became the fifth province of Canada, the Canadian Government having acquired the territory previously governed by the HBC. The Rebellion was essentially over.
In 1873 Bill contracted as a Carpenter with the HBC in Red River. His wife Elizabeth died that year.
Marriage to Euphemia WHITFORD
1874
In 1874 Bill re-married to Euphemia WHITFORD in Winnipeg, daughter of Mary Margaret ROBILLARD & James WHITFORD (1829-1872).
In 1876 Bill retired his HBC contract in Red River.
Little Saskatchewan
1881
At some time before 1881 Bill and his family moved west from Red River, with other settlers, to the Little Saskatchewan. They were recorded there that year as follows: George (Bill) SANDERSON (age 35), wife Euphemia (age 24) and children as: Elizabeth (age 5), William (4), James (3) and Duncan (age 1). ** It should be noted that Bill's eldest son, John George, is not with him in this census. We don't really know anything about his whereabouts after his mother died, until 1897 when he married Ellen INKSTER in Prince Albert, SK.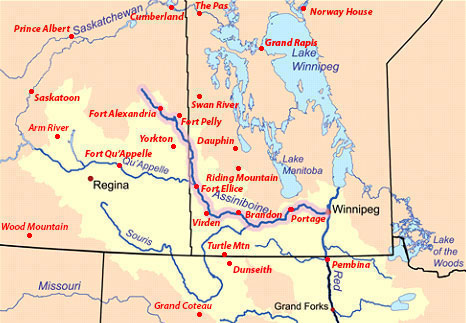 Assiniboine River Map (Little Saskatchewan is located west of Brandon)
Prince Albert, Saskatchewan
1891
By 1891 Bill and his family had moved to Red Deer Hill, south of Prince Albert, Saskatchewan, where he remained the rest of his life.
On May 23, 1894 eldest daughter Elizabeth gave birth to a child that was named Owen SANDERSON, suggesting he was born out of wedlock. It is uncertain who the father was. Elizabeth would go on to have other children, but Owen remained with his grandparents and was essentially raised by therm.
In 1897 eldest son John George married Ellen Mary INKSTER in Prince Albert, daughter of Elizabeth FRANKS and George INKSTER (1842-1912).
The 1901 Census in the Prince Albert district: George B SANDERSON (age 56), wife Phemia (46) and their children: James (age 23), Robert (19), Francis (15), Thomas (12), Mary (8), Bella (5) and Lena (age 2). With them is grandson Owen (age 6). Son John George and his wife Keziah are now their neighbours.
In 1910 daughter Frances Jane married George VIVIAN in Winnipeg, son of Helen HUYCK and Stephen VIVIAN (1831-1896).
In 1911 son Edward Duncan married in Vancouver to Mary Annie BROWNLEE of unknown origins.
On Jan 18, 1914 Euphemia (nee WHITFORD) SANDERSON died in Prince Albert.
The First World War
1914-1919
On Aug 14, 1914, Great Britain (and Canada) declared war on Germany and Austria-Hungary, to uphold treaties with France and Belgium which were under German attack.
In 1915 sons Robert and Thomas enlisted at Prince Albert.
November 11,1919, Armistice Day (Remembrance Day) marked the end of the First World War.
It is said that youngest daughter Lena married a Frank RILEY of unknown origins.The Frank RILEY in the photo below being her child.
Daughter Bella married R. SOULIE. This was probably Raol SOULIE who may have been a son of Berthe and Adolphe SOULIE who was born about 1865 in France (came to Canada around 1905). Ruben SOULIE in the photo below is said to be Bella's child.
Very little information available regarding daughters Bella and Lena and their children. Help from relatives would be much appreciated.
1921 Census of Prince Albert
The long awaited release of the Canadian Census of 1921 has finally happened. I was very disappointed with the messy, scratchy handwriting. In the case of our George (Bill) SANDERSON, it was a long painful search before I finally discovered his record and have included a clip from it to illustrate what we have to deal with regarding interpretation of the messy handwriting.
If this link works, you should be able to see the entire page for yourself: GEORGE SANDERSON in CENSUS 1921

A clip from the 1921 Census Record
My interpretation: George's household is located at 21-47-27-W2. This location looks to be on the south side of the North Saskatchewan River, about three miles SE of the City of PA, off of Hwy 303. George is recorded as a 74 year old widower. With him are grandchildren Owen (age 22), Frederick (17) and Margaret (age 9) who are recorded as though all of their surnames are SOULIE (this is puzzling and probably erratic).
It is interesting to note that George's neighbours are the families of Andrew WHITFORD (Euphemia's brother) and Alexander Peter FIDLER (1880-1959) who is married to Flora (nee ADAMS) who was related to George's first wife, Elizabeth ADAMS.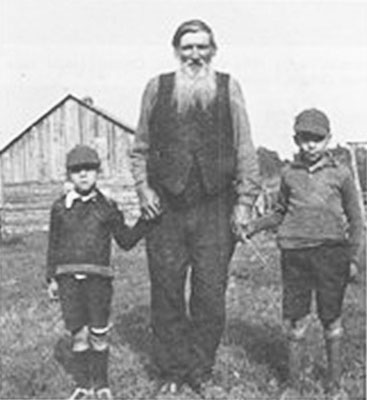 George Sanderson with grandsons Ruben Soulie and Frank Riley
(From article submitted by Margaret Sanderson)
** LINK to ARTICLE by MARGARET SANDERSON
In 1936 George William SANDERSON died in Prince Albert.
Comments and queries at this link: FORUM DISCUSSING the GEORGE WILLIAM SANDERSON FAMILY
=========================== Family Details ===========================
Child by Elizabeth ADAMS:
1. Jun 5, 1870 JOHN GEORGE SANDERSON (m. Ellen Mary INKSTER)
Children by Euphemia WHITFORD:
1. Sep 3, 1875 ELIZABETH SANDERSON (m1. Unknown); m2. O. SMITH; m3. Wallock ANDERSON)
2. Jan 25, 1877 WILLIAM SANDERSON
3. Feb 19, 1878 JAMES McARTHUR A SANDERSON
4. Jan 25, 1880 EDWARD DUNCAN SANDERSON (m. Mary Annie BROWNLEE)
5. Aug 18, 1881 ROBERT SANDERSON
6. Apr 26, 1883 ANN MARIA SANDERSON
7. Jun 25, 1885 FRANCES JANE SANDERSON (m. George VIVIAN)
8. Aug 3, 1888 THOMAS SCOTT SANDERSON
9. 1891 PETER SANDERSON
10. May 18, 1892 MARY SANDERSON
11. 1893 JACOB SANDERSON
12. Aug 31, 1895 BELLA SANDERSON (m. Raoul SOULIE)
13. Apr 17, 1897 LENA C SANDERSON (m. Frank RILEY)