CORNELIUS PRUDEN (1831-1902)
JANE ROWLAND (1849-1901+)
(Last Updated: August 16, 2014)
Cornelius PRUDEN was born on Jan 13, 1831 in St Andrews Parish, son of Nancy OGDEN (HENRY) and William PRUDEN (1804-1844). ** MORE ABOUT WILLIAM PRUDEN
On Oct 31, 1834 Cornelius was baptized at St Johns Anglican Church.
By 1835 when Cornelius was about four years old, his parents had moved to St Andrews Parish in Red River. They were recorded that year on River Lot 67 which was north of the Old St Andrews Church (Little Britain on map below).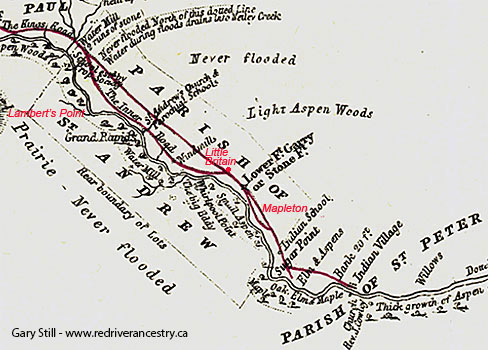 St Andrews Parish from Hind's Map of 1857
In 1844 Cornelius' father (William PRUDEN) died in St Andrews. Cornelius was about 13 years old then.
Around 1847 his widowed mother (Nancy nee HENRY) re-married to Duncan CAMPBELL, son of Catherine (Indian) and John Duncan CAMPBELL SR (1773-1835). ** MORE ABOUT DUNCAN CAMPBELL
Marriage to Jane ROWLAND
1864
Around 1864 Cornelius married Jane ROWLAND.at St Johns, daughter of Elizabeth BALLENDINE and William ROWLAND (1799-1873). ** MORE ABOUT WILLIAM ROWLAND
On Dec 13, 1865 daughter Eliza was born in Manitoba.
Fort Pitt, Saskatchewan
1868-1874
By 1868 Cornelius and his family were at Fort Pitt where their next three children were born; Emma (b-1868), Marie (b-1872) and Nancy (b-1874).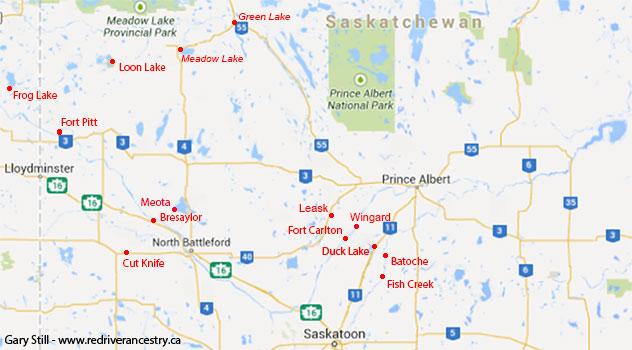 Canadian Confederation
Red River Rebellion
Manitoba becomes a Province
1867-1870
On July 1, 1867 the British colonies in North America were united under the British North American Act to become the Dominion of Canada. Sir John A MACDONALD (1815-1891) was appointed as Canada's first Prime Minister. William McDOUGALL (1822-1905) became the Minister of Public Works, and he began negotiations to acquire Rupert's Land from the HBC, sending out surveyors to prepare the way for an expected influx of settlers.
On July 15, 1870 Manitoba became the fifth province of Canada, the Canadian Government having acquired the territory previously governed by the HBC. The Rebellion was essentially over.
In 1877 son Henry was born at Fort Carlton; son John at Battleford in 1878 and their last child, Alexander was born in 1882 at Meota.
The Founding Families of Bresaylor
The Northwest Rebellion
1881-1885
It must have been after 1881 and before 1885 that daughter Emma married Jean Baptiste SAYER in Bresaylor (SK), son of Suzanne FLEURY & Louison SAYER (1826-1896).
** MORE ABOUT JAMES BREMNER and the FOUNDING FAMILIES of BRESAYLOR
From Footprints in the Dust: On April 12, 1883, a number of freighters left Battleford under the leadership of Goodwin MARCHAND to mark out a new trail to the railroad. This caravan included Johnny PRITCHARD, Sam BALLENDINE, Johnny (Saskatchewan) LONGMORE, Johnny and Cornelius PRUDEN, John TODD, Walter SALISBURY, W.B. CAMERON, Malcom YOUNG and a few others. Before long, mail was carried between these points and the enterprising Peter BALLENDINE began operating a stage.
In 1885 historic Northwest Rebellion and the Battle at Batoche occurred.
** MORE ABOUT THE NORTHWEST REBELLION in WIKIPEDIA

In February of 1886 a Rebellion Losses Commission was set up and residents were invited to submit claims for assets lost and services rendered. - - Not surprisingly, however, the federal government wanted to keep its costs as low as possible, and therefore, even white petitioners, in spite of the privilege their race afforded them, were generally not reimbursed for one hundred percent of their losses. - - Mixed-bloods were dealt with in the same way. Even those like Cornelius PRUDEN of Bresaylor, who had been taken prisoner, were denied compensation for their property losses.In the end, Metis, Natives, and mixed-bloodsreceived little to no reimbursement for their extensive property damages.
Census of 1891 in South Battleford: Cornelius PRUDEN, age 55; wife Jane, age 55). Children: Eliza (age 26), Nancy (17), Henry (13), John Thomas (11) and Alexander (age 8).
Sometime after 1891 daughter Nancy married Alexander SAVARD of uncertain origins who died in March of 1899 at Battleford.
Around 1897 eldest daughter Eliza was married to John SAYER, son of Mary BREMNER and Henry Fleury SAYER (1841-1916).
Census of 1901 in Bresaylor: Cornelius PRUDEN, age 70; wife Jane, age 62.  Children still at home:  Henry (age 24) and Alex (age 18).
On May 17, 1902 Cornelius PRUDEN died in Battleford, SK
Around 1903 son Henry married Sarah Jane DELORME in Battleford, daughter of Isabelle PICHE and Charles DELORME (1855-1937).
Comments and queries at this link: FORUM DISCUSSING the CORNELIUS PRUDEN FAMILY
============================ Family Details ============================
Children:
1. Dec 13, 1865 ELIZA PRUDEN (m. John SAYER)
2. 1867 DONALD PRUDEN
3. Apr 8, 1868 EMMA JEMIMA PRUDEN (m. Jean Baptiste SAYER)
4. Jan 1, 1872 MARIE PRUDEN (Died in infancy)
5. Mar 27, 1874 NANCY PRUDEN (m. Alexander SAVARD)
6. Aug 2, 1877 HENRY PRUDEN (m. Sarah Jane DELORME)
7. 1878 JOHN THOMAS PRUDEN
8. Apr 15, 1882 ALEXANDER PRUDEN