JOHN SAYER (1874-1950)
ELIZA PRUDEN (1865-1916+)
(Last Updated: August 20, 2014)
John SAYER was born on Oct 5, 1874 in the White Horse Plains (St Francois Xavier in the District of Assiniboia), Manitoba, son of Mary BREMNER and Henry Fleury SAYER (1841-1916).
Census of 1881: John (age 9) with his parents in Assiniboia (MB). John's mother (Mary nee BREMNER) died in 1881 in childbirth, and in 1882 his father (Henry SAYER) re-married to Elise BEAUCHAMP,daughter of Marie Anne GONNEVILLE & Jean Baptiste BEAUCHAMP (b-1829).
The Founding Families of Bresaylor
The Northwest Rebellion
1881-1885
In 1882 John's family moved from Manitoba to Bresaylor (Saskatchewan) along with the first group of settlers in that area.
** MORE ABOUT JAMES BREMNER and the FOUNDING FAMILIES of BRESAYLOR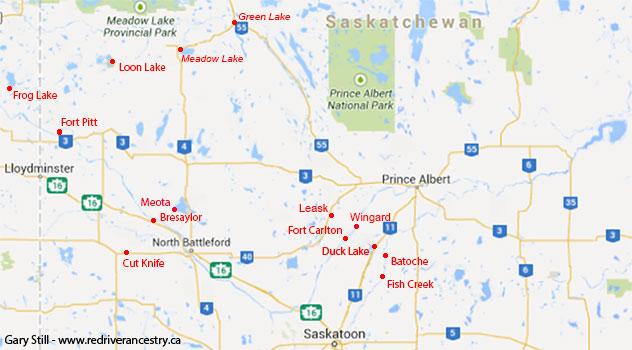 In 1885 historic Northwest Rebellion and the Battle at Batoche occurred. (More details at the James BREMNER link above)
On Apr 16, 1885 Harry SAYER (John's father) and his family, left without aid, were taken prisoner by the Indians and held all during the Rebellion. RCMP records show POUNDMAKER was arrested in 1885, charged with Treason Felony and sentenced to three years imprisonment. Similarly, Charles and James BREMNER, and Henry SAYER, were arrested and charged (because they were friendly with the Indians and their neighbours), but their case was discharged.
Census 1891: John (age 18) with father and step-mother (Elise) in North Battleford.
Marriage to Liza PRUDEN
Around 1897 John was married to Liza PRUDEN, daughter of Jane ROWLAND and Cornelius PRUDEN (1831-1902).
** MORE ABOUT CORNELIUS PRUDEN

Census of 1901 in Bresaylor:John SAYERS, age 27; wife Eliza, age 36. Children: Jemima (age 3) and Emma (age 1).
Census of 1906: John SAYERE, age 33; wife Eliza, age 41.Children: Jemima (age 8), Emma (7), Robert (5), Jane (3) and Sam (age 1). Hired woman: Nancy PRUDEN (age 22; b-1884) and her son William PRUDEN (age 1).
Census of 1911 in Battleford District (46-19-W3): John SAYERS, age 38; wife Liza, age 47. Children: Jemima (age 13), Emma (12), Robert (9), Donald (8), Sam (7), George (4) and baby Edna. Sister-in-law: Widow Emma SAYERS, age 43 (born Apr, 1868 in SK).
World War I
1914-1919
On Aug 4, 1914 Great Britain (Canada on Aug 5) declared war on Germany and Austria-Hungary to uphold treaties with France and Belgium which were under German attack. This marked the beginning of World War I.
Western Land Grants (undated): John SAYERS for Part of SE-18-46-19-W3). This location is on the south side of the Saskatchewan River about midway between Delmas and Paynton, a few miles upstream from the Paynton Ferry and northeast of the Poundmaker Indian Reserve.
In 1916 daughter Jemima married James Riel ISBISTER, son of Emily Sophie LAMBERT and Richard Hardisty ISBISTER (b-1862).

Census of 1916 in 46-19-W3: John SAYERS, age 45; wife Eliza, age 53. Children: Emma (age 16), Robert (15), Kenneth (12), Samuel (10), Walter (8) and Edna (age 5).
After 1916 daughter Emma married William Howard CROZIER, son of Lucy WILLIAMS and Joseph Howard CROZIER (1864-1938).
It is uncertain when son Daniel married Eva BIDUK (1920-1966) of uncertain origins.
November 11, 1919, Armistice Day (Remembrance Day) marked the end of the First World War.
Eliza (nee PRUDEN) SAYER must have died after 1916 and before 1921 when she is no longer recorded with the family.
Census of 1921 in 18-46-19-W3: John SAYERS, age 49. Children: Robert (age 20), Walter (15) and Daniel (age 19). With them is daughter Jemima (age 23), her husband, Riel ISBISTER (aged 29) and their children: Agnes ISBISTER (age 3), Martha (2) and baby Edna ISBISTER.
In 1926 son Walter married Harriet Melvina WELLS in Cut Knife (SK), daughter of Eleanor OUELLETTE and Alex WELLS (b-1874). ** These are the grandparents of Roxy on the Forum.
** FORUM DISCUSSING GEORGE WALTER SAYERS
In 1927 widowed daughter Emma CROZIER remarried to Charles Dow LANSING in Spokane, Washington, where she died in 1935.
World War II
1939-1945
On Sept 4, 1939 Canada and Britain declared war on Germany, and almost immediately new recruits began pouring into Winnipeg to sign up with the Winnipeg Grenadiers and the Royal Rifles of Canada.
From the latter part of 1941 to 1950 John was a trustee on the Federal School board.
In 1942 son Walter, a soldier with the Winnipeg Grenadiers, died a prisoner of the Battle of Hong Kong.
** MORE ABOUT the BATTLE of HONG KONG
Around 1943 son Daniel married Eva BIDUK (1920-1966) of uncertain origins.
On August 14, 1945 Japan surrendered - VJ Day. The Second World War was officially over.
On Nov 16, 1950 John SAYER died in Bresaylor. On Sept 1950 Eliza (nee PRUDEN) SAYER died; buried in the old Delmas Cemetery. (Bev Nicolson).
Comments and queries at this link: FORUM DISCUSSING the JOHN SAYER FAMILY
========================== Family Details ==========================
Children: 
1. Jan 13, 1898 ANNIE JEMIMA GERTRUDE SAYERS (m. James Riel ISBISTER)
2. Nov 27, 1900 EMMA SAYERS (m1. William Howard CROZIER; m2. Charles Dow LANSING)
3. Aug, 1901 ROBERT SAYERS
4. 1903 DONALD or DANIEL SAYERS (m. Eva BIDUK)
5. Jun 26, 1905 SAMUEL SAYERS (Died 1920)
6. Jan 4, 1907 GEORGE WALTER SAYERS (m. Harriet Melvina WELLS)
7. 1909 EDNA JANE SAYERS (m. George WELLS)