MOISE PONTBRIAND dit FONTAINE (1832-1902)
MARIE FRANCOISE GUIMOND (1840-)
(Last Updated: June 21, 2015)
Moise PONTBRIAND dit FONTAINE was born on Jun 2, 1832 in St Boniface, son of Half-breed Isabelle RIVARD and Jean Baptiste FONTAINE (1798-1873), a French Canadian. ** MORE ABOUT JEAN BAPTISTE FONTAINE
Voyageur with HBC
1850-1862
In 1850 as an 18 year old, Moise contracted to work for the Hudson's Bay Company (HBC) as a voyageur (a canoe middle-man; later a steersman). The next 12 years would find him plying the waterways of the Assiniboine River from Upper Fort Garry to places south and west, and from Red River to Lake Winnipeg and beyond, by canoe in the summer months and by dog-sled in the winter. Trade goods had to be brought down from York Factory in the late summer and fall for distribution to the far reaches of the great Northwest (then known as Rupertsland).
The main HBC bases for storage of furs and distribution of trade goods in those days included Upper and Lower Fort Garry on the Red and Assiniboine Rivers and Grand Rapids and Norway House on Lake Winnipeg. In the spring and summer furs acquired during the winter months at remote locations had to be brought in to these main warehouses from which they were further transported to York Factory on Hudson Bay for shipment to Europe aboard sailing ships. And so it was that Moise became very familiar with the settlements and the people who lived around Lake Winnipeg.
Marriage to Francoise GUIMOND
1862
In 1862 Moise retired from the HBC as a Steersman, and on Aug 10 that year he married Francoise GUIMOND in St Boniface, the daughter of Marie CHARETTE & Joseph GUIMOND (a French Canadian born around 1806). In 1863 daughter Ellen was born, probably in St Boniface. ** MORE ABOUT JOSEPH GUIMOND
Moise settles in Fort Alexander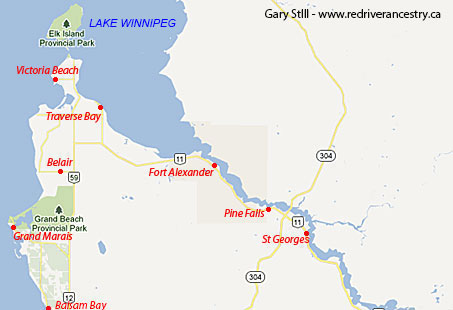 It must have been in the early 1860's that Moise moved his family to what would later become Sagkeeng (Fort Alexander) First Nation Indian Reserve (shown as gray on the map above) on the Winnipeg River. It is said that son Charles was born there on Nov 5, 1865.
Moise, as well as his parents and siblings were all devout members of the Roman Catholic Church. The three Oblate missionaries shown below (and their successors) would have a great influence upon the lives of this family and their descendants in the years that followed.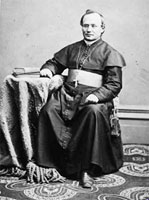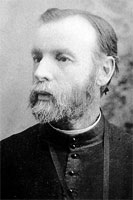 Left to Right: Bishop Alexander Tache, Father Joseph Lestanc and Father Joachim Allard
Serving under Bishop Alexander-Antonin TACHE (1823-1894) of St Boniface, Joseph LESTANC (1830-1912) became the first Oblate missionary to visit the Winnipeg River area, and in 1867 the St Alexandre (Fort Alexander) Mission was established there with Father Joachim ALLARD (1838-1917) as the first resident priest.
Canadian Confederation
A Métis Rebellion
Manitoba becomes a Province
1867-1870
On July 1, 1867 the British colonies in North America were united under the British North American Act to become the Dominion of Canada. Sir John A. MACDONALD was appointed as Canada's first Prime Minister. William McDOUGALL (1822-1905) became the first Minister of Public Works for the new Dominion of Canada, and he began negotiations to acquire Rupert's Land from the HBC. Surveyors were dispatched to Red River to prepare the way for an expected influx of settlers.
On Oct 11, 1869, Louis RIEL (1844-1885) placed his foot on the surveyors' chain to tell them their work was finished! This marked the beginning of a Red River Métis Rebellion.
On On July 15, 1870,  RIEL's Provisional Government accepted the terms of the Manitoba Act and on July 15,1870 Manitoba became the fifth province of Canada, the Canadian Government having acquired the territory previously governed by the HBC.
Aug 21, 1870, Colonel Garnet Joseph WOLSELY (1833-1913) and his soldiers arrived at Fort Alexander; then proceeded to Upper Fort Garry where on Aug 24 they forced their way into the Métis headquarters. RIEL, having learned that the soldiers were planning to lynch him, fled just a few hours before they arrived. After going to the bishop's residence to tell TACHE that he had been tricked by the politicians, RIEL fled to the United States. He took refuge at St Joseph's Mission, about 10 miles south of the border in Dakota Territory.
Signing of Treaty Number One
1871
In 1871 KAKAKEPENAISE (William MANN) signed Treaty Number One (The Stone Fort Treaty) on behalf of the Sagkeeng (Fort Alexander) First Nation people. Moise and his family thereafter became Treaty Indians by taking Treaty annuities.
In 1873 Moise's father, Jean Baptiste FONTAINE, died "on the plains".
Around 1874 son Louis was born in Fort Alexander.
In 1878 John NORQUAY (1841-1889) became the first Premier of Manitoba.
On Dec 31, 1881 Edgar DEWDNEY (1835-1916) was made Lieutenant Governor of the North-West Territories. He then asked Alexander MUCKLE (1844-1908) to accept the important post of Indian Agent for the St Peters Indians, including Fort Alexander and Brokenhead Bands.
On June 15, 1882 the Town of Selkirk was incorporated. The first Mayor was James COCLEUGH (1841-1918).
In 1883 son Ephrem was born in Fort Alexander. There were probably other children that I am not aware of at this time. I am hoping some descendants will come to our assistance on the Forum of this website to provide more information in that regard.
In 1893 son Charles married Therese CHARBONNEAU, daughter of Esther GIRARD and Jean Baptiste CHARBONNEAU (born c1842).
On Apr 17, 1896 at Fort Alexander, son Louis married Nancy THOMAS, daughter of Adelaide MORIN & George THOMAS (1852-1927). ** MORE ABOUT GEORGE THOMAS
Perhaps around 1897, daughter Ellen married an unknown (to me) MORRISSEAU.
On Oct 24, 1902 Moise FONTAINE died in St Boniface, age 66.
The last record I have of Marie is from the Census of 1911 when she was enumerated in the Fort Alexander Reserve with her son Ephrem (age 28) as Widow Marie FONTAINE, age 65.
Please post comments & queries at this link: FORUM DISCUSSING the FAMILY of MOISE FONTAINE
========================== Family Details ==========================
Children:
1. 1863 ELLEN FONTAINE (m. MORRISSEAU)
2. Nov 5, 1865 CHARLES FONTAINE (m. Therese CHARBONNEAU)
** MORE ABOUT CHARLES FONTAINE
3. c1874 LOUIS FONTAINE (m. Nancy THOMAS)
4. Aug 25, 1883 EPHREM FONTAINE