JEAN BAPTISTE FONTAINE (c1798-1873)
ISABELLE RIVARD (1805-1897)
(Last Updated: December 24, 2015)
Jean Baptiste FONTAINE, a French Canadian, was born around 1798 in Quebec.
There is very little documented information about the origins of Jean Baptiste FONTAINE. When did he arrive in Red River? We do know that the earliest French Canadian settlers in Red River country were primarily hunters, farmers and fishermen. Those associated with the fur trade were most likely employed by the North West Company or by 'Free Traders' of that era, many as voyageurs. The English speaking settlers were more likely to be employed by the Hudson's Bay Company.
St Boniface, Red River
1818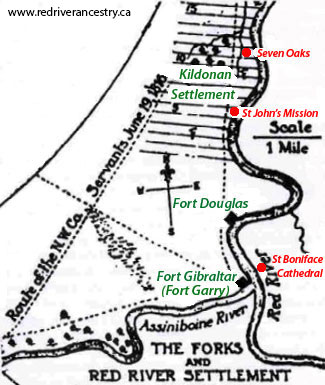 Red River Settlement around 1815
On Nov 1, 1818, Father Joseph-Norbert PROVENCHER (1787-1853) built a small log chapel which he dedicated to Saint Boniface, the English missionary monk and apostle, who spread the Catholic faith among the Germanic tribes in the 8th century. Saint Boniface, the first permanent mission west of the Great Lakes, became the heart of Roman Catholic (RC) missionary activity extending to the Pacific and the Arcitc coasts, as well as serving the growing population of the Red River Settlement. Early RC missionaries were commonly referred to as Oblates (Missionary Oblates of Mary Immaculate).
** MORE ABOUT FATHER JOSEPH-NORBERT PROVENCHER in DCBO
From details about his children and grandchildren we can be pretty sure that Jean Baptiste FONTAINE was a devout and God-fearing Roman Catholic. With little documented information about his early life, we can only speculate that he arrived in Red River from Quebec probably as a young man, perhaps around the same time as Father PROVENCHER and that he first lived in the St Boniface area which was populated mostly by French speaking Métis settlers who made their living primarily by hunting, farming, fishing and trapping. If employed, it was most likely by the North West Company which dominated in the early fur trade in the region. With a growing population there was a strong demand for buffalo meat and pemmican and the annual buffalo hunt was a major part of early Métis culture. In order to find sizeable herds of buffalo, these hunting parties had to travel south and west to the White Horse Plains (south of St Francois Xavier, MB) or to the Dakota Plains (south and west of Pembina in the USA).
Union of the Hudson's Bay Company and the North West Company
1821
In 1821 the North West Company (NWC) was absorbed by the Hudson's Bay Company (HBC) in a merger that ended many years of bitter and costly fur-trade rivalry that seriously affected their financial stability. As a result, many voyageurs and fur trade employees were either dismissed or retired.
Marriage to Isabelle RIVARD
1829
Around 1829 Baptiste FONTAINE married Isabelle RIVARD, daughter of Therese BELANGER & Jean Baptiste RIVARD (1773-1854).On Jan 28, 1830, son Jean Baptiste Jr. was born in St Boniface.
DCBO: In 1831 the white and Métis population of the Red River colony numbered 2,390, including 262 Catholic and 198 Protestant families. The first non-Roman Catholic missionary to work there was the Anglican minister John WEST (1778-1845). He had arrived in August 1820, and while serving the Protestants, who for the most part were Scots Presbyterians brought in by Lord Selkirk, he had opened a boarding-school for young Indian boys. Anti-Catholic, and not well received by the Scots who wanted a minister of their own church, WEST soon found himself in competition with PROVENCHER, who had already sought the right to solemnize marriages for Protestants, in the hope of thereby "retarding the introduction of Protestant ministers" into the northwest.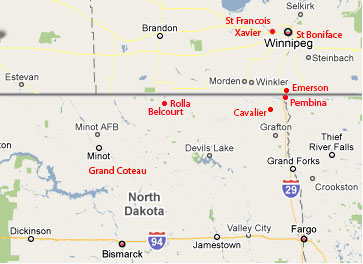 In 1849 Minnesota Territory was formed. At that time it included what would later become the States of North Dakota and Minnesota, bordered on the north by what would only later become the Province of Manitoba, Canada. At that time Pembina was one of the major "white" settlements in the region.
In the 1850 US Census of Minnesota Territories, Jean Baptiste FONTAINE was recorded as hunter, age 60; wife Isabelle as age 40. Children were recorded as Marguerite (age 22), Jean Baptiste Jr. (20), Moise (18) Susana (16) Louis (13), Jerome (9), Angelique (age 7) and Paul (a baby).
It seems that Jean Baptiste and Isabelle must have parted ways at some time in the mid 1850's.Unless I have been misinformed, there were two marriages in St Norbert on Nov 23, 1858 as follows:
Isabelle RIVARD married Joseph ADAM (1785-1873), son of Josephte MONTAGNAISE & Jean Baptiste ADAM. The same date and place, son Jean Baptiste FONTAINE JR married Angelique OUELLETTE, daughter of Marie MARCELLAIS & Jacques Jacob OUELLETTE. St Norbert is just south of Winnipeg and St Boniface.
On Aug 10, 1862 son Moise married in St Boniface to Francoise GUIMOND, daughter of Marie CHARET & Joseph GUIMOND.
In 1864, voyageur son Jerome married Nancy CHAPMAN, daughter of Margaret BUDD & Unknown CHAPMAN (both Half-breeds) at Cumberland House, SK.
Around the mid 1860's, son Louis married Marie BLONDIN, daughter of Marie & Paulette BLONDIN
Canadian Confederation
A Métis Rebellion
Manitoba becomes a Province
1867-1870
On July 1, 1867 the British colonies in North America were united under the British North American Act to become the Dominion of Canada.  Sir John A. MACDONALD was appointed as Canada's first Prime Minister. William McDOUGALL (1822-1905) became the first Minister of Public Works for the new Dominion of Canada, and he began negotiations to acquire Rupert's Land from the HBC. Surveyors were dispatched to Red River to prepare the way for an expected influx of settlers.
On Oct 11, 1869, Louis RIEL (1844-1885) placed his foot on the surveyors' chain to tell them their work was finished! This marked the beginning of another Red River Métis Rebellion. When it was all over, RIEL's Provisional Government accepted the terms of the Manitoba Act and on July 15,1870 Manitoba became the fifth province of Canada, the Canadian Government having acquired the territory previously governed by the HBC.
In 1870, according to her later Scrip affidavit, Isabelle RIVARD was living in St Norbert as the wife of Joseph ADAM.
In 1873 Jean Baptiste FONTAINE died "on the plains", according to a Scrip affidavit filed by daughter Marguerite.
.
In 1873 Joseph ADAM died in St Boniface
In 1875 Isabelle ADAM of St Norbert applied for her Half-breed Scrip as the widow of Joseph ADAM.
Around 1875 son Paul married Julie (Josette) SYLVESTRE; their first child, Baptiste, was born in 1876 at Portage la Loche (in Saskatchewan; east of present day Fort McMurray, AB).
On Feb 8, 1897 Isabelle died in St Boniface
** This page is under construction and will be revised and updated
as new and better information is discovered or reported on the Forum **
Please post comments & queries at this link: FORUM DISCUSSING JEAN BAPTISTE FONTAINE (1798-1873)
========================== Family Details ==========================
Children:
1. Jan 28, 1830 JEAN BAPTISTE PONTBRIAND dit FONTAINE (m. Angelique OUELLETTE)
2. 1832 MARGUERITE FONTAINE (m. Heli ARMSTRONG)
3. Jun 2, 1832 MOISE PONTBRIAND dit FONTAINE (m. Francoise GUIMOND)
** MORE ABOUT MOISE FONTAINE
4.  Aug 4, 1834 SUZANNE de PONTBRIAND FONTAINE
5. 1840 LOUIS FONTAINE (m. Marie BLONDIN)
6. c1843 WILLIAM FONTAINE
7. 1844 JEROME FONTAINE (m. Nancy CHAPMAN)
8. 1850 ANGELIQUE FONTAINE
9. 1856 PAUL FONTAINE (m. Julie (Josette) SYLVESTRE)