PAUL FONTAINE (1850-1937)
JULIE SYLVESTRE (1859-1921+)
(Last Updated: January 19, 2017)
Paul FONTAINE was born around 1850 in St Boniface (now Manitoba), the youngest son of Isabelle RIVARD and Jean Baptiste FONTAINE (1798-1873). ** MORE ABOUT JEAN BAPTISTE FONTAINE
Canadian Confederation
A Red River Rebellion
Manitoba becomes a Province
1867-1870
On July 1, 1867 the British colonies in North America were united under the British North American Act to become the Dominion of Canada.  Sir John A MACDONALD (1815-1891) was appointed as Canada's first Prime Minister. William McDOUGALL (1822-1905) became the Minister of Public Works, and he began negotiations to acquire Rupert's Land from the HBC; surveyors were sent to Red River to prepare the way for an expected influx of settlers.
On Oct 11, 1869, Louis RIEL (1844-1885) placed his foot on the surveyors' chain to tell them their work was finished! This marked the beginning of the historic Red River Métis Rebellion.
A Voyageur with the Hudson's Bay Company
1869
On Oct 20, 1869 Paul entered the service of the Hudson's Bay Company (HBC) as a middleman (voyageur) in the Athaabasca District (Fort McMurray) in what is now northern Alberta.
On July 15, 1870 the Rebellion ended when RIEL's Provisional Government accepted the terms of the Manitoba Act and Manitoba became the fifth province of Canada.
Marriage to Julie SYLVESTRE
1875
Around 1875 Paul married Julie (Josette?) SYLVESTRE. Son Baptiste was born in 1876 at Portage la Loche (La Loche, SK shown on map below)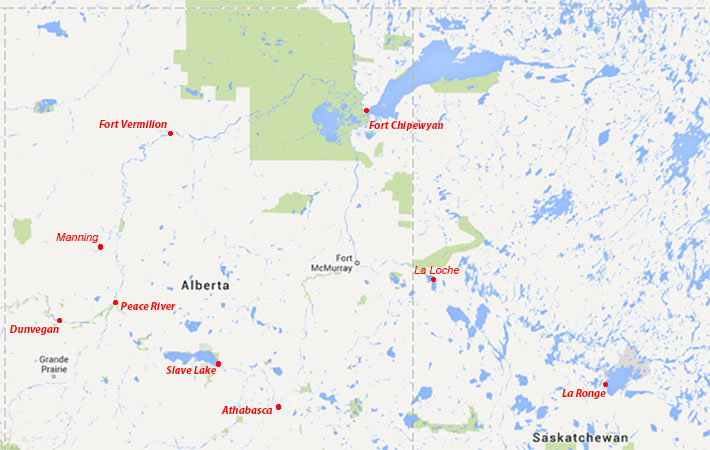 In 1877 Paul quit working for the HBC.

Around 1897 eldest son Baptiste married Rosalie JANVIER at Portage la Loche, daughter of Francoise LEMAIGRE and Pascal JANVIER (1816-1909).
Around 1900 eldest daughter Lucie was married to Daniel McAULEY, son of Mary Jane BRAZEAU and John MACAULAY (1836-1891+), an HBC clerk from Scotland. ** MORE ABOUT JOHN MACAULAY
Census of 1901 in Portage la Loche: Paul FONTAINE, age 48; wife Julie, age 42. Children: Lucie (age 20), Eleanore (18), Frederick (14), Jules (11), William (8), Marie Victoire (5), Marie Jeanne (2) and Marie Anne (age 2). Next-door is son Jean Baptiste, age 24; his wife Rosalie, age 23 and their daughter Robert, age 2.
Census of 1906 in La Loche: Paul FONTAINE, age 50 (born 1856 in Winnipeg); wife Julia, age 40 (born 1866 Long Portage). Children: George(age 20), Fred (14), Mary (age 10), Mary Ann (7) and Louise (age 2).
Census of 1916 in La Loche: Paul FONTAINE, Trapper, age 85; wife Julie, age 76. Children: Jules (age 35) and Maggie (age 16).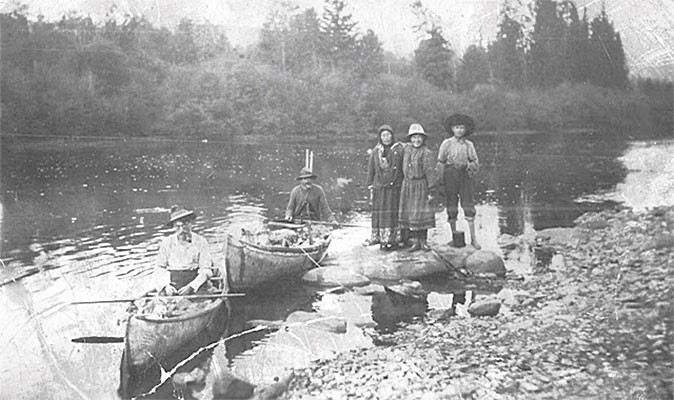 L-R Jules Fontaine, Paul Fontaine, Julie Fontaine, Louisa May Fountaine, and grandson, Francis Fontaine
(Thanks to Lucas McCaw)
On Feb 24, 1937 Paul FONTAINE died at Fort McMurray.
Comments and queries at this link: FORUM DISCUSSING THE PAUL FONTAINE FAMILY
========================== Family Details ==========================
Children:
1. 1876 BAPTISTE FONTAINE (m. Rosalie JANVIER)
2. 1878 LUCIE FONTAINE (m. Daniel Lewis McAULEY)
3. 1883 ELEANORE FONTAINE
4. 1886 GEORGE FONTAINE
5. 1887 FREDERICK (ALFRED) FONTAINE
6. 1890 JULES FONTAINE
7. 1893 WILLIAM FONTAINE
8.1896 MARIE VICTORIE FONTAINE
9. 1899 MARIE ANNE FONTAINE
10. 1899 MARIE JEANNE FONTAINE
11. 1904 MARGARET LOUISE (MAGGIE) FONTAINE