JOHN MACAULAY (1836-1891+)
MARY JANE BRAZEAU (1847-1906+)
(Last Updated: December 24, 2015)
John MACAULAY was born around 1836 in the Isle of Lewis, Scotland.
Surname variations: MACAULAY, McAULAY, McAULEY, MACAULAY, McCAULEY
Hired by the Hudson's Bay Company
1856
On May 30, 1856 John was hired by the Hudson's Bay Company (HBC) in London, England. He sailed to York Factory on Hudson Bay where he spent his first winter as an apprentice clerk.
In 1857 he was sent to the Saskatchewan River District where he continued his apprenticeship at Edmonton, then Jasper House (1858-59), back to Edmonton (1859-61)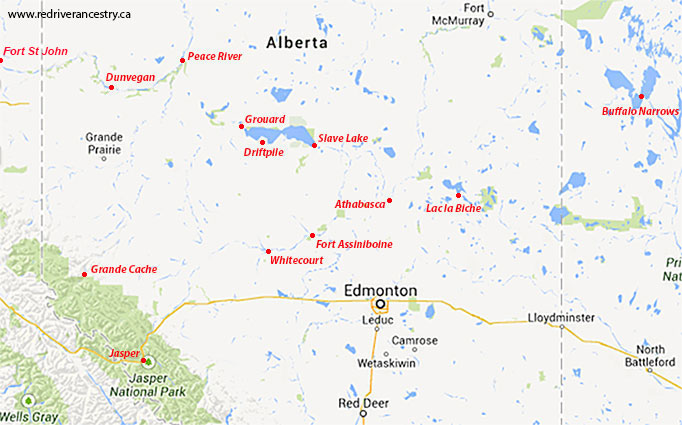 In 1861 John was promoted to Clerk in Charge at Edmonton, then from 1862 to 1867 at Jasper House.
Marriage to Mary Jane BRAZEAU
1864
Around 1864 John married Mary Jane BRAZEAU, daughter of Marguerite BRABANT and Joseph Edward BRAZEAU (1812-1871). Son Joseph was born around that time in Edmonton.
Canadian Confederation
1867
On July 1, 1867 the British colonies in North America were united under the British North American Act to become the Dominion of Canada.  Sir John A MACDONALD (1815-1891) was appointed as Canada's first Prime Minister.
From 1867 to 1871 John was the Clerk in Charge at Edmonton House. The HBC Archives indicate that in 1871-72 John was a 'Freeman' (retired) to Europe.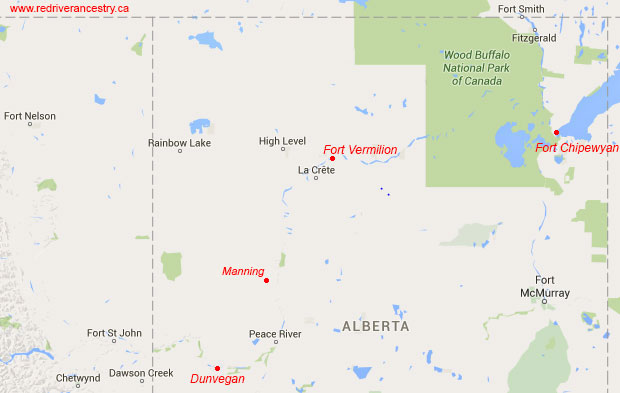 In 1872 John was back in Canada as a clerk at the Battle River Post in the Athabasca District. ** The Battle River Post was located on the Peace River near Manning (near the mouth of the Notikewin River).
From 1876 to 1878 John was clerking at Fort St John (BC), still in the Athabasca District.
1878-1879: John indicated as a Junior Chief Trader Red River Post in the Athabasca District. ** The Red River Post was located on the Peace River east of Fort Vermlion near Vermilion Falls. It was established in 1875 and closed in 1887.
During 1879-1880 John was Junior Chief Trader at Fort McMurray, then back to Red River Post in 1880-81.
Census of 1881 at the Red River Post: John MACAULAY (Note the surname spelling), Trader, age 45; wife Mary Jane, age 33. Children: John R (age 15), George E (13), Norman (12), William C (10), Daniel L (8), Catherine (6), Mary M (4) and Scott (age 2).
Saskatchewan
1882
1882-1887: John as Junior Chief Trader at Rapid River, (east of Stanley Mission), Cumberland District of Saskatchewan.
Northwest Rebellion
1885
The historic Northwest Rebellion occurred in 1885. ** MORE ABOUT THE NORTHWEST REBELLION in Wikipedia
Census of 1891 in Red Deer Hill (south of Prince Albert): John McCAULEY, age 55; wife Mary, age 43. Children: Joseph (age 27), John (24), Norman (21), William (19), Daniel (17), Catherine (15), Mary (13), Scott (10), Christina (7), Stanley (5), Alice (3) and baby Florence (age 1). ** My note: I think Florence is actually Laurence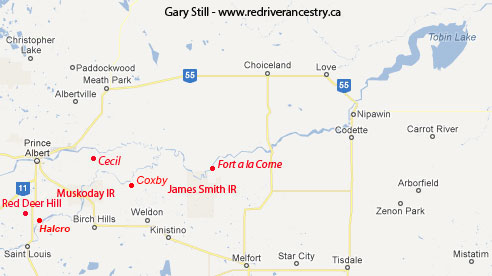 Sometime after 1891 and before 1901 John McAULEY died.
Perhaps around 1894 eldest son Joseph married Flora Anne SETTEE, daughter of Louisa MOORE and Reverend John Richard SETTEE (b-1841). Flora was a granddaughter of Sarah COOK and Reverend James SETTEE (1809-1902).
** MORE ABOUT REVEREND JAMES SETTEE
Around 1900 son Daniel married Lucie FONTAINE, daughter of Julie SYLVESTRE and Paul FONTAINE (b-1856).
Census of 1901 in Willoughby, SK: Widow Mary J McAULAY, age 54. Children: John (age 33), Norman (31), Charles (29), Daniel (27), Scott (22), Luez (21), Mary (21), Christina (18), Stanley (15), Alice (14), Laurence G (11) and John G (age 1). ** My notes: Luez (age 21) is actually Daniel's wife Lucie, and John G (age 1) is actually Daniel's child).
Census of 1906: Widow Mary McCAULEY (age 61) with son George and his wife Hanny in Red Deer Hill district. This is the last known record for Mary Jane.
Comments and queries at this link: FORUM DISCUSSING THE JOHN MACAULAY FAMILY
================================ Family Details ================================
Children:
1. 1864 JOSEPH EDWARD McAULEY (m. Flora Anne SETTEE)
2. Feb 22, 1867 JOHN R McAULEY
3. 1868 GEORGE E MACAULAY (m. Hanny/ Annie)
4. Dec 23, 1869 NORMAN McAULEY
5. Jan 6, 1872 CHARLES WILLIAM McAULEY
6. Jan 8, 1874 DANIEL LEWIS McAULEY (m. Lucie FONTAINE)
7. 1875 CATHERINE MACAULAY
8. Mar 21, 1878 MARY M McAULEY
9. Nov 30, 1879 SCOTT McAULEY
10. Jul 20, 1883 CHRISTINA McAULEY
11. Jun 27, 1885 STANLEY McAULEY
12. Oct 20, 1887 ALICE McAULEY
13. Sep 4, 1889 LAURENCE G McAULEY