CHARLES FONTAINE (1865-1921+)
THERESE CHARBONNEAU (1873-1921+)
(Last Updated: May 24, 2015)
Charles (SCHALL) FONTAINE, a Salteaux (Ojibway) Indian, was born Nov 5, 1865 in Fort Alexander, son of Francoise GUIMOND & Moise FONTAINE (1832-1902). ** MORE ABOUT MOISE FONTAINE
Anyone interested in the FONTAINE families of Fort Alexander must read the book "Broken Circle – The Dark Legacy of Indian Residential Schools", a Memoir written by Charles' grandson, Theodore FONTAINE. I frequently refer to this book in my own research.
Charles marries Therese CHARBONNEAU
1893
In 1893 Charles married Therese CHARBONNEAU, daughter of Esther GIRARD and Jean Baptiste CHARBONNEAU (b-1842).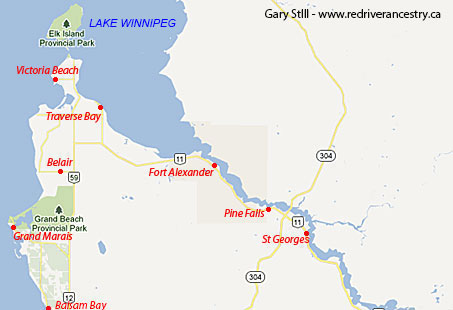 In 1902 Charles' father (Moise) died in St Boniface at the age of 66.
Census of 1906 in the Fort Alexander Indian Reserve: Charles FONTAINE, age 37); wife Theresa, age 29). Children: Alex (age 13), Catherine (10), Gabriel (9), Caroline (8), George (7), Sophia (5), Jean Baptiste (2) and baby Mary (19 months).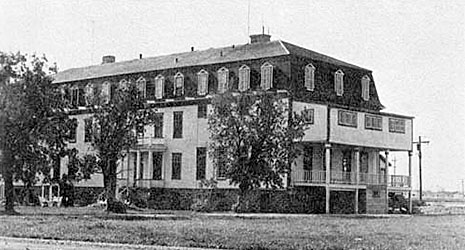 Fort Alexander Residential School, (Built in 1905)
After it was built, most of Charles' children attended the Boarding School at Fort Alexander.
Census of 1911 in the Fort Alexander Indian Reserve: Salteaux family of Labourer Charles FONTAINE, age 47; wife Theresa, age 37. Children: Catherine (age 17), Gabriel (16), Caroline (13), George (11), Sophie (9), Baptiste (7), Maria (5), Antoine (4) and Alphonse (age 2).
In 1911 Charles' mother (Marie Francoise FONTAINE) was recorded with his brother, Ephrem FONTAINE, in the Fort Alexander Reserve. I don't have a death date for his mother.
Around 1911 eldest son Alexander married Therese COURCHENE, daughter of Elizabeth MAINVILLE and Joseph COURCHENE (1866-1933).
In 1913 daughter Catherine married Leon JOHNSTON in Fort Alexander, son of Angelique BELL & Donald JOHNSTON (b-1863).


World War I
1914-1918
On Aug 4, 1914Great Britain (Canada on Aug 5) declared war on Germany and Austria-Hungary to uphold treaties with France and Belgium which were under German attack. This marked the beginning of World War I.
Census of 1916 in the Fort Alexander Indian Reserve: Ojibwe family of Charlie FONTAINE, trapper, age 67; wife Doris (? – Therese), age 60. Children: Gabriel (age 20), Caroline (18), Sophie (16), Bee (14; Baptiste), Emma (12; Maria), Antoine (10), Alphonse (8), Helen (6; Ellenne), Albert (4) and George (age 2). Lodger: William L JOHNSTON, age 22 (b-1894).
November 11, 1918, Armistice Day (Remembrance Day) marked the end of the First World War.
Son Gabriel married Emily Lucille CHARLES, said to be the child of Annie CHARLES and William McCLOUD of uncertain origins ** Note: We need more information to authenticate these details.
By 1921 daughter Sophia was married to Ambrose COURCHENE in For Alex, son of Mary CHARBONNEAU and Xavier COURCHENE (b-1868).
Census of 1921 in the Fort Alexander Indian Reserve: Charles FONTAINE, age 60; wife Therese, age 47. Children: Baptiste (age 18), Antoine (14), Alphonse (12), Albert (10), Helen (Ellene) (8) and Frances JOHNSTON (age 6).
Daughter Ellene attended the Residential School and she later recalled "The transition from a small log cabin to a large residential school and boarding house made life difficult."
Around 1927 son George was married to Margaret NIIZHOTAY or TWOHEART in Fort Alexander, daughter of NIIZHOTAY or Duncan TWOHEART. ** Note: This from Theodore's comments in Broken Circle. However, in her obituary it indicates her parents as Sarah BIRD (d-1914) and William TOKANAINSE (d-1970). Hoping that someone will clear this up.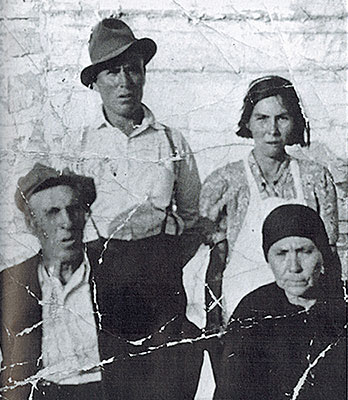 Front: Charles and Therese Fontaine
Back: Son George Fontaine and his wife Margaret
(A clip from Broken Circle with minor restoration)
In 1929 son Jean Baptiste married Agnes SPENCE in Fort Alexander, daughter of Louise GIRARD and Joseph SPENCE (1898-1981) who came from the Couchiching Reserve near Fort Frances, Ontario. ** These were the parents of the notable Grand Chief Phil FONTAINE.
In 1938 youngest daughter Elenne married Charles Munro GORDON in Fort Alex, son of Catherine and Charles Hugh Munro GORDON (1866-1934), an HBC Clerk who was born in Scotland.
** MORE ABOUT CHARLES HUGH MUNRO GORDON
Comments and queries at this link: FORUM DISCUSSING the CHARLES FONTAINE FAMILY
========================== Family Details ==========================
Children:
1. 1893 ALEXANDER FONTAINE (m. Therese COURCHENE)
2. May 18, 1898 GABRIEL FONTAINE (m. Emily Lucille CHARLES)
3, 1896 CATHERINE FONTAINE (m. William Leon JOHNSTON)
4. 1898 CAROLINE FONTAINE
5. 1900 GEORGE FONTAINE (m. Margaret TWOHEART)
6. 1902 SOPHIA FONTAINE (m. Ambrose COURCHENE)
7. 1904 JEAN BAPTISTE FONTAINE (m. Agnes SPENCE)
8. 1906 MARIA/MARY (EMMA) FONTAINE
9. 1907 ANTOINE "TONY" FONTAINE
10. 1909 ALPHONSE FONTAINE (m. Virginia)
11. Feb 6, 1912 ELLENE JEANNE FONTAINE (m. Charles Munro GORDON)
** MORE ABOUT CHARLES MUNRO GORDON
12. 1912 ALBERT FONTAINE (Margaret)