CHARLES HUGH MUNRO GORDON (1866-1934)
LOUISA ISABELLA CORSTON (1872-1911)
CATHERINE DAVID (1883-?)
(Last Updated: April 06, 2016)
On March 13, 1866 Charles Hugh Munro GORDON was born in Helmsdale, Sutherlandshire, Scotland.
In the service of the Hudson's Bay Company
1882
On May 2, 1882 Charles entered the service of the Hudson's Bay Company (HBC). He served his apprenticeship as a clerk, first in the Moose District, 1883-85 in the Albany District and 1885-87 in the Rupert's River District.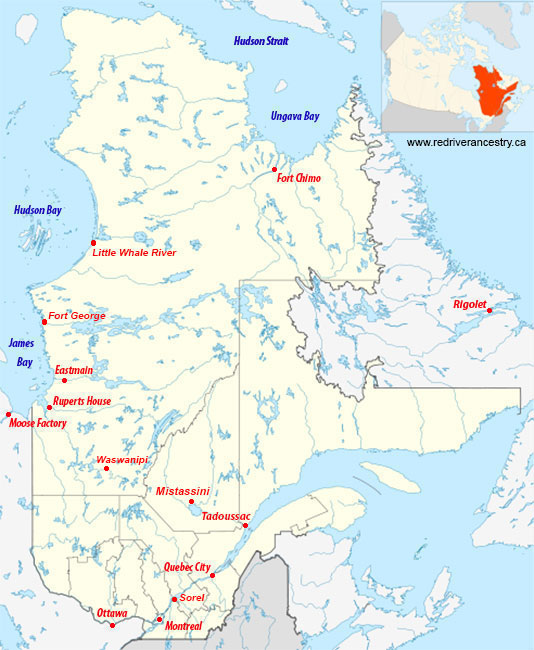 Rupert's House
Marriage to Louisa Isabella CORSTON
1887-1902
From 1887 to 1902 Charles was a Clerk and Accountant at Rupert's House in the Rupert's River District.
On Feb 14, 1894 Charles married Louisa Isabella CORSTON, daughter of Margaret McKAY and William CORSTON (1819-1898) from the Orkneys of Scotland, a retired HBC Postmaster who was living at Eastmain.
In 1901 daughter Lillian was born in Quebec (Rupert's House).
Fort Hope
1902-1913
From 1902 to 1913 Charles was a clerk at Fort Hope in the James Bay (Lake Superior) District. In 1903 son Charles was born there, followed by William in 1904 and Walter in 1907.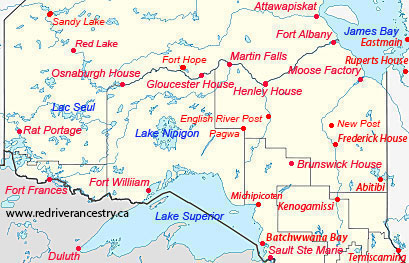 Census of 1911 in Fort Hope: Charles GORDON, age 44; wife Louisa, age 44. Children: Lilly (age 9), Charles (7), William (6) and Walter (age 4).
On July 19, 1911 Louisa Isabella (nee CORSTON) GORDON died in Fort William.
After Louisa died, Charles then sent their four youngest children to England where they spent the War years living with Charles' older sister in South Shields, England.
World War I
Marriage to Catherine DAVID
1914-1918
On Aug 4, 1914 Great Britain (Canada on Aug 5) declared war on Germany and Austria-Hungary to uphold treaties with France and Belgium which were under German attack. This marked the beginning of World War I.
On Mar 6, 1916 son Eric enlisted at Winnipeg.
On Mar 27, 1916 Charles married Catherine DAVID, a Metis lady, while he was posted at Fort William. (From Louise BELIN)
From 1916 to 1918 Charles was a clerk at God's Lake, and from 1918 to 1921 he was a Post Manager at Cross Lake (both in northern Manitoba).
November 11, 1918, Armistice Day (Remembrance Day) marked the end of the First World War.
In 1919 Charles' children returned from England.
Census of 1921 in the Nelson District: Charles Hugh Munroe GORDON, Trading Post Manager, age 53; wife Catherine, age 38 (born 1883 in MB). Children: Lilian (age 19) and Charles Munroe (age 17). Clerks/Lodgers: Jean Paul DUPUIS, age 25 (born 1896 in Quebec) and Hugh FRASCH, age 19 (born 1902 in Scotland).

In 1821 the union of the North West Company (NWC) and the Hudson's Bay Company (HBC) occurred, ending the years of bitter rivalry for dominance of the fur trade in Western Canada.
Fort Alexander
1921
In 1921 Charles became the Post Manager at Fort Alexander.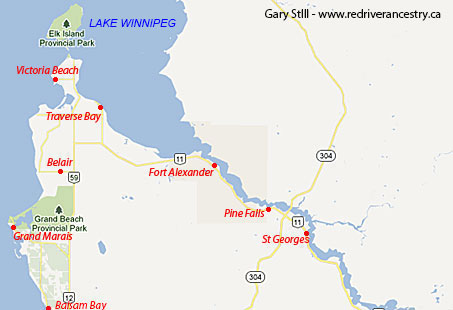 In 1921 son Eric married Louise Maude WORTHINGTON in Winnipeg, daughter of Eliza THOMKINSON and Roy Lyon WORTHINGTON (1874-1941) from the USA.
On Sep 1, 1927 Charles was pensioned to Pine Falls, Manitoba.
In 1928 daughter Lillian married Adelard Joseph CHEVREFILS in St George (MB), son of Rozilda Grezilla VINCENT and Jean Baptiste CHEVREFILS (1863-1924). ** MORE ABOUT JEAN BAPTISTE CHEVREFILS
On Nov 1, 1934 Charles Hugh GORDON died in Winnipeg at the age of 68.
In 1938 son Charles married Elenne Jeanne FONTAINE in Fort Alexander, daughter of Therese CHARBONNEAU and Charles FONTAINE (1865-1921+). ** MORE ABOUT CHARLES FONTAINE
Comments and queries at this link: FORUM DISCUSSING the CHARLES HUGH MUNRO GORDON FAMILY
========================== Family Details ==========================
Children:
1. May 1, 1894 CLARENCE MUNRO GORDON (Died in infancy)
2. c1896 EDWARD GORDON
3. Aug 3, 1899 ERIC MUNRO GORDON (m. Louise Maude WORTHINGTON)
4. Feb 15. 1901 LILLIAN GORDON (m. Adelard Joseph CHEVREFILS)
** MORE ABOUT ADELARD JOSEPH CHEVREFILS
5. Oct 20, 1903 CHARLES MUNRO GORDON (m. Elenne FONTAINE)
** MORE ABOUT CHARLES MUNRO GORDON
6. Oct 23, 1904 WILLIAM JOHN (BILL) GORDON
7. 1907 WALTER GORDON