JEAN BAPTISTE CHEVREFILS (1863-1924)
GRAZIELLA (ROZILDA) VINCENT (1873-1935
(Last Updated: April 01, 2016)
Jean Baptiste CHEVREFILS was born Mar 7, 1863 in St Marrtine Quebec (SW of Montreal), son of Marie Angelique ALLARD and Georges CHEVREFILS (1815-1895).
Inspiration to develop Family Pages for this lineage was provided by Jean Baptiste CHEVREFILS' granddaughter, Louise BELIN, who made a donation and is cooperating in its development.
By 1875, lumber was in great demand throughout the new province of Manitoba; in that year, the Snider & Adams Lumbering Company established a water-powered sawmill at the rapids of Pine Falls This industry attracted the first homesteaders. ** From George Laior, author of "The Foot of the River".
THE CHEVREFILS move to St Georges, Manitoba
1880
The site of the future Parish of St. Georges was chosen in 1879 by Father Joachim ALLARD (1838-1917) of the Catholic Oblates of Mary Immaculate (OMI), who was the first resident missionary in Fort Alexander, Manitoba. Three French Canadian families from Sainte-Maraine and Sainte-Urbain (PQ) were invited to form the beginning of a colony. These were the families of Louis VINCENT (1848-1918) and Georges CHEVREFILS and Ephrem DUPONT and his brother Omer, arriving in early 1880 and take land southeast of the reserve.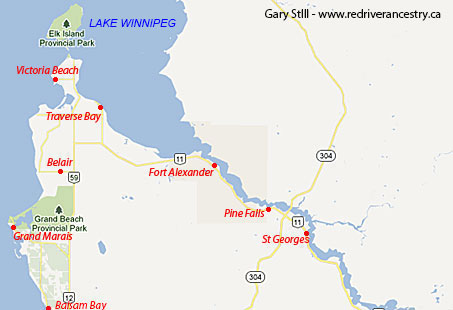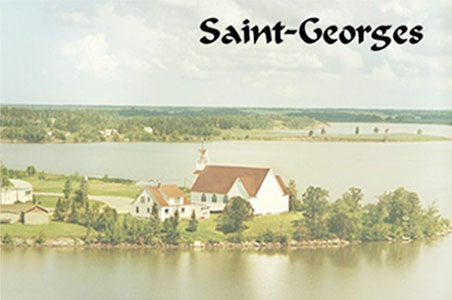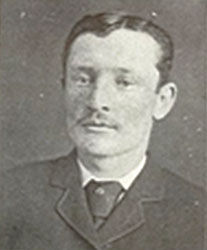 Jean Baptiste Chevrefils
Marriage to Graziella VINCENT
1893
On Jun 17, 1893 Jean Baptiste CHEVREFILS married Graziella VINCENT in St Georges, daughter of Aurelia DUBUC and Alphonse VINCENT (1846-1894).
Census of 1901 in St Georges:  J.B. CHEVREFILS, age 38; wife Graziella, age 28; and son Adelard, age 6.
Census of 1906 in St Georges:  Jean Baptiste CHEVREFILS, age 43; wife Grezilla, age 33. Children: Adelard (age 12), Isidore (5), Eleanor (3) and Harvey (age 1).
Census of 1911 in St Georges:  Jean B CHEVREFILS, age 48; wife Grazilia, age 38. Children: Aelard (age 16), Isidore (9), Eleanor (8), Harvey (6), Laura (3) and Clara (age 1).
World War I
1914-1918
On Aug 4, 1914 Great Britain (Canada on Aug 5) declared war on Germany and Austria-Hungary to uphold treaties with France and Belgium which were under German attack. This marked the beginning of World War I.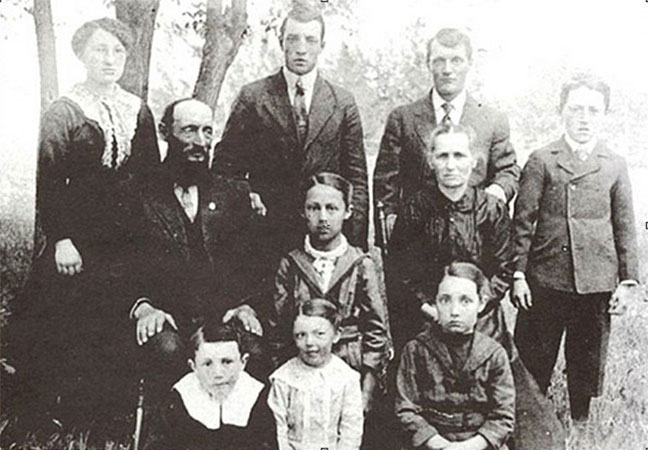 Family of Grezilla and Jean Baptiste Chevrefils around 1915
Standing L-R: Eleanore, Isidore, Adelard and Herve
Sitting L-R: Jean Baptiste, Lauria, Grezilla
In Front: Donat, Elizabeth and Clara
Census of 1916 in St Georges:  Jean Baptiste CHEVREFILS, age 53; wife Grissella, age 43. Children: Adelard (age 22), Isidore (15), Eleanore (13), Herves (11), Louisa (9), Clara (7), Donald (5) and Elizabeth (age 2).
November 11,1918, Armistice Day (Remembrance Day) marked the end of the First World War.
Census of 1921 in St Georges: Jean Baptiste CHEVREFILS, age 58; wife Gresialla, age 48. Children: Adelard (age 24), Isidore (19), Harvey (16), Eleanore (13), Lauria (13), Clara (11), Donat (9) and Elizabeth (age 6).
On Nov 4, 1924 Jean Baptiste CHEVREFILS died in St George.
In 1926 daughter Eleanor married Philippe DUPONT in St Georges, son of Melina LOON and Omer DUPONT.
In 1928 eldest son Adelard married Lillian GORDON in St Boniface, daughter of Louisa Isabella CORSTON and Charles Hugh Munro GORDON (1866-1934). ** MORE ABOUT CHARLES HUGH MUNRO GORDON
In 1929 daughter Laura married Ernest TOUROND in Pine Falls, son of Marie VERMETTE and Joseph TOUROND.
In 1930 son Harvey married Marie Matilda Amanda HAMELIN in Pine Falls, daughter of Suzanne BEAULIEU and Albert HAMELIN (1879-1982).
In 1932 daughter Clara married Louis COSS in Pine Falls, son of Sarah BAULDIC and Jean Baptiste COSS.
In 1935 daughter Elizabeth married her brother-in-law, Joseph HAMELIN, son of Suzanne BEAULIEU and Albert HAMELIN.
On Dec 25, 1935 Gresiella (nee VINCENT) CHEVREFILS died in Pine Falls at the age of 62.
In 1937 son Isisdore married Flavie LACOSTE in Grafton, North Dakota (USA), daughter of Celanire PARENT and Pierre LACOSTE.
Comments and queries at this link: FORUM DISCUSSING THE FAMILY OF JEAN BAPTISTE CHEVREFILS
========================== Family Details ==========================
Children:
1. Jun 18, 1894 ADELARD CHEVREFILS (m. Lillian GORDON)
** MORE ABOUT ADELARD CHEVREFILS
2. Dec 22, 1895 HORTENSE MARIE CHEVREFILS (Died in infancy)
3. Mar 19, 1898 GEORGES CHEVREFILS (Died in infancy)
4. May 22, 1900 ZENO CHEVREFILS (Died in infancy)
5. Jul 4, 1901 ISIDORE CHEVREFILS (m. Flavie LACOSTE)
6. May 10, 1903 ELEANORE CHEVREFILS (m. Philippe DUPONT)
7. Mar 31, 1905 HERVEY CHEVREFILS (m. Marie Matilda Amanda HAMELIN)
8. Jun 25, 1907 LAURA CHEVREFILS (m. Ernest TOUROND)
9. Jun 1, 1909 CLARA CHEVREFILS (m. Louis COSS)
10. Aug 4, 1911 DONAT CHEVREFILS (Died age 16)
11. Jun 25, 1914 ELIZABETH CHEVREFILS (m. Joseph HAMELIN)