CHARLES MUNRO GORDON (1903-1979)
ELENNE JEANNE FONTAINE (1912-2000)
(Last Updated: May 24, 2015)
On Oct 20, 1903 Charles Munro GORDON was born in the James Bay District (probably at Fort Hope), son of Catherine and Charles Hugh Munro GORDON (1866-1934), an HBC Clerk who was born in Scotland.
** MORE ABOUT CHARLES HUGH MUNRO GORDON
Census of 1921: Charles (age 17) with his parents at Cross Lake in the Nelson District. By this time his father (Charles Sr.) had been promoted to Post Manager. That fall the GORDON family moved down to Fort Alexander in the Keewatin District.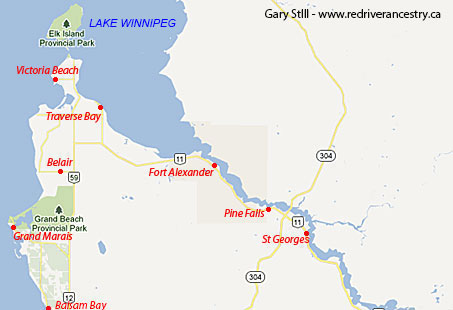 Marriage to Elenne FONTAINE
1938
On Jan 23, 1938 Charles married Elenne Jeanne FONTAINE in Fort Alexander, daughter of Therese CHARBONNEAU and Charles FONTAINE (b-1865). These are the maternal grandparents of Ross KOZIELEC on the Forum.
** MORE ABOUT CHARLES FONTAINE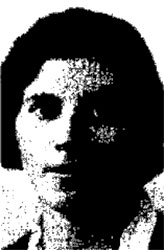 Elenne (nee Fontaine) Gordon (From her obituary)
In 1968 daughter Karen married Robert KOLESAR.
Charles GORDON dies in Pine Falls
1979
On May 27, 1979 Charles Munro GORDON died in Pine Falls at the age of 76. His obituary indicated that he was survived by his wife Elenne; son John and his wife Adele of Keewatin; daughter Karen and her husband Robert KOLESAR of East Selkirk; and daughter Iris and her husband Gerry KOZIELEC of Winnipeg.
On Sep 24, 2000 Elenne Jeanne (nee FONTAINE) GORDON died in Keewatin, Ontario, at the age of 88. Her obituary indicates that she was predeceased by her husband Charles in 1979; daughter Iris KOZIELEC in 1979 and infant daughter Marie Elaina. She was survived by daughter Karen KOLESAR and son-in-law Gerry KOZIELEC.
Comments and queries at this link: FORUM DISCUSSING the CHARLES MUNRO GORDON FAMILY
========================== Family Details ==========================
Children:
1. JOHN (JACK) GORDON (m. Adele)
2. KAREN GORDON (m. Robert KOLESAR)
3. Dec 26, 1950 IRIS GORDON (m. Gerry KOZIELEC)
4. MARIE ELAINA (Died in infancy)