WILLIAM SCOTT (1815-1874)
ANN SETTER (1825-1909)

(Last Updated: June 09, 2016)
William SCOTT was baptized Jan 19, 1815 in the Orkneys (Eday Parish), Scotland. Several sources suggest William's father was Malcolm SCOTT; his mother as Jean FOTHERINGHAME. Some indicate his mother as Janet REID. If anyone has definitive information, please let us know on the Forum (link provided below).
Grandson Clifford (Cliff) Fulsher SCOTT: Grandfather SCOTT came to this country in 1831 from the Orkney Islands and worked for the Hudson's Bay Company (HBC) as a crewman on the great York boats in the summer, and hauled by dog team in winter. His travelling companion on his journey to this land was a young man, then known as Donald SMITH (1820-1914), who later became Lord Strathcona and finally Canadian High Commissioner to Britain.
** MORE ABOUT DONALD "LORD STRATHCONA" SMITH in DCBO

William was one of 12 brothers who were all seafaring men. One of his brothers' sons was Robert Falcon SCOTT (b-1868, son of Hannah CUMMING & John Edward SCOTT), discoverer of the South Pole, who lost his life on the return journey.
** MORE ABOUT ROBERT FALCON SCOTT in WIKIPEDIA
HBC Service
1835
HBC Archives: On Apr 25, 1835, William signed a contract with the Hudson's Bay Company (HBC) at Kirkwall, Scotland. In June-August of 1835 he sailed from Stromness to York Factory on the Prince Rupert.
From 1836 to 1845 William worked out of Fort Pelly in the Swan River District as a crewman on the York boats in the summer, and hauled by dog team in winter.
Marriage to Ann SETTER
1842
Around 1842 William married Ann SETTER, daughter of Margaret "Peggy" SPENCE and Andrew SETTER (1777-1870).
** MORE ABOUT ANDREW SETTER
In 1845 William retired as a Middleman from the HBC in Red River. He was given a three-chain lot extending northwest two miles. This was an HBC grant in appreciation of his services. They were later extended to four miles.
Cliff: First William built a log house, and about 1855-56 he built the stone house. This, I believe, is perhaps one of the oldest dwellings built in the west. At that time there were no legally established roads, apart from river travel and the old Red River tracks which followed along the river banks as fare as any settlement. ** This road is shown as The Inner Road on the map below.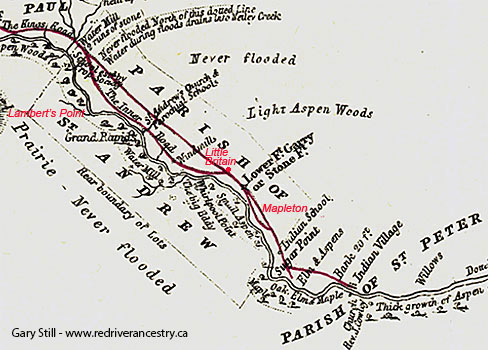 St Andrews Parish form Hind''s Map of 1857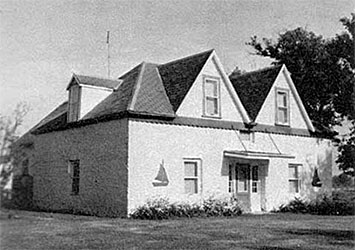 William Scott home, Red River Road, built in 1858 of limestone.

In 1865 daughter Jane married Thomas Henry BROWN in St Andrews, son of Nancy RICHARDS and John BROWN (1810-1900).
Cliff: Back in 1860-70 the Sioux from the western plains were still making their annual trips to the settlement. Large parties would come down the river in their war canoes. My father (William Jr.) told of them always coming to the old stone house dressed in feathers and beaded buckskin with many dried human scalps suspended from their belts. They were given flour, tea, sugar and whatever could be spared. In most cases they went peaceably away. The local Swampy Crees seemed to know by grapevine of this event and would hightail it to the thick woods until it appeared safe to come out. The settlers always lived in fear and for this reason grandfather (William Sr) built a tunnel leading from the cellar to a wooded creek on the riverbank, with a canoe concealed there at all times.
Canadian Confederation
A Red River Rebellion
Manitoba becomes a Province
1867-1870
In 1867 daughter Eliza married James CAMPBELL, son of Elizabeth McGILLIVRAY and Colin CAMPBELL (1787-1853). ** MORE ABOUT COLIN CAMPBELL
On July 1, 1867 the British colonies in North America were united under the British North American Act to become the Dominion of Canada.  Sir John A MACDONALD (1815-1891) was appointed as Canada's first Prime Minister. William McDOUGALL (1822-1905) became the Minister of Public Works, and he began negotiations to acquire Rupert's Land from the HBC; surveyors were sent to Red River to prepare the way for an expected influx of settlers.
On Oct 11, 1869, Louis RIEL (1844-1885) placed his foot on the surveyors' chain to tell them their work was finished! This marked the beginning of the historic Red River Métis Rebellion.
On July 15, 1870 the Rebellion ended when RIEL's Provisional Government accepted the terms of the Manitoba Act and Manitoba became the fifth province of Canada.

Census of 1870 in St Andrews (Lot 64): William SCOTT, age 55; wife Ann, age 46. Children: Marian (age 24), Malcolm (19), Annabella (18), William (13), John James (11) and Alice (age 2).
In 1872 daughter Annabella married Reverend James TAYLOR at The St James Mission in the Key Indian Reserve, the son of Nancy McKAY and Samuel TAYLOR (1812-1894). ** MORE ABOUT SAMUEL TAYLOR
Death of William SCOTT
1874
On March 18, 1874 William SCOTT died in St Andrews. He would have been about 59 years old.
In 1874 daughter Mary Ann was the wife of Robert FISHER (b-1842) from Ontario.
Cliff: Grandfather (William Sr) died while still a comparatively young man and left my grandmother with eight of a family to bring up. She also cared for several motherless children. About this time Sir George SIMPSON paid her a visit to ask her if her money was coming through from the old country. Apparently something was amiss as she had not received anything, but he told her he would enquire into this upon his return to England. Later word came that the papers had been proven up but the boat that was returning with them went down in Lake Winnipeg. I believe at a point known as Cox's Reef. This money was her share left by her grandfather.
In 1875 Ann (of St Andrews) claimed Scrip as the widow of William SCOTT, listing children: 1) William; 2) John James; and 3) Henrietta Helen
Around 1878 William's son, Reverend Malcolm SCOTT, married Anna Maria WELSH from England.
Census 1881: Widow Ann SCOTT (age 60) with son Malcolm in St Andrews.
In 1887  son John James married Margaret MORRISON in St Andrews, daughter of Hannah STRUTHERS and John MORRISON (1830-1907).
In 1890 son William Jr. married Josephine FULSHER in Winnipeg.
Census 1891: Widow Anne SCOTT (age 69) with son William Jr in St Andrews.
In 1892 daughter Alice married John Albert VINCENT in St Andrews, son of Catherine ROSS & William Thomas VINCENT (1837-1915).
Census 1901, 1906: Widow Ann SCOTT (age 79, 85) with daughter Henrietta and son-in-law John Albert VINCENT in Ridgely (west of Selkirk).
On Nov 15, 1909 Ann (nee SETTER) SCOTT died in the RM of Rockwood, age 88.
Comments and queries at this link: FORUM DISCUSSING THE WILLIAM SCOTT FAMILY
============================ Family Details ============================
Children:
1. Aug 29, 1845 JANE SCOTT (m. Thomas Henry BROWN)
2. Nov 28, 1846 MARY ANN SCOTT (m. Robert FISHER)
3. 1849 ELIZA SCOTT (m. James CAMPBELL)
4. 1851 REVEREND MALCOLM SCOTT (m. Anna Maria WELSH)                 
5. Sep 6, 1853 ANNABELLE SCOTT (m. Rev James TAYLOR)
6. Aug 31, 1859 WILLIAM SCOTT (m. Josephine Florence FULSHER)
7. Sep 14, 1861 JOHN JAMES SCOTT (m. Margaret MORRISON)
8. Aug 12, 1864 THOMAS HENRY RICHARD SCOTT (Died in infancy)
9. Mar 11, 1869 ALICE HENRIETTA HELEN SCOTT (m. John VINCENT)