JAMES SPENCE SR (c1753-1795)
MARGARET NESTICHIO BATT (1757-1829)
(Last Updated: June 18, 2016)
James SPENCE was born around 1753 in Howen, Parish of Birsay in the Orkney Islands, son of Margaret HARVEY & Nicol SPENCE (1710-1802).
James was around 19 years old in 1773 when he came to York Factory to work for the HBC, initially as a general labourer.  At that time the acting Chief Factor at York was Andrew GRAHAM (c1735-1815) and second in command was Matthew COCKING (1743-1799).
James and Margaret Nestichio BATT
1782
At York, James' co-worker was Englishman Isaac BATT (1730-1791), an experienced inland voyageur who had been with the HBC for about 20 years and had a Cree wife. James soon began a romance with BATT's 16 year old half-breed daughter, Margaret Nestichio BATT.
Heather Hamren on the Forum: There's a family story - I wonder if anyone else has heard. It goes like this: Nestichio, as a young girl, had been kidnapped by the Blackfeet and her mother asked James to rescue her. Even though many attempts had been made to rescue her, James succeeded by using a relay of horses. She was quite young at the time, so James waited to court her until she became a little older, then married her.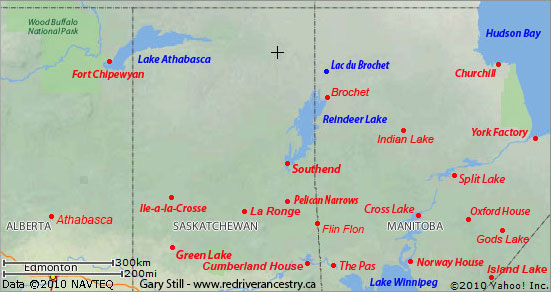 James was assigned to work inland as a voyageur (steersman), and as such he was probably with COCKING when he left York in the summer of 1774 on a voyage to Cumberland House to help Samuel HEARNE (1745-1792) who was establishing the Company's first permanent western inland settlement there. Then again, he may have been with Isaac BATT who was encountered along the way, having been abandoned by his Indian guides at the time.
In 1776 Isaac BATT hired his services as an "Inland Trader" to Joseph FROBISHER, one of the "Pedlars" who carried on trade competitive to the HBC. BATT did, however, return to HBC services the next year and finished his life in the inland trade.
During this period it was reported that James was "a fine fellow and a good canoe man."
By about 1782 James was in a connubial relationship with Margaret BATT. Son James was born around that time.
In the fall of 1790 a 22 year old William Hemmings COOK (1768-1846) was sent up the Nelson River with nine Company men and some Indians to establish a post at Duck Lake (SK).  The early onset of winter compelled most of the Indians to go back to their families, so he sent on a party under his one experienced man, James SPENCE, who wintered at Split Lake, while with one man and an Indian he returned to York.
Isaac BATT died tragically in the summer of 1791, in the vicinity of Manchester House (SK) on the North Saskatchewan River; shot to death by an Indian guide while he was on a buffalo hunt.
James' Final Years at Buckingham House
1792-1795
In 1792 William TOMISON (1739-1829), then in charge of inland posts, established Buckingham House (AB), the most westerly HBC inland post at the time. James SPENCE was left in charge there in 1793, while TOMISON was away, probably establishing Edmonton House. 
In late October of 1795, James fell ill, and realizing his death was imminent he prepared his Will.On Nov 27, 1795, only 42 years old, James SPENCE died at Buckingham House, leaving Margaret pregnant.  James Jr was about 14 yrs old then; Andrew 9; and George was a 3 yr old toddler.  Baby Peggy wasn't born until the New Year, 1796. 
Nov 25, 1796: Will (dated November 6, 1795) proved in the Prerogative Court of Canterbury. The HBC Archives indicates there were four children: James, Andrew, George and Margaret (Peggy), with reference to 'letters of administration'.
Margaret and her four children were left in the care of TOMISON, eventually returned to York Factory, and later, to Red River Settlement.
There is evidence suggesting that around 1808 son James married a Stone Indian named Mary.
Marriages of Andrew, George and Margaret
1821
In 1821 all the rest of Margaret's children married in the Red River Settlement: On Jan 23 at Brandon House, Andrew married Margaret TAUSAND, a Cree woman; on Jan 28 at Beaver Creek, MB, Peggy married Andrew SETTER; and lastly, on May at St Johns, Ft Douglas, George married Nancy WARD.
Margaret Nestichio (BATT) SPENCE died 1829at Red River Settlement.
Please post comments and queries at this link: FORUM DISCUSSING MARGARET & JAMES SPENCE (1753-1795)
========================= Family Details =========================
Children:
1. c1782 JAMES SPENCE (m. Mary, a Stone Indian)
2. 1786 ANDREW SPENCE (m. Margaret TAUSAND CREE)
3. 1792 GEORGE SPENCE SR (m. Nancy Ann WARD)
** Ancestors of the GROVE family of Selkirk
4. 1794 MARGARET "PEGGY" SPENCE (m. Andrew SETTER)