WILLIAM BEAR (1810-1875)
MARGARET TATE (1820-)
(Last Updated: February 03, 2016)
William BEAR was born 1810, son of WHITE BEAR (1780-1844), who was at Cumberland House prior to moving to the St Peters Indian Settlement in the early 1820's. ** MORE ABOUT WHITE BEAR
Marriage to Margaret TATE
1832
In 1832 William married in Red River to Margaret TATE, daughter of an Indian woman named Sarah & James TATE (1758-1834) a Hudson's Bay Company (HBC) voyageur and Inland trader born in the Orkneys of Scotland.Margaret was a sister (or half-sister) to William TATE, who married William BEAR's sister, Mary BEAR.
Baptisms of William's first four children at Red River (re HBCA) were as follows: John (1836), James (1838), Margaret (1840), Maria (1842).
HBCA: In the 1843 Red River Census, William BEAR is recorded as residing in the Swampy Village, a native of Rupert's Land and Protestant. He was married, with one son under 16 (James), one daughter above 15 (This appears to be a mistake)), and 2 daughters under 15 (Margaret & Maria). He owned a house & stable, 3 oxen, 2 calves, 3 pigs, a harrow and a canoe. *HBCA Note: The format in which information on children was recorded made mistakes quite likely. Unlikely they had a daughter over 15 yeas old (born earlier than 1828).
In 1844 William's father, WHITE BEAR, died in St Peters.
Baptisms of William's next six children at Red River (re HBCA) were as follows: William (1844), Philip (1846), Nancy (1848), Thomas (1849), Joseph (1853) and Magnus (1855).
William in Saskatchewan
1856
On May 5, 1856 at Fort Garry, William signed a five year contract with the Hudson's Bay Company (HBC) as a Carpenter in the Saskatchewan District.
Some of William's oldest children remained in Red River

On Oct 7, 1858 daughter Maria married George KIPLING in St Andrews, son of Isabelle LANDRY and George KIPLING SR (1805-1878). ** MORE ABOUT GEORGE KIPLING

In 1859 son James married Amelia THOMAS in St Peters, daughter of Mary STEVENS & Alexander THOMAS (1815-1893).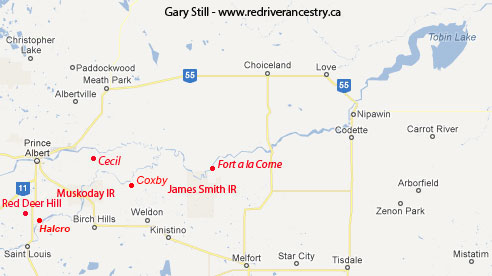 Henry BUDD established the Nepowewin Mission in 1851 (Nipawin).
In 1881 William's widow Margaret lived on the John Smith Indian Reserve (now Muskoday)
William was now back in his ancestral homeland where he would remain for the rest of his life. Many of his relatives and descendants of his father, WHITE BEAR, moved down from Cumberland House to the Prince Albert – Fort a la Corne area along the North Saskatchewan River.
On Apr 3, 1859, the baptism of their youngest child, Henry, was recorded in the Prince Albert and Nepowewan Anglican Parish Register (Nipawin).
On June 2, 1859 William signed another HBC contract at Fort Carlton (SW of Prince Albert).
It was also in 1859 that daughter Margaret married James ISBISTER, son of Fanny SINCLAIR & John ISBISTER (1794-1879). ** MORE ABOUT JOHN ISBISTER
In 1860 James ISBISTER became the Post Master at Carlton, SK.
In 1861 William's HBC contract expired and he became a "Freeman".
William Dies in Prince Albert
1875
William BEAR died in the winter of 1875 in the Parish of St Mary's, Prince Albert, SK; burial service performed by Reverend George McKAY.
HBCA: In the 1881 Census for Prince Albert, Margaret BEAR (age 68) is recorded as a widow, living with son Joseph on the John Smith Reserve.
To post comments and queries about this family, please do so at this link: FORUM DISCUSSING WILLIAM BEAR & FAMILY
=========================== Family Details ===========================
Children:
1. 1836 JOHN BEAR
2. 1838 JAMES BEAR (m. Amelia THOMAS)
3. c1840 MARGARET "MAGGIE" BEAR (m. John James ISBISTER)
4. Feb 20, 1842 MARIA BEAR (m. George KIPLING)
5. c1844 WILLIAM BEAR
6.  c1846 PHILIP BEAR (m. Mary Caroline EMO)
** MORE ABOUT MARY & PHILIP BEAR
7. c1848 NANCY BEAR (m. Alexander LANDRY JR)
8. c1849 THOMAS BEAR (m. Maggie HUMPHREYVILLE)
9. c1853 JOSEPH BEAR (m. Mary Maria BEADS)
10. c1855 MAGNUS BEAR
11. 1858 HENRY BEAR (m. Caroline McNAB)