PHILIP BEAR (1846-1932)
MARY CAROLINE EMO (1858-1942)
(Last Updated: August 28, 2012)
Philip BEAR was born around 1846 in Selkirk, Manitoba, son of Margaret TATE & William BEAR (1810-1875), an HBC voyageur, trader and carpenter. According to his father's HBCA Bio, Philip was baptized in 1846 in Red River.
Philip was a grandson of WHITE BEAR (1780-1844).
In 1856 William (about 10 years old) moved from Red River to the Saskatchewan District with his parents.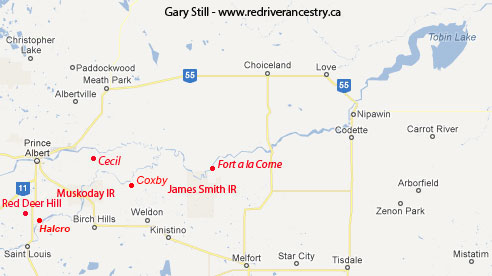 Henry BUDD established the Nepowewin Mission in 1851 (Nipawin).
The Muskoday First Nation was formerly known as the John Smith Indian Reserve
Marriage to Mary Caroline EMO
1869
Around 1869 Philip married Mary Caroline EMO. Their first child was Henry, born about 1871.
In 1875 Philip's father (William) died in Prince Albert. After his father died, his widowed mother (Margaret) moved to the John Smith Indian Reserve (now Muskoday) where she stayed with Philip's brother (Joseph BEAR) who had married Maria BEADS.
In the Census of 1881 Philip was recorded as Indigenous in the Prince Albert District (very likely in the John Smith Indian Reserve) as age 32; his wife Mary as age 23. Their children were recorded as Henry (age 10); Robert (8); Gilbert Jr. (6); George (4); Sarah (age 3) and baby William.
In the Census of 1901 Philip was recorded in the John Smith Reserve (Duck Lake Agency) as age 52; wife Mary as age 42; their children as Philip Jr. (age 20); Colin (18); Jane (15); Napoleon (12) and Walter (age 10).
               
On Aug 30, 1932, Philip BEAR died in the Muskoday First Nation Reserve. Mary Caroline died there on Jun 30,1942.
Please post comments & queries about this family at this link: FORUM DISCUSSING PHILIP BEAR & FAMILY
=========================== Family Details ===========================
Children:
1. 1871 HENRY BEAR
2. 1873 ROBERT BEAR
3. 1875 GILBERT BEAR (m. Margaret Ann ISBISTER)
** MORE ABOUT GILBERT BEAR
4. 1877 GEORGE BEAR
5. 1878 SARAH BEAR
6. Sep, 1880 WILLIAM BEAR
7. 1881 PHILIP BEAR
8. 1883 COLIN BEAR
9. 1886 JANE BEAR
10. 1889 NAPOLEON BEAR
11. 1891 WALTER BEAR (m. Lena SAYESE)