WILLIAM TURNER SABEL(1851-1882)
SOPHIA MARGARET BIRD (1856-1960)
(Last Updated: December 30, 2015)
William Turner SABEL was born around 1851 in England, the eldest of 9 children born to Marion JONES and William TURNER SR. 
Sophia Margaret BIRD was born on Feb 20, 1856 in St Andrews Parish, Red River, daughter of Isabella GIBSON and James BIRD (1824-1892). ** MORE ABOUT JAMES BIRD
Sophie received her education at Miss DAVIS School for Young Ladies at St Andrews. While attending school there, she resided with her Aunt and Uncle, Frances and Edward Henry George HAY (1837-1918) from Yorkshire.
Canadian Confederation
A Red River Rebellion
Manitoba becomes a Province
1867-1871
On July 1, 1867 the British colonies in North America were united under the British North American Act to become the Dominion of Canada.  Sir John A MACDONALD (1815-1891) was appointed as Canada's first Prime Minister. William McDOUGALL (1822-1905) became the Minister of Public Works, and he began negotiations to acquire Rupert's Land from the HBC; surveyors were sent to Red River to prepare the way for an expected influx of settlers.
On Oct 11, 1869, Louis RIEL (1844-1885) placed his foot on the surveyors' chain to tell them their work was finished! This marked the beginning of the historic Red River Métis Rebellion.
During the Rebellion many prisoners who had been imprisoned RIEL in Fort Garry in the winter of 1869-70 stayed at her home. For this service, her mother was given a complete set of China dishes by Dr. John Christian SCHULTZ (1840-1896), leader of the Canadian Party and one of RIEL's prisoners. ** MORE ABOUT DR JOHN CHRISTIAN SCHULTZ
On July 15, 1870 the Rebellion ended when RIEL's Provisional Government accepted the terms of the Manitoba Act and Manitoba became the fifth province of Canada.
William SABEL arrives in Canada
1875
In 1875 William SABEL, with a friend James DARCY came from England to Canada. He settled for a time at Whytewold on the shores of Lake Winnipeg (near Matlock as shown on the map below). He was an amateur artist and worked as an interpreter for people coming to settle in Manitoba (Icelandic setters).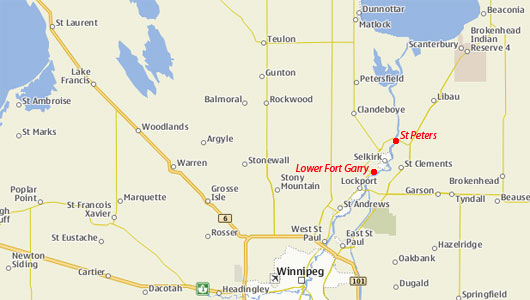 Winnipeg
1881
Sometime before 1881 William found work as a draftsman with the Winnipeg surveying firm of Vaughan, Dennis & Company. He sent a collection of sketches of his adventures in Canada to his family back in England, which were later (1955) turned over to the Archives of Manitoba.
Marriage to Sophia BIRD
1881-1885
In 1881 William married the aforementioned Sophia Margret BIRD, daughter of Isabella GIBSON and James BIRD (1824-1892) of Peguis, Manitoba.
Census of 1881 in Winnipeg:  William SABLE, age 27, a Clerk C.S. living in the Household of Charles ELLIS b-1844, a Landscape Photographer. Both are indicated as married, but no one else was counted in that household)
Census of 1881 in St Andrews Parish:  Sophia SABLE, age 23, recorded in the household of her sister and brother-in-law, Isabella (nee BIRD) and Murdoch REID (1844-1905).
William Turner Sabel (Manitoba Archives)
Sophia and William had two children: Henry, born in1882 and Mary born in1883.
William Turner SABEL Dies
1882
On Sep 19, 1882 William Turner SABEL died of typhoid fever at his home in Winnipeg. He was only about 31 years old. He was buried in the Old St Andrews Church Cemetery south of Lockport (MB). Sophia moved back with her parents who lived at St Peters. 
Widow Sophia remarries to George ANDERSON
1888
On July 30, 1888 Widow Sophia (nee BIRD) SABEL re-married to George ANDERSON in St Andrews, son of Margaret ELLIOTT and Thomas ANDERSON (born about 1840) from Guelph, Ontario.
** MORE ABOUT SOPHIE BIRD AND GEORGE ANDERSON
Comments and queries at this link: FORUM DISCUSSING SOPHIE BIRD and WILLIAM TURNER SABEL
=========================== Family Details ===========================
Children:
1. Nov 16, 1882 WILLIAM HENRY (McKENZIE) "HARRY" SABEL (m. Margaret "Maggie" McRAE)
2. Feb 16, 1883 MARY SABEL (m. George Richard FLETT)