THOMAS EDWARD "TOM" CLEMONS (1907-1988)
RUTH KIPLING (c1906-1969)
(Last Updated: May 08, 2015)
Thomas Edward "Tom" CLEMONS was born Aug 10, 1907 in St Peters Parish, son of Mary Elizabeth SINCLAIR & Ralph CLEMONS (1874-1938). ** MORE ABOUT RALPH CLEMONS
Census 1911, 1916, 1921: Thomas E (age 3, 8, 14) with parents/father in St Peters.
Marriage to Ruth KIPLING
1929
On Oct 15, 1929 Tom married Ruth KIPLING in Selkirk, daughter of Eliza CAMERON and William KIPLING (1863-1943). ** MORE ABOUT WILLIAM KIPLING
In 1936-37 the Selkirk Bridge was finally completed and opened to traffic.
World War II
1939-1945
On Sept 4, 1939 Canada and Britain declared war on Germany, and almost immediately new recruits began pouring into Winnipeg to sign up with the Winnipeg Grenadiers and the Royal Rifles of Canada.

Tom worked on Lake Winnipeg boats most of his life. He became an Engineer with the Selkirk Navigation Company on the Chickama II.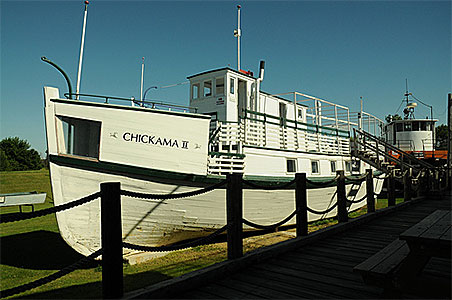 The Chickama II was built in 1942 by the Purvis Company of Selkirk as a passenger and cargo vessel serving Northern Communities on Lake Winnipeg and Play Green Lake unreachable by the S.S. Keenora which was too large to enter the Nelson River. Every spring she travelled north to Warren's Landing to makeregular trips through the shallow rocky waters to Norway House.
On May 7, 1945 Germany surrendered and the War in Europe ended; the next day, May 8, is declared VE Day.
August 6, 1945: dropping of the atomic bomb on Hiroshima in Japan and, days later, Nagasaki, ends the
necessity of sending into battle the approximately 80,000 Canadian troops who volunteered to serve in the Pacific.
On August 14, 1945 Japan surrendered - VJ Day. The Second World War was officially over.
Voters List 1945: Selkirk: Thomas CLEMONS, Engineer, Selkirk, his wife. Also Widow Mrs. Ralph CLEMONS (Tom's mother).
The Korean War
1950
On August 15, 1950, the 2nd Battalion was created within Princess Patricia's Canadian Light Infantry (PPCLI) to be a component of the Canadian Army Special Force in response to the North Korean invasion of South Korea. The new battalion trained in Calgary and at CFB Wainwright, before boarding the USS Private Joe P. Martinez on November 25, 1950, to Pusan in South Korea. The battalion landed in Korea in December and trained in the mountains for eight weeks before finally taking part in the war on February 6, becoming a component of the 27th British Commonwealth Brigade of the IX Corps in the 8th US Army. The 2nd Battalion of the PPCLI was the first Canadian infantry unit to take part in the Korean War. By spring 1951, 8500 Canadians troops were supporting the United Nations, alongside 12,500 British, 5000 Filipino troops and 5000 Turkish troops.
** MORE ABOUT CANADA in the KOREAN WAR in WIKIPEDIA
Eldest son Lloyd CLEMO NS enlisted in the above mentioned 2nd Battalion. His career would later include Korea (twice), Germany (twice), Vietnam, Cypress, and numerous Canadian postings.
In 1955-56, due to overcrowding of students at the Selkirk Collegiate, students from out of town who wished to attend Grade 10 were not permitted to attend there. Consequently, the old St Clements Church Hall at Mapleton was transformed into a temporary Mapleton High School to accommodate Grade X students who previously attended schools at St. Peters, Lockport, Mapleton and Sunrise (west of Mapleton). Glen CLEMONS became a student there that year.
That was when I (Gary STILL) first met Glen, and we became good friends. For the next few years, he, Sammy SINCLAIR and I became good friends. I recall the summer of 1956 after school was out, the three of us hitch-hiked to Kenora looking for jobs (without success). I was the only one who had any money ($15), so, until we got home we ate a lot of blueberries and slept a few nights in the bush. We often met at Walter's Pool Hall in Selkirk, and did a lot of boozing and partying together for a few years
Voters List 1957: Rural Polling Division No.9, Peguis: Thomas CLEMONS, Fisherman; RR #2, Selkirk.
Voters List 1962: Rural Polling Division No.9, Peguis: Thomas CLEMONS, Fisherman; RR #2, Selkirk. Also Widow Mary CLEMONS (Tom's mother) and sons William, Sanford and Glen, all labourers.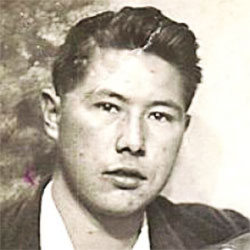 Sandford Clemons (From his obituary)
Legend of the Suzanne-E
1965
Someone please correct me if I'm wrong, but I believe it must have been Tom's son Allan CLEMONS who is the 20 year old crewman who drowned with the sinking of the Suzanne-E on Lake Winnipeg in 1965.
** MORE ABOUT THE LEGEND OF THE SUZANNE-E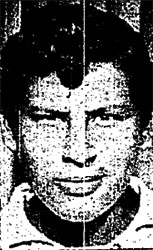 Allan Clemons (From Winnipeg Free Press)
In 1969 Tom's wife, Ruth (nee KIPLING) CLEMONS died.
Voters List 1974: Electoral District of Selkirk, Rural Polling Division No. 34, Dynevor:  Tom CLEMONS, retired, RR #2, Selkirk. Also Lloyd CLEMONS (son), Serviceman and S CLEMONS (son Sanford?), Freshwater Fish.
In 1978 Tom retired from the Canadian Coast Guard at Thunder Bay where he had been working for several years.
Around 1987 son Glen CLEMONS enlisted in the Air Force. His obituary states that he retired in Cold Lake, AB, as a Master Corporal, after 21 years of service. He and Joyce later moved to Winnipeg to be near family.
On Jan 22, 1988 Thomas CLEMONS of Lot 32, St Peters, died at the Health Sciences Centre in Winnipeg.
On Nov 20, 2001 eldest son Lloyd CLEMONS died in the St Boniface Hospital. In his obit, "Lost the battle of his life and joined his wife, Claire, on the heavenly parade square. Internment old St Peters Churchyard.  Survived by brothers:  Sanford of Selkirk, R Glenn of Wpg. Predeceased by his parents Ruth and Tom CLEMONS; his brother Allan; his sister Minnie; and infant brother Edward.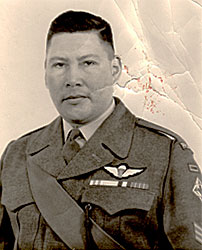 Lloyd Clemons
From Obit: On April 14, 2008, son Sandy CLEMONS died after a lengthy illness, aged 76 years; survived by his brother Glen; his devoted friend Laura; her children, David, Brenda, Laurie and Andrea.
On June 2, 2008, son Glen CLEMONS died at the Health Sciences Centre (age 70). Glen was married to Margaret Joyce STEVENS who died in 2001. She was the daughter of Blanche and Charles STEVENS.
Comments and queries at this link: FORUM DISCUSSING the THOMAS CLEMONS FAMILY
============================= Family Details =============================
Children:
1. Jul 2, 1931 SANDFORD "SANDY" CLEMONS (m. Laura)
2. Feb 22, 1933 LLOYD WILLIAM CLEMONS (m. Claire LAFLEUR)
3. EDWARD CLEMONS
4. 1936 VERNA MINNIE CLEMONS
5. 1938 ROBERT GLEN CLEMONS (m. Margaret Joyce STEVENS)
6. 1945 ALLAN CLEMONS