GEORGE THOMAS FREEMAN (1857-1958)
?MARGARET (1871-)
ALICE MAY SLATER (1882-1952)
(Last Updated: February 09, 2013)
George Thomas FREEMAN was born Feb 5, 1857 in Toronto, Ontario; parents unknown at this time. His mother may have been Sarah COUSINS.
In the 1906 Census at Parkdale, MB (Lot 22) enumerated a George FREEMAN, age 46 (born c1860 in Ontario). His wife's name was Margaret, age 36 (born 1871 in Scotland. His age and location suggests this is our George, but the wife named Margaret is a puzzler.

In the same 1906 census we find George's future wife, Alice SLATER (age 24), living in Selkirk with her brother Jeremiah SLATER. Alice and Jeremiah were children of Catherine COOK and William SLATER (1833-1884).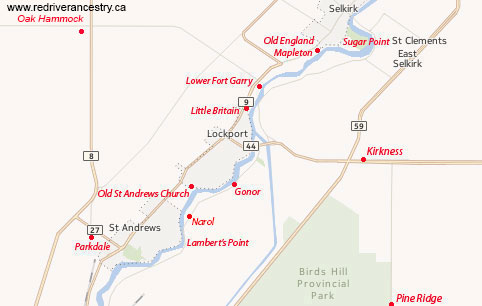 In the 1911 census George is recorded in St Andrews Parish (Gonor) as a 42 year old Engineer born in Ontario.
Marriage to Alice May SLATER
1912
On Feb 29, 1912 George married Alice May SLATER in Selkirk.
** These are the maternal great grandparents of Chantal KREVIAZUK, the internationally respected, Juno award-winning singer, songwriter, and musician. Chantal herself tells us all about her FREEMAN ancestors in the following Video: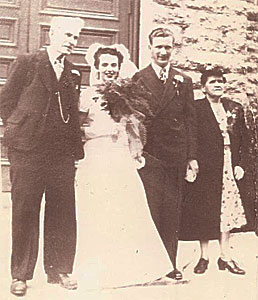 Left: Thomas & Alice Freeman (Photo courtesy of granddaughter Tannis (Freeman) Barker)
Right: Alice May Slater (from Chantal Kreviazuk's on-line postings)
In the 1916 census (Lot 155 in St Clements Parish) we find George Thomas FREEMAN (age 51), wife Alice (age 31) and their children as follows: Sybil (age 9), Harry (4), John (age 2) and Isabella, 6 months old.
Their last child was daughter Sarah Benita (don't have her birth date) who married Albert CLARKE. She died in 2008.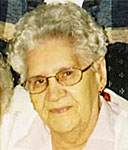 Sarah Benita (nee Freeman) Clarke
(From her obit, thanks to Tannis)
Around 1925 eldest daughter Sybil married William James GARLEY from England, son of Mary Ann COLLINS & George GARLEY JR (1872-1926).
On Jan 5, 1952 Alice May FREEMAN died in East Lower Fort Garry (Gonor).

On Nov 11, 1958 George Thomas FREEMAN died.
Please post comments & queries at this link: FORUM DISCUSSING the FAMILY OF THOMAS GEORGE FREEMAN
====================== Family Details ======================
Children:
1. May 3, 1907 SYBIL ALICE MAY FREEMAN (m. James GARLEY)
5. c1912 HARRY FREEMAN (m. Bonnie CAMPION)
2. 1914 JOHN (JACK) FREEMAN
3. Mar 16, 1916 ISABEL FREEMAN (m. Walter WOLOSCHUK/ WALASCHUK)
** Chantal's Grandparents
4. SARAH FREEMAN (m. Albert CLARKE)