WILLIAM "BILL" HOURIE (1884-1976)
MARY ANN (ALICE FOLSTER) (1892-?)
DAISY SWAN (1903-1986)
(Last Updated: November 15, 2016)
William "Bill" HOURIE was born Dec 23, 1884 in Cloverdale (MB), youngest son of Margaret McKAY and John HOURIE (b-1835). ** MORE ABOUT JOHN HOURIE
In 1906 Bill (age 21) was living near Matlock (MB) with his nephew Oliver HOURIE (also age 21) and his 73 year-old father (John).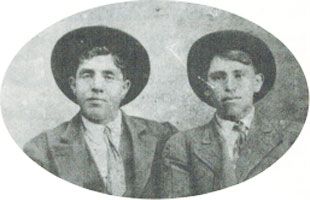 Bill Hourie & Charles Folster in 1908
(From Helen Hourie)
Marriage to Mary Ann FOLSTER
1910
On Sep 22, 1910 Bill married Mary Ann FOLSTER, daughter of Mary Ann Gray STEVENS and William FOLSTER (b-1852).
On Feb 5, 1911 their first child, William George, was born and in the census that year the young family was living with Mary Ann's parents (Mary Ann & William FOLSTER) in Poplar Park (north of Libau). Bill's 76 year-old widowed father (John HOURIE) was also a "lodger" with the FOLSTER family at that time.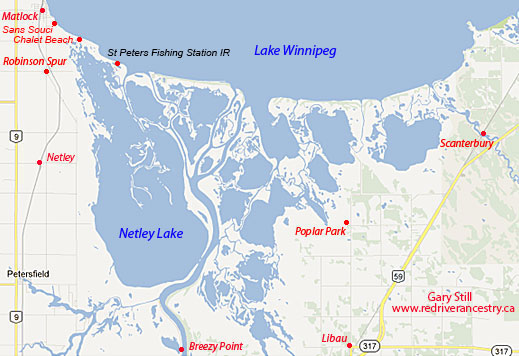 World War I
1914-1919
On Aug 4, 1914 Great Britain (Canada on Aug 5) declared war on Germany and Austria-Hungary to uphold treaties with France and Belgium which were under German attack. This marked the beginning of World War I.
On Oct 27, 1915, Bill's brother-in-law Charles FOLSTER enlisted for War service in Winnipeg.
The 1916 Census recorded Alice (age 29) and Bill (a 32 year-old fisherman) living in Township 16-4-Epm), west of Netley Lake in the Petersfield – Matlock area. They had three children now; George William (age 5), Florence (age 3) and baby Edith Isabel (who died in the spring of 1917).
On Apr 3, 1917 Bill enlisted in Winnipeg. He was described as age 32; almost 5' 7", dark complexion, brown eyes and black hair. His next of kin was stated as Mary Alice, then living in Selkirk. Bill served with the "Little Black Devils", 108th Regiment in the battles at Vimy Ridge and Dieppe, France.
November 11, 1919, Armistice Day (Remembrance Day) marked the end of the First World War.
Divorced and Re-married to Daisy SWAN
1923
After the War, Bill returned home, divorced his wife Mary Alice and on Mar 21, 1923 he re-married to Daisy SWAN, daughter of Harriet RYE and George SWAN b-1867 from England.
In 1929 daughter Florence married Norman VIZNAUGH in Scanterbury (Brokenhead Reserve), son of Emma MOWAT and Louis VIZNAUGH (1868-1945).
In 1935 son George married Ena KNOTT in St Clements Parish, daughter of Mary Jane IRVINE and Charles Thomas KNOTT (1876-1918).
Daughter Dorothy married Nelson "Toddy" SINCLAIR of uncertain origins.
Perhaps sometime in the1940's daughter Mary married Clifford DENNETT of uncertain origins (from Lac du Bonnet).
In 1952 son Andrew married Helen Vinora THOMAS in Scanterbury, daughter of Lizzie Maud JENNINGS and Joseph THOMAS (1901-1979).
In 1953 daughter Margaret married Gerard (Jerry) CHAGNON in Selkirk, son of Dora and Oscar CHAGNON (1896-1971).
In 1958 daughter Gladys married John Edward KITCHEN (1926-1985) in Brokenhead Reserve. ** If anyone knows his origins, please let us know on he Forum.
In 1976 Bill HOURIE died, and on May 9, 1986 Daisy HOURIE died in Selkirk. Both were buried in the Scanterbury Cemetery (St Philips Churchyard in the Brokenhead Reserve).
Please post comments & queries at this link: FORUM DISCUSSING BILL HOURIE AND HIS FAMILY

========================== Family Details ==========================
Children with Alice FOLSTER:
1. Feb 5, 1911 GEORGE WILLIAM HOURIE (m. Ena KNOTT)
2. Jun 12, 1913 FLORENCE MAY HOURIE (m. Norman VIZNAUGH)
3. 1916 EDITH ISABEL HOURIE (Died in infancy)
Children with Daisy SWAN (after 1922):  
1. 1923 MARY THERESA HOURIE (m. Clifford DENNETT)
2. Dec 16, 1925 ANDREW JAMES HOURIE (m. Helen Vinora THOMAS)
3. Mar 15, 1929 JOHN BERTRAM "Neepee" HOURIE
4. Oct 23, 1931 DOROTHY HOURIE (m. Nelson "Toddy" SINCLAIR)
5. MARGARET HOURIE (m. Gerard (Gerald, Jerry) CHAGNON)
6. Dec 15, 1942 MARTIN HOURIE (m. Yvonne)
7. Mar 23, 1937 GLADYS HOURIE (m. John Edward KITCHEN)
8. GERTRUDE (GERT) HOURIE (m. Douglas KLATT)
9. ROY HOURIE (m. Marilyn)