RICHARD GOOD (1780-1850)
WIFE (1756-1846) ?
(Last Updated: October 20, 2015)
In 1780 Richard GOOD was born in London, England.
Hudson's Bay Company
1796
In 1796 Richard (age 16) began his service with the Hudson's Bay Company (HBC) at Moose Factory as a 'writer' (accountant). ** MORE ABOUT RICHARD GOOD in HBC ARCHIVES
When Richard arrived at Moose Factory, John THOMAS (1751-1822) was the Chief Factor. This was a time of fierce rivalry between the HBC and the North West Company (NWC) in the region. ** MORE ABOUT JOHN THOMAS
Hodgins-Hoyle; Timeline 1797: John THOMAS, HBC, travelled up the Abitibi and Frederick House rivers and met some of the Canadians (North West Company traders) in an attempt to divide the territory, the trade and the Indians. The attempt failed and rivalry grew.
During the outfit year 1798-99 Richard GOOD was stationed at Kenogamissi Post.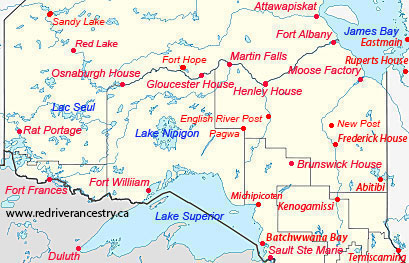 In 1799, alarmed at the NWC threat to Moose Factory, and apparently on his own initiative, JohnTHOMAS instituted negotiations with the Nor'Westers for dividing the area's trade between the two companies, even travelling as far as Michipicoten in the hope of meeting William McGILLIVRAY (1796-1825).
Abitibi- Kenogamissi
1801-1810
From 1801 to 1816 Richard GOOD was a Writer and District Master at Abitibi and later at Kenogamissi Post.
From 1805 to 1809 Joseph TURNER (1783-1865) became the Post Master at Frederick House. It was there that the alleged half-breed named Emma GOOD became his spouse. ** MORE ABOUT JOSEPH TURNER
Hodgins & Hoyle: 1812: Richard GOOD, HBC, paddled up from Moose Factory to Abitibi and arranged a partial territorial division with the Canadians (NWC) whereby the former would abandon Lake Abitibi and the latter their post, Devils Island, on Frederick House Lake. [Ibid., p.84]
Donald Pugh Thesis: During 1812-13, a massacre occurred at Frederick House Post which was to lead to its abandonment. The Kenogamissi Journal for October 26, 1812 noted the arrival of Alexander BELLY, the Master of Frederick House who delivered two hens. BELLY immediately departed to return to Frederick House. On March 18, 1813 Richard GOOD at Kenogamissi Post sent two men to Frederick House. On "'March 23, these men returned with the news that Frederick House had been robbed and that the three white inhabitants could not be found  The two traders found the outer door of the Frederick House dwelling building torn off' while the inner partitions of the master's apartment had been knocked down and the warehouse and food cellar open. European provisions and guns were missing. Two Indian corpses lay in the dwelling house.
In June of 1816 daughter Emma (allegedly) was married by 'custom of the country' to George MOORE (1774-1846).
** MORE ABOUT GEORGE MOORE in HBC ARCHIVES
From 1816 to 1818 Richard was clerking at Michipicoten and Matawagamingue Post; then from 1818-23 he was the clerk in charge at Moose Post.
Union of the Hudson's Bay Company and the North West Company
1821
In 1821 the union of the North West Company (NWC) and the Hudson's Bay Company (HBC) occurred, ending the years of bitter rivalry for dominance of the fur trade in Western Canada. After the merger, almost 1,300 employees lost their jobs since the single HBC organization that emerged had no need for most of the voyageurs and fur traders. George SIMPSON (1786-1860) became the Governor of Rupert's Land.
In 1823 Richard sailed to England aboard the Eddystone. He returned in 1824 aboard the Camden, having been assigned again to Kenogomissi Post.
Moose Factory– Martin Falls
1825-1841
From 1825 to 1839 Richard was at Moose Factory where Alexander CHRISTIE (1792-1872) was the Chief Factor. In 1825 Richard GOOD would have been about 45 years old.
In 1840 Reverend George BARNLEY (1816-1904) made his way to Moose Factory by way of the Ottawa River, Lake Timiskaming and down the Abitibi River. He was one of four Methodist (Wesleyan) missionaries hired by the HBC to educate the heathen in Rupert's Land. It is interesting to note that BARNLEY also previously (Jun 18, 1840) married Elizabeth TURNER to William ISBISTER.
On Dec 20, 1841 when Richard was in charge at Martin Falls, daughter Emma was lawfully united in Marriage to George MOORE at Moose Factory by Reverend BARNLEY n the presence of Alexander CHRISTIE (1792-1872) and her father, Richard GOOD.
Richard retires to England
1842-43
In 1842: Richard sailed 'home on the Prince Albert where he retired in 1843.
On May 23, 1846 Richard's alleged wife died at Moose Factory, "her age supposed to be verging on 90 years" (b-c1756).
On Apr 30, 1850 Richard GOOD died at Belvidere, Cambrdge Heath Road Bethnall Green, Middlesex.
Mysterious Wife and Children?
The HBC Archives biography for Richard GOOD offers us only one tiny clue for genealogical purposes. That being a suggestion that at some point in his career he had a wife who died at Moose Factory in 1846 "her age supposed to be verging on 90 years." That clue is virtually useless because it suggests she was born around 1756 which would make her 40 years old when 16 year old Richard GOOD arrived on the scene in 1796. HBCA makes absolutely no mention of children.
Numerous researchers indicate that Emma GOOD who would later marry Joseph TURNER (1783-1865) was Richard's child, and that Emma was born about 1790. According to Sprague & Frye, Joseph TURNER was born in 1805 and his wife, simply named Emma (no surname) was born around 1808.
Nevertheless, Richard GOOD is the one and only person listed in the HBCA Index who was born around that time.
Other men surnamed GOOD with uncertain origins who were born in Ontario during the early 1800's in Ontario are also included below.
We will look forward to comments and queries at this link: FORUM DISCUSSING RICHARD GOOD
========================== Family Details ==========================
Potential Children for Discussion:

1. 1790 EMMA GOOD (m1. Joseph TURNER; m2. George MOORE)
** MORE ABOUT JOSEPH TURNER
2. Oct 16, 1832 EDWARD GOOD (m. Isabella)
3. 1840 JAMES GOOD (m. Mary Ann)