GEORGE McLEOD (1861-1925)
ISABELLA McBEAN (1869-1963)
(Last Updated: April 27, 2016)
Oct 19, 1861 George B McLEOD was born at Abitibi, Ontario, son of Jane TURNER and Alexander McLEOD (1825-1885). ** MORE ABOUT ALEXANDER McLEOD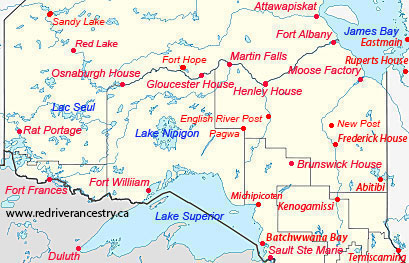 Marriage to Isabella McBEAN
1886
On May 18, 1886 George married Isabella Catherine McBEAN at Moose Factory, daughter of Elizabeth TURNER (b-1843) and William George Shaw McBEAN (born May 19, 1832 in Inverness Shire, Scotland), the HBC Storesman at Moose. ** MORE ABOUT WILLIAM GEORGE SHAW McBEAN
Census of 1901 at Moose Factory: George McLEOD, age 40; wife Isabella, age 32. Children: Willy (age 18), Elizabeth (12), Annie (10), Mary (8), Daisy (6), Frederick (5), Agnes (3) and Hubert (age 1).
By 1908 son George Jr. was married to a lady named Ellen of uncertain origins.

Around 1908 son William married Emily HARDISTY, daughter of Annie CHUM and David HARDISTY (1856-1900).
Census of 1911 at Moose Factory: GeorgeMcLEOD, age 48; wife Bella, age 42. Children: Anne (age 20), Fred (16), Hubert (11), Florence (8), Cyril (7), Georgina (6), Emmett (3) and Charles (age 2).
In 1912 Annie married James Watt ANDEROSN(1893-1962) at Rupert's House, an HBC clerk from Newhill.
Around 1912 son Frederick married Ann Caroline ISERHOFF in Moose Factory, daughter of Hanhah NOASHET and Samuel Robert ISERHOFF (1866-1951). ** MORE ABOUT SAMUEL ROBERT ISERHOFF
World War I
1914-1918
On Aug 4, 1914 Great Britain (Canada on Aug 5) declared war on Germany and Austria-Hungary to uphold treaties with France and Belgium which were under German attack. This marked the beginning of World War I.
In 1915 daughter Daisy Alice married James Field RICHARDS in Muskoka, son of Catherine Anne JUCKES and George Field RICHARDS (1851-1938).

Around 1915 daughter Isabella Agnes married George HUNTER (b-1892) of uncertain origins.
In 1916 son Frederick enlisted at Toronto stating Annie of Moose Factory as his next of kin.
November 11,1918, Armistice Day (Remembrance Day) marked the end of the First World War.
In 1920 daughter Mary married Joseph BARGE in Toronto, son of Susan HARRIS and William BARGE from England.
Census of 1921 in New Post: George McLEOD, HBC Post Manager, age 55; wife Isabella, age 52. Children: Florence Clara (age 18), Cyril Donald Cedric (17), Kenneth (11) and Georgette Ella (age 7).
In 1924 son Hubert married Mary Alva COCHRAM in Muskoka, daughter of Alveretta Sophia Ann FLETCHER and Charles Augustus Edgeton COCKRAM (1876-1974).
Also in 1924 daughter Georgina married George Alfred OLAN in Muskoka, son of Mary Jane TURNER and Alfred OLAN (1864-1950).
On Dec 23, 1925 George McLEOD died in Ravenscliffe, Huntsville, Ontario (between North Bay and Toronto).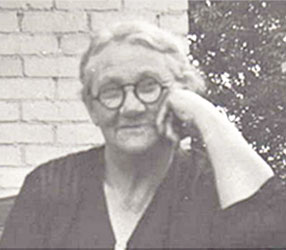 Isabella McBean McLeod (From Carr Family Tree)
By about 1930 daughter Florence was married to Benjamin deFOREST, son of Cecelia Mary (WEIBRECHT) HERBERT and Andrew deFOREST (1858-1934).
On Aug 18, 1963 Isabella Catherine (nee McBEAN) McLEOD died in North Bay.
Comments and queries at this link: FORUM DISCUSSING THE GEORGE McLEOD FAMILY
========================== Family Details ==========================
Children:
1. Mar 12, 1883 GEORGE McLEOD  (m. Ellen)
2. Nov 21, 1886 WILLIAM ALEXANDER McLEOD (m. Emily HARDISTY)
3. Jul 21, 1888 ELIZABETH JANET McLEOD (m. Graham(
4. Aug 13, 1890 ANNIE MARGARET McLEOD (m. James Watt ANDERSON)
5.  Jul 7, 1892 MARY JANET McLEOD (m. Joseph BARGE)
6. Jan 19, 1894 DAISY ALICE McLEOD (m. James Field RICHARDS)
7. Oct 9, 1895 FREDERICK McLEOD (m. Annie Caroline ISERHOFF)
8. Sep 24, 1897 ISABELLA AGNES McLEOD (m. George HUNTER)
9. Jan 25, 1900 HUBERT MUNROE McLEOD (m. Mary Alveretta (Alva) COCHRAM)
10. Jul 17, 1902 FLORENCE CLARA McLEOD (m. Benuamin deFOREST)
11. Apr 16, 1904 CYRIL DONALD CEDRIC McLEOD
12. Feb 5, 1906 GEORGINA EDNA McLEOD (m. George Alfred OLAN)
13. Nov 11, 1907 HAMILTON EMMETT McLEOD
14. Jun 15, 1909 KENNETH CHARLES McLEOD
15. Feb 11, 1913 THOMAS McLEOD
16. Jan 18, 1914 GEORGETTE ELLA McLEOD