SAMUEL ROBERT ISERHOFF (1866-1951)
HANNAH NOASHET (1870-1905)
SOPHIA (1889-1914)
(Last Updated: August 11, 2017)
On Mar 12, 1866 Samuel ISERHOFF was born at Rupert House or Woswonaby (Waswnipi, PQ), son of Mary Ann MOORE and John ISERHOFF (1820-1865) who died there not long before Samuel was born.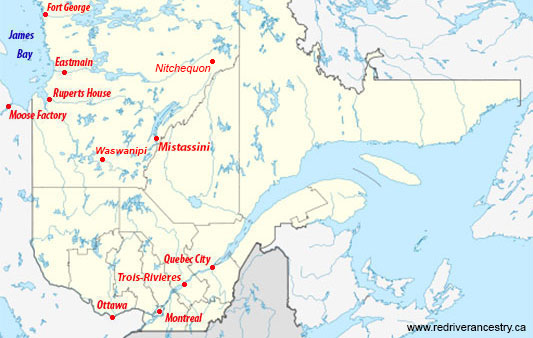 In the Service of the Hudson's Bay Company at Waswanipi
1881
On June 1, 1881 Samuel began to work for the Hudson's Bay Company (HBC) at the Waswanipi Post as a laborer.
Marriage to Hannah NOASHET
1887
Around 1887 Samuel married a Cree woman named Hannah NOASHET.
1892-95: Samuel was a Guide & Interpreter at Ruperts House, Ruperts River District
1895-98: Samuel was a Steward at Albany Post in the Albany River District.
English River and Martin Falls
1898-1901
In 1898 Samuel was placed in charge of the English River Post which was located to the south of Henley House (see map below) along the Kenogami River (also known as the English River).
In 1901 Samuel became the Postmaster at the Martin Falls Post which would become his home for the next 20 years and more.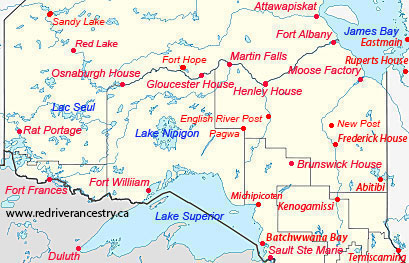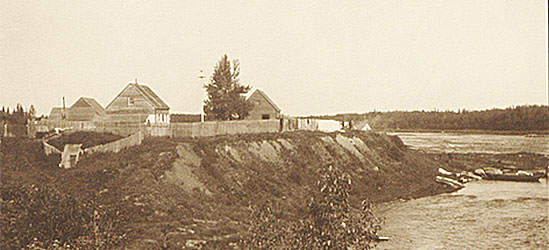 Martin Falls Post
Census of 1901: Samuel ISERHOFF, age 35; wife Hannah, age 25. Children: Louise (age 14), Peter (12), Josephine (10), Annie (8), George (6), David (4) and Minnie Charlotte (age 2).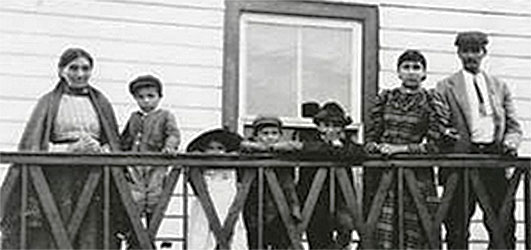 A young Iserhoff family (Posted by Jennifer Ambrose)
The young woman on the far right is thought to be Hannah with her husband Samuel Iserhoff.
The woman on the left is likely Ann Iserhoff (Samuel's mother)
Treaty Number 9 at Martens Falls
Wife Hannah Dies
1905
On July 25, 1905 James Bay Treaty #9was signed at the original Marten Falls site by newly elected Chief William WHITEHEAD and Councilors William COASTER and Long Tom OSTAMUS. Samuel's signature appears on the treaty document as a witness.
In 1905 Hannah (nee NOASHET) ISERHOFF died in Martens Falls – either in a fire or in childbirth (re McLeod).
Around 1905 eldest daughter Louisa married William ALLAN at Albany, an HBC laborer at Martin Falls.
Samuel and Sophia WENJACK
1911
By 1911 Samuel had remarried to Sophia WENJACK, daughter of Charlotte and William WENJACK. In the census that year the family was recorded as Samuel ISERHOFF, age 48; wife Sophia, age 22. Children: Josephine (age 19), Minnie (10) and Samuel (age 8). With them is Samuel's mother, Widow Ann ISERHOFF, age 74.
By 1911 son Peter was married to a lady named Emily and was living at Attawapiskat (north of Albany).
In 1911 sons George (age 14) and David (age 13) were both recorded as pupils at a school at Moose Fort. Around the same time, daughter Ann married Frederick McLEOD (1895-1963) at Moose Factory, an HBC boat builder, son of Isabella McBEAN and George McLEOD (1861-1925). ** MORE ABOUT GEORGE McLEOD
Around 1912 daughter Josephine married George BAXTER, son of Helena HILL and George BAXTER (1857-1908).
World War I
1914-1918
On Aug 4, 1914 Great Britain (Canada on Aug 5) declared war on Germany and Austria-Hungary to uphold treaties with France and Belgium which were under German attack. This marked the beginning of World War I.
On Sep 20, 1914 wife Sophia died in Martens Falls.
On July 11, 1917 sons John George (age 20) and David Daniel (age 18) both enlisted at Toronto on the same day. John George stated his next of kin as his wife Caroline of Martens Falls. David stated his next of kin as his sister, Minnie, of Martens Falls.
November 11, 1918, Armistice Day (Remembrance Day) marked the end of the First World War.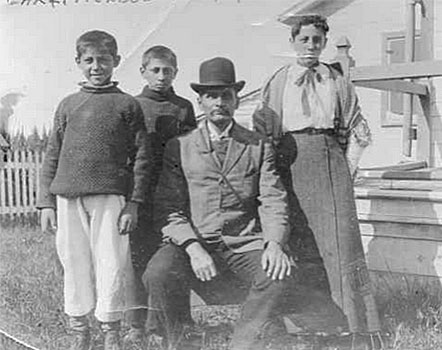 Sam Iserhoff and Annie (From Rudkin Family Tree)
Census of 1921 at Martens Falls: Samuel Robert ISERHOFF, widowed HBC Post Manager, age 55. Children: John George (age 24), David Daniel (22), Minnie (20), Samuel Joseph (18), Vadny Charlotte (9), Robert Stanley (age 7) and bably Clifford George (age 3 months, a grandson).
It is uncertain when daughter Minnie Charlotte married George INNES in Pagwa River.
In 1923 son John George, widowed, re-married to Mary FERRIS in Cochrane (ON), daughter of Kittie SOLOMON and John FERRIS.
The Marten Falls Post continued to operate at the 1905 site until about 1924, when it was relocated 65 miles downriver to the confluence of the Albany and Ogoki Rivers, no doubt a strategic move to better compete with Revillon Freres at Pagwa. The new location became known as Ogoki.
After 1925 Samuel joined the Anglican Mission and preached to the Indians in the Ogahalla district and taught at the Mission School.
Sometime in the early 1930's son Samuel married a lady named Maggie of uncertain origins.
Son David married Minnie SOLOMON of uncertain origins.
1934-47: Address: Hunta, ON
1947-48: Adress: Lynx, ON
1848-50: Address: Pagwa River
1950-51: In hospitals at Cochrane, Winnipeg, and Port Arthur.
On Feb 23, 1951 Samuel Robert ISERHOFF died at Port Arthur, Ontario.
Comments and queries at this link: FORUM DISCUSSING the SAMUEL ISERHOFF FAMILY
========================== Family Details ==========================
Children with Hannah:
1. 1887 LOUISA ISERHOFF (m. William ALLAN)
2. 1888 PETER CHARLES ISERHOFF (m. Emily FERRIS)
3. 1891 JOSEPHINE ISERHOFF (m. George BAXTER)
4. Sep, 1895 ANN ISERHOFF (m. Frederick McLEOD)
5. Aug 23, 1896 JOHN GEORGE ISERHOFF (m1. Caroline; m2. Mary FERRIS)
6. Feb 16, 1899 DAVID DANIEL ISERHOFF (m. Minnie SOLOMON)
7. c1900 MINNIE CHARLOTTE ISERHOFF (m. George INNES)
8. Apr 24, 1903 SAMUEL JOSEPH ISERHOFF (m. Maggie)
Children with Sophia:
9. 1912 VIDNY/ VADNEE CHARLOTTE ISERHOFF (m. John George MILLER)
10. 1914 ROBERT STANLEY ISERHOFF