JAMES LOCKHART (1831-?)
ANNIE McLEOD (1855-1917)
(Last Updated: August 18, 2016)
James LOCKHART was born about 1831, in Ireland.
** Inspiration to develop this lineage comes from descendant Jeanifer Wiebe who has made a donation and will be cooperating in its development.
In 1849 James began to work for the Hudson's Bay Company (HBC) as an Apprentice Clerk in Lachine, Quebec.
York Factory
1859-1852
From 1849 to 1852 James continued his apprenticeship at York Factory.
Fort Garry, Red River
1852-1855
In 1852 James was sent to Fort Garry in Red River, where he completed his apprenticeship and remained until 1855.
Mackenzie River District
The Franklin Expeditions
1854-55
In 1854 LOCKHART was promoted to the position of clerk, and during that same year he was also dispatched to one of the Exploratory and Search Expeditions to the Arctic.
In the autumn of 1854 Dr. John RAE (1813-1893) of the Hudson's Bay Company astonished the world with the first news of the fate of the Franklin expedition, missing in the Arctic since 1845.
** MORE ABOUT JOHN RAE and the FRANKLIN EXPEDITION in DCBO
In 1855 James was sent to the Mackenzie River District. This was the year that James ANDERSON (1812-1867) and James Green STEWART (1825-1881) were sent on an expedition to investigate the Inuit reports used by John RAE. James LOCKHART was sent on a (apparently separate) support expedition to Fort Reliance that summer as well. He rebuilt Old Fort Reliance which was located near the mouth of Lockhart River (named after our James).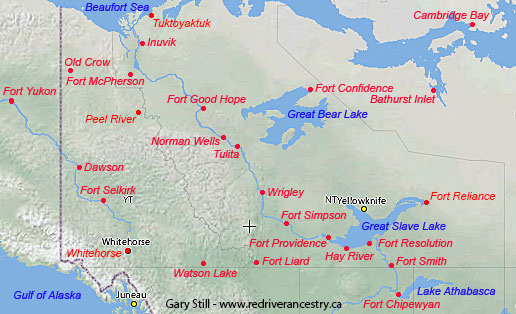 From 1857 to 1859 James LOCKHART was the "Clerk in Charge" at Peel River; then 1859-60 at Fort Resolution.
Fort Yukon
1860-1863
From 1860 to 1863 James was at Fort Yukon.
Between 1859 and 1864 James LOCKHART sent more than 1,100 specimens (ornithology and Mammalogy), or just over nine percent of the Mackenzie River collections (from Fort Yukon and Fort Resolution) received by the Smithsonian Institute; his assistant clerk, Strachan JONES, sent approximately half that number south.
From 1863 to 1866 James was back at Fort Resolution.
In 1866-67 James was on a Furlough leave.
Canadian Confederation
James in Abitibi
1867 1873
On July 1, 1867 the British colonies in North America were united under the British North American Act to become the Dominion of Canada.  Sir John A MACDONALD (1815-1891) was appointed as Canada's first Prime Minister.
In 1867 James was promoted to Chief Trader and posted to Abitibi (east of Cochrane, Ontario) until he retired.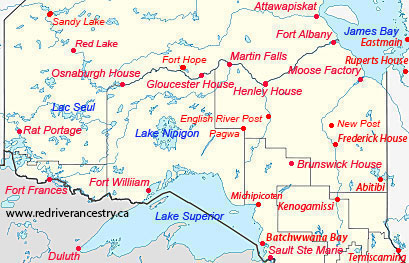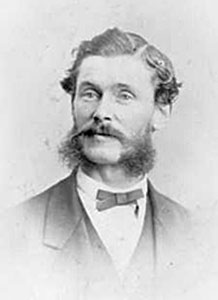 James Lockhart (Courtesy of the McCord Museum and Thanks to Jennifer Wiebe)
Marriage to Annie McLEOD
1869
Around 1869 James married Annie McLEOD in Abitibi, the daughter of Jane TURNER and Alexander Joseph McLEOD (1825-1885). ** MORE ABOUT ALEXANDER JOSEPH McLEOD
On June 24, 1870 son Andrew Alexander was born in Abitibi country.  ** Andrew Alex appears to have been their only child? If anyone knows of others, please let us know on the Forum.
In August of 1873 James retired to Whitby, Ontario (NE of Toronto; west of Oshawa).
Annie marries Robert TURNER
1893
On May 31, 1893 Annie married Robert TURNER at Moose Factory, son of son of Jane Chisholm BOLAND and Philip TURNER (1812-1882). ** MORE ABOUT PHILIP TURNER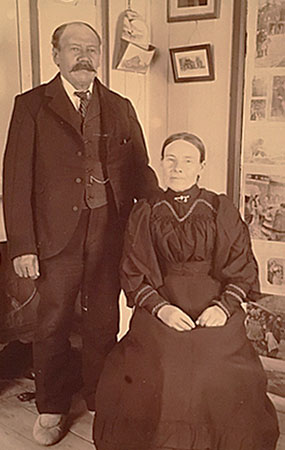 Robert Turner and Annie McLeod (Thanks to Jennifer Wiebe)
In 1898 son Andrew married Annie McBEAN in Winnipeg, the daughter of Elizabeth TURNER and William George Shaw McBEAN (1832-1893). ** MORE ABOUT WILLIAM GEORGE SHAW McBEAN
On Feb 13, 1917 Annie (nee McLEOD) LOCKHART died in Moose Factory, Ontario.
Comments and queries at this link: FORUM DISCUSSING ANNIE McLEOD & JAMES LOCKHART
========================== Family Details ==========================
Child:
1. Jun 24, 1870 ANDREW ALEXANDER LOCKHART (m. Annie McBEAN)

** MORE ABOUT ANDREW ALEXANDER LOCKHART