JOHN BEAR (1883-1953)
JANE McKINNON (1886-1984)
(Last Updated: December 29, 2014)
Around 1883 John BEAR was born in the St Peters Indian Reserve, the son of Jessie PRINCE and Peter BEAR (1852-1921+)
He was a Great Grandson of A-KEE-NA-SOM and WAPASK (WHITE BEAR) (1780-1844).
** MORE ABOUT WHITE BEAR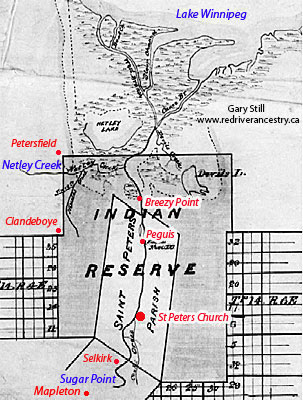 Plan showing the St Peters Indian Reserve after 1871
John BEAR marries Jane McKINNON
1906
Around 1906 John married  Jane McKINNON. ** If anyone can tell us more about Jane's origins, please let us know on the Forum.
Daughter Mary was born in St Peters about 1907.
Surrender of the St Peters Reserve
1907-1911
By Order in Council dated October 14, 1907, a surrender of the St Peters Indian Reserve was accepted. Opposition to the surrender was voiced by ex-Chief William ASHAM (b-1853). The same month, the Band and representatives of the department selected the site of the new reserve, near Fisher River, Manitoba.
** MORE ABOUT CHIEF WILLIAM ASHAM and the ST PETERS RESERVE SURRENDER

By 1909 most of the native residents of St Peters had moved to the New Peguis Reserve at Fisher River, north of Hodgson, MB. By 1911 the St Peters Indian Reserve was gone forever.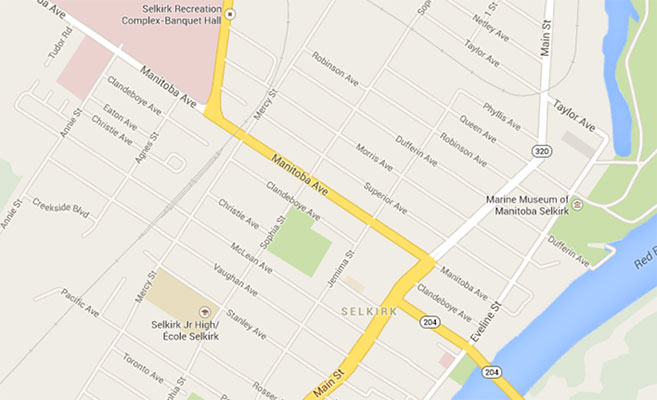 World War I
1914-1918
On Aug 4, 1914 Great Britain (Canada on Aug 5) declared war on Germany and Austria-Hungary to uphold treaties with France and Belgium which were under German attack. This marked the beginning of World War I.
November 11, 1918, Armistice Day (Remembrance Day) marked the end of the First World War.
Census of 1921 in St Andrews Parish (Lot 25): John BEAR, age 38; wife Jane, age 34. Children: Mary (age 14), Alex (age 12), Samuel (10), Stanley (7), Helen (5) and Jessie J (age 3). Father: Peter BEAR, age 75.
World War II
1939-1945
On Sept 4, 1939 Canada and Britain declared war on Germany, and almost immediately new recruits began pouring into Winnipeg to sign up with the Winnipeg Grenadiers and the Royal Rifles of Canada.
Around 1940 son Samuel married Elsie HOURIE, daughter of Mary Jane (nee IRVINE) KNOTT and Peter Lawrence HOURIE (b-1895), a fisherman from Grand Marais (MB).

In 1940 daughter Ellen married Norman DUNNING, son of Margaret PUGH and Roderick DUNNING (1875-1964).
** MORE ABOUT RODERICK DUNNING
In 1941 son Stanley enlisted. Son Jack served five years overseas with the PPCLI (Princes Patricia Canadian Light Infantry).
On May 7, 1945 Germany surrendered and the War in Europe ended; the next day, May 8, is declared VE Day.
In 1945 eldest son Alexander married Gertrude FARIES, the daughter of Sophia and James Walter FARIES (B-1896).
In 1953 son John Robert (Jack) married Rose Sybil SANDERSON in Selkirk, daughter of Julia and Peter Samuel SANDERSON (1893-1980).
In the late 50's youngest daughter Elsie married Merrill PARSONS (1932-2006) who was born and raised in Newfoundland and served with the RCAF for 23 years (Gimli Air Base).
Not sure when youngest son Edward married Theresa WHEELER, possibly the daughter of Mary and John James WHEELER (b-1905).
Comments and queries at this link: FORUM DISCUSSING the FAMILY OF JOHN BEAR
=========================== Family Details ===========================
Children:
1. 1907 MARY BEAR
2. 1909 ALEXANDER (ALEC) BEAR (m. Gertrude "Gertie" FARIES)
3. 1910 SAMUEL BEAR (m. Elsie HOURIE)
4. 1812 MARGARET BEAR
5. 1914 EDGAR STANLEY BEAR
6. 1916 ELLEN BEAR (m. Norman DUNNING)
7. 1918 JESSIE JANE BEAR
8. 1922 JOHN ROBERT (JACK) BEAR (m. Rose Sybil (Rosie) SANDERSON)
9. Oct 22, 1927 ALBERT JAMES BEAR
10. Aug 24, 1930 ELSIE BEAR (m. Merrill PARSONS)
11. EDWARD "EDDIE" BEAR (m. Theresa WHEELER)