RODERICK JAMES DUNNING (1875-1964)
MARGARET PUGH (1888-1960)
(Last Updated: December 29, 2014)
Roderick James DUNNING was born Aug 30, 1875, son of Elizabeth SPENCE and Andrew DUNNING (1840-1921).
Census 1881, 1891, 1901:  Roderick James (age 6, 13, 25) with his parents in St Clements Parish.
Marriage to Margaret PUGH
Parkdale – East St Paul
1906-1911
On June 22, 1906 Roderick married Margaret PUGH in Winnipeg, daughter of Catherine DENNETT and John PUGH (1837-1913) from England.
In the census records of 1906 and 1911 Roderick and his wife Margaret were living in the Parkdale – East St Paul area near Margaret's parents (Catherine & John PUGH).  (Son Sidney as age two in 1911).
Dog Lake
1912-1926
In 1912 Andrew began homesteading at Dog Lake, southeast of the Lake Manitoba Narrows near Vogar (See map below).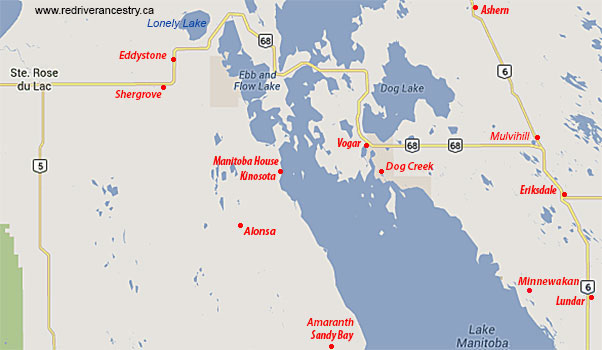 In the census records of 1916 and 1921 Roderick and his family were recorded in the Dog Lake area (Vogar). In 1921 Roderick (age 44), wife Margaret (age 31) and children Sidney (age 7) and baby Norman (age 6 months).
St Peters
1926
In 1926, son Sid (age 17) moved to St Peters district; bought Lot 31 and hauled logs from Devils Creek to build a house for his parents and himself.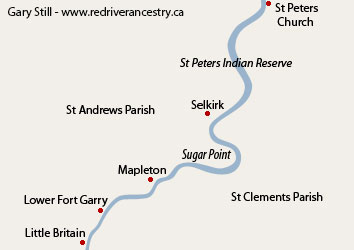 In 1934 eldest son Sid married Grace Ann CALDER in Selkirk, the daughter of Maude THOMAS and Cornelius CALDER (1880-1959) ** MORE ABOUT CORNELIUS CALDER
In 1940 son Norman married Ellen BEAR, the daughter of Jane McKINNON and John BEAR (1883-1953).
On Dec 14, 1960 Margaret (nee PUGH) DUNNING died in the Winnipeg General Hospital., age 74.
On June 22, 1964 Roderick James DUNNING died at the Princess Elizabeth Hospital at the age of 89. He and his wife were buried in the St Clements Church Cemetery at Mapleton.
Comments and queries at this link: FORUM DISCUSSING the RODERICK DUNNING FAMILY
========================= Family Details =========================
Children:
1. 1908 SIDNEY ROY DUNNING (m. Grace Ann CALDER)
2. 1916 NORMAN DUNNING (m. Ellen BEAR)