CORNELIUS JAMES CALDER (1880-1959)
MAUDE THOMAS (1880-?)
CHRISTIE THOMAS (1878-1910)
(Last Updated: August 04, 2017)
Cornelius James CALDER was born Nov 23, 1880 in Mapleton, son of Annie FOLSTER and Thomas CALDER (1844-1924). ** MORE ABOUT THOMAS CALDER
Marriage to Maude THOMAS
1902
On Oct 9, 1902 Cornelius married Maude THOMAS in St Andrews Parish, daughter of Eliza SMITH and William THOMAS (1844-1931). Maude's father, William THOMAS, was born in the St Peters Indian Reserve. He was a Treaty Indian until 1875, at which time her revoked his Treaty status in order to receive Half-Breed Scrip
.
On Nov 9, 1902 Jessie CALDER was born in St Andrews Parish. In Manitoba Vital Statistics, her mother is stated as Christie THOMAS (Maude's sister). We can only assume Cornelius was her father, because she is recorded with him in the following census of 1906. On Dec 6, 1902 daughter Amelia Myrtle was born, mother as Maude THOMAS.
St Peters Parish
1906
Census 1906:  St Peters Parish: Cornelius CALDER (age 26) wife Maud (age 25). Children: Mabel (age 3), Archie (2) and Jessie (age 1).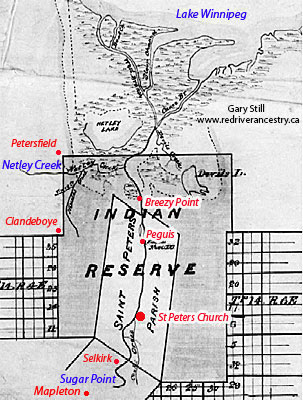 Boundaries of the St Peters Reserve after Treaty No.1
The Historic and Controversial Surrender of the St Peters Reserve
1907
On Oct 14, 1907, after many years of haggling over non-Indian land claims, Chief William PRINCE and his four Councilors (Henry PRINCE, John PRINCE, William HARPER and James PRINCE), as well as ex-Chief William ASHAM, accepted and signed the historical and controversial Surrender of the St Peters Indian Reserve to the Crown. The same month, the Band and representatives of the department selected the site of the new Peguis Reserve in the Fisher River area north of Hodgson, Manitoba.
On April 9, 1910 Christie THOMAS (mother of Jessie CALDER) died in St Clements, age 31.
In 1911 the Manitoba Royal Commission investigating the titles to the river lots and the surrendered land, vindicated those who had opposed the surrender's validity. In the meantime, however, a significant proportion of the Band had relocated to Fisher River, patented lots had been sold, a sale of the remaining surrendered reserve land had taken place, and proceeds had been distributed to band members. The dominion government was unwilling to turn back the clock and reopen the St Peter's land question. It was perhaps inevitable that the surrender would ultimately be validated by special legislation: the St. Peter's Reserve Act. Under its provisions, purchasers would be required to pay an extra $1 per acre (to be added to the St Peter's Band fund) to obtain a secure title to their land. The legislation had the effect of increasing the balance in the Band's trust account by $40,000, but the St Peter's Indian Reserve was gone forever.
** MORE ABOUT THE ST PETERS RESERVE SURRENDER

Census 1911 in St Peters Parish: Cornelius CALDER (age 31); wife Maude (age 30). Children: Emile (age 8); Archibald (6); Charlotte (4) and Thomas (age 1). In the same census, Jessie CALDER (age 7) was also recorded in St Peters, but with her grandparents, Eliza and William THOMAS.
World War I
1914-1919
On Aug 4, 1914 Great Britain (Canada on Aug 5) declared war on Germany and Austria-Hungary to uphold treaties with France and Belgium which were under German attack. This marked the beginning of World War I.
WW I Attestation:  Dated Nov 23, 1915 Selkirk: Cornelius James CALDER, labourer of Selkirk, MB; born Apr 14, 1880 in Mapleton; age 35, 5 ' 10 ".  Next of kin: his wife, Maud CALDER of Selkirk.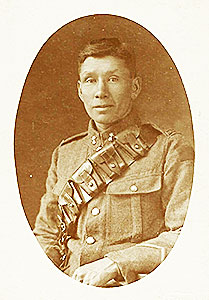 Is this Cornelius Calder?
Colleen Moore's grandfather, Peter Moore (1883-1930) was in World War I
She found this picture at her grandfather's house. It says 'Calder' on the back of the picture
Census 1916: Town of Selkirk (290 Robinson St): Cornelius CALDER, age 36; wife Maun, age 35. Children: Myrtle (age 13), Archibald (11), Charlotte (9), Thomas (6), Grace (age 2) and baby Eliza (3 months).
November 11, 1919, Armistice Day (Remembrance Day) marked the end of the First World War.
In 1920 alleged daughter Jessie CALDER became the second wife of John Lawrence SABISTON, son of Mary McDONALD & James William SABISTON (1872-1958). ** MORE ABOUT JAMES WILLIAM SABISTON
Census 1921: Town of Selkirk (Main St): Cornelius J CALDER, Teamster, age 41; wife Maud, age 40. Children: Archibald (age 16), Charlotte (14), Thomas(11), Grace (7) and Lilian (age 5).
In 1922 a second son named Harold was born in Selkirk. ** In 1870 he died in Vancouver at the age of 48).
In 1927 daughter Myrtle married Peter STORKSON (1902-1984) in Rainy River, son of Lena OLSON and John Seward STORKSON (born 1871 in Minnesota, USA).
In 1929 son Archibald married Alice Lenore FLETT in Selkirk, daughter of Mary Elizabeth COCHRANE and David FLETT (1867-1910).
In 1934 daughter Grace married Sidney DUNNING, son of Margaret PUGH and Roderick James DUNNING (b-1875).
** MORE ABOUT RODERICK JAMES DUNNING
It is uncertain when daughter Charlotte married a man with the surname ALMAGREN. By the 1950's they were living in Fort Frances (ON).
In 1936 youngest daughter Lillian married Colin SMITH at the old St Peters Church in St Peters, son of Elizabeth KIPLING and Colin Robert SMITH (1889-1935), a Cree Indian.
World War II
1939-1945
On Sept 4, 1939 Canada and Britain declared war on Germany, and almost immediately new recruits began pouring into Winnipeg to sign up with the Winnipeg Grenadiers and the Royal Rifles of Canada.

From 1942 to 1946 son Thomas served overseas with the Royal Canadian Engineers.
In 1945 son Mervin R was reported as slightly wounded in the Army's 777th and 778th Casualty List. ** Does anyone have more information about son Mervin? This military record indicates that he was definitely a son of Cornelius CALDER but cannot find any other information about him, i.e. when was he born?
On May 7, 1945 Germany surrendered and the War in Europe ended; the next day, May 8, is declared VE Day.
On April 26, 1959 Cornelius CALDER died. Two months later, on June 27, 1959 his wive, Maude (nee THOMAS) CALDER died in the Selkirk General Hospital at the age of 78. She was buried with her husband in the St Clements Church Cemetery at Mapleton.
In 1970 son Harold died in Vancouver at the age of 48.
Comments and queries at this link: FORUM DISCUSSING THE CORNELIUS CALDER FAMILY
========================== Family Details ==========================
Child of Christie THOMAS:
1. Nov 9, 1902 JESSIE CALDER (m. John Lawrence SABISTON)
Children with Maude THOMAS:
1. Dec 6, 1902 AMELIA MYRTLE CALDER (Peter STORKSON)
2.  Nov 29, 1904 ARCHIBALD CALDER (m. Alice Lenore FLETT)
** MORE ABOUT ARCHIBALD CALDER
3. Dec 5, 1906 CHARLOTTE CALDER (m. ALMAGREN)
4. MERVIN R CALDER
5. Jan 1, 1909 HAROLD CALDER (Died in infancy)
6. Jan, 1910 THOMAS CALDER (m. Anne)
7. 1913 GRACE ANN CALDER (m. Sidney DUNNING)
8. 1916 LILIAN ELIZA CALDER (m. Colin Gilbert SMITH)
9. 1922 HAROLD CALDER (2nd)