THOMAS "TOMMY" CALDER (1844-1924)
MARIA ANNE "ANNIE" FOLSTER (1847-1914)
(Last Updated: February 04, 2014)
Thomas CALDER was born on Feb 14, 1844 in Old England (Mapleton), the eldest son of Charlotte LYONS and George CALDER (1823-1906).
Marriage to Annie FOLSTER
1863
Around 1863 Tommy, married Annie FOLSTER, daughter of Maria PRUDEN and William FOLSTER (1827-1912). Their first home was on the site of the old "Redfeather Farm" on land owned by Maria's parents. On Oct 11, 1865 their first child, John Thomas, was born there.
Canadian Confederation
Red River Metis Rebellion
Manitoba becomes a Province
1867-1870
On July 1, 1867 the British colonies in North America were united under the British North American Act to become the Dominion of Canada. Sir John A MACDONALD (1815-1891) was appointed as Canada's first Prime Minister. William McDOUGALL (1822-1905) became the Minister of Public Works, and he began negotiations to acquire Rupert's Land from the HBC. Surveyors were sent out to prepare the way for an expected influx of settlers.
On Oct 11, 1869, Louis RIEL (1844-1885) placed his foot on the surveyors' chain to tell them their work was finished. This marked the beginning of a Red River Métis Rebellion.
** MORE ABOUT THE RED RIVER REBELLION in WIKIPEDIA
On July 15,1870 Manitobabecame the fifth province of Canada, the Canadian Government having acquired the territory previously governed by the HBC. The Rebellion was essentially over.
In 1870 Tommy's family was recorded on Lot 11 in St Clements Parish; children as John (age 6) and Maria (age 2).
In 1875 Tom claimed Scrip for himself and their children, John Thomas and Maria who died in 1871:
On June 15, 1882 the Town of Selkirk was incorporated. By the end of the year 1883 the railway branch running on the west side of the river from Winnipeg to the Town of Selkirk was constructed by the CPR was opened for service.
In 1884 the first Selkirk Newspaper began publishing. The region's first Mental Health Centre, also known as the Asylum, was under construction (opened in 1886). There were wooden sidewalks along the main streets of Selkirk.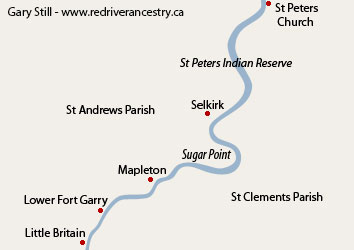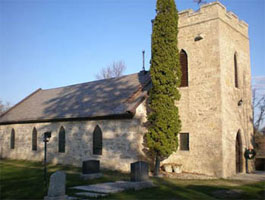 St Clements Church at Mapleton
In 1887 eldest son John Thomas married Grace MATHESON in Selkirk, daughter of Isabelle McGREGOR & Jesse MATHESON (1841-1907).
In 1888 Thomas CALDER is listed renting a pew in the St Clements Church at Mapleton.
In 1889 daughter Charlotte married Thomas FIDLER in Little Britain, son of Suzanne KIPLING and John FIDLER (1825-1902).
In 1902 son Cornelius married Maud THOMAS, daughter of Eliza SMITH and William THOMAS (1844-1931).
On Sep 26, 1914 wife Annie CALDER died in Mapleton at the age of 68.
World War I
1914-1919
On Aug 4, 1914 Great Britain (Canada on Aug 5) declared war on Germany and Austria-Hungary to uphold treaties with France and Belgium which were under German attack. This marked the beginning of World War I.
In 1915 son Cornelius James enlisted at Selkirk.
In 1915 son Henry George married Marie "Milsie" PENCO who was born in Germany in 1888 (Immigrated 1906).
November 11, 1919, Armistice Day (Remembrance Day) marked the end of the First World War.
On April 10, 1924 Thomas CALDER died at the age of 81.
Comments and queries at this link: FORUM DISCUSSING THE THOMAS CALDER FAMILY
========================== Family Details ==========================
Children:
1. Oct 11, 1864 JOHN THOMAS CALDER (m. Grace Ann MATHESON)
2. Nov 11, 1866 ANNE ELIZABETH CALDER (Died in infancy)
3. 1868 MARIA CALDER (Died age 3)
4. Nov 26, 1870 CHARLOTTE CALDER (m. Thomas FIDLER)
5. Apr 14, 1880 CORNELIUS JAMES CALDER (m. Maude THOMAS)
** MORE ABOUT CORNELIUS CALDER
6. July 18, 1884 HENRY GEORGE CALDER (m. Marie "Milsie" PENCO)
7. Sep 17, 1886 ANNABELLA CALDER (Died in infancy)