ARCHIBALD CALDER (1904-1980)
ALICE LENORE FLETT (1911-1994)
(Last Updated: December 26, 2014)
On Nov 29, 1904 Archibald CALDER was born in Old England (Mapleton), the eldest son of Maude THOMAS and Cornelius CALDER (1880-1959). ** MORE ABOUT CORNELIUS CALDER

Archie grew up first in St Peters Parish, and when he was in his teens the family lived at 285 Robinson Avenue in Selkirk.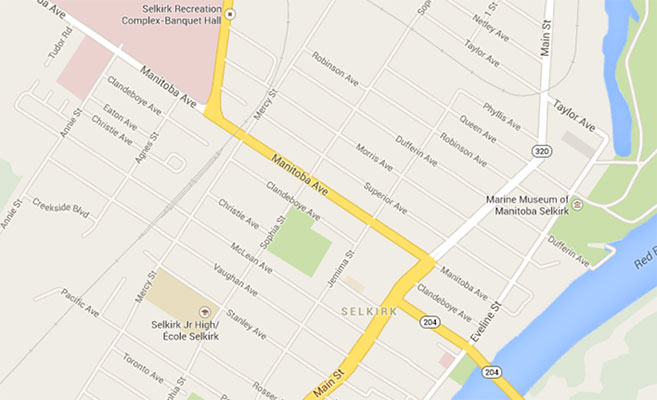 Marriage to Alice FLETT
1929
On Nov 9, 1929 Archie married Alice FLETT at Christ Church in Selkirk, daughter of Mary Elizabeth COCHRANE and David FLETT (1867-1910).
In 1930 Archie began to work at the Manitoba Rolling Mills (MRM).
World War II
1939-1945
On Sept 4, 1939 Canada and Britain declared war on Germany.
In 1940 Archie CALDER was 36 years old, wife Alice was 29 and their children were Vern (age 10), Rae Lenore (9), Archie Jr. (8) and Tommy (age 6).
On May 7, 1945 Germany surrendered and the War in Europe ended; the next day, May 8, is declared VE Day.
In 1950 only daughter Rae Lenore married William VOGEN in Selkirk, son of Mabel Chatterton and Walter VOGEN (b-1904).
In 1953 youngest son Thomas married Thelma McDONALD in Selkirk, daughter of Nellie SABEL and Clifford McDONALD (1904-1975).
In 1956 son Archie married Pearl McLEOD, daughter of Tina MOWAT & Wallace McLEOD (1902-1958).
The CALDER Boys and the Selkirk Fishermen Hockey Team
In 1957 I (Gary STILL) began to work at Roy STEPHENSON's Fisheries in Selkirk. It was there that I became acquainted with co-worker Archie CALDER Jr. and became a fan of the Selkirk Fishermen Hockey Team. I recall Archie and his brother, Vern CALDER, as Selkirk fan favorites in the late 1950's and early 60's. In moments of excitement it was a tradition to see fish flung out onto the ice (usually by Eddy BEAR or his brothers who also worked at Roy's fish plant).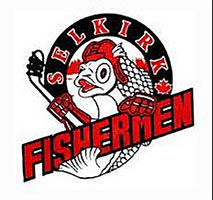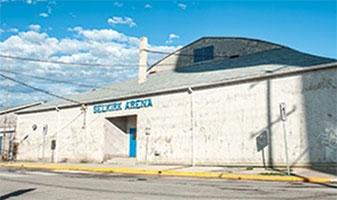 Selkirk Fishermen Crest – Selkirk Arena ("The Barn")
In 1973, after 43 years of employment there, Archie retired from the Manitoba Rolling Mills.
On Sep 28, 1980 Archibald CALDER died in Selkirk at the age of 75.
On Sep 24, 1994 Alice Lenore (nee FLETT) CALDER died in Selkirk.
Comments and queries at this link: FORUM DISCUSSING the ARCHIE CALDER FAMILY
========================== Family Details ==========================
Children:
1. 1930 VERN CALDER
2. Mar 21, 1931 RAE LENORE CALDER (m. William VOGEN)
3. Apr 28, 1932 ARCHIBALD LLOYD "ARCHIE" CALDER JR (m. Pearl Jean Margaret McLEOD)
4. 1934 THOMAS REGINALD CALDER (m. Thelma Lorraine McDONALD)