JOSEPH BERTHELET dit SAVOYARD (1809-1894)
MARGUERITE DUBOIS (1817-1868)
ANGELIQUE CARON-LAFERTE (1839-1912)
(Last Updated: June 26, 2017)
Joseph BERTHELET dit SAVOYARD was born Nov 25, 1809 in Red River, son of a Chippewa Native named Marguerite & Toussaint BERTHELET (1780-1866). Some references indicate that he was born in in Leroy, North Dakota. 
** MORE ABOUT TOUSSAINT BERTHELET
The Red River Métis Rebellion
1815-1817
In 1817, when the Red River Métis Rebellion ended, Joseph was about nine years old. That year his sister (Marguerite) was born south of the border, probably near Pembina, ND.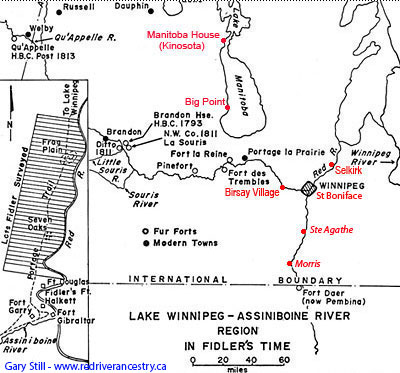 Before, during and after the Rebellion Joseph was with his parents at various places along the Red River, including Pembina, Ste Agathe and St Vital (Winnipeg).
HBC – NWC Merger
1821
In 1821, when the North West Company (NWC) was merged into the Hudson's Bay Comaany (HBC), Joseph was about 22 years old.
Marriage to Marguerite DUBOIS
1834
On Jan 2, 1834 in St Boniface, Joseph (age 25) married his sister-in-law, Marguerite DUBOIS (age 17).
** MORE ABOUT FRANCOIS XAVIER DUBOIS
On Jan 22, 1835 son Joseph Jr. was born in St Vital. A survey of Landowners that year recorded Joseph on Lot 56 in St Vital. There were three persons in his household (himself, his wife and baby Joseph). He had 13 cattle and one farm implement.
Their next four children were daughters; Marguerite , Elise, Monique and Caroline. Son Antoine, was born in 1851, followed by Josephine in 1854, Marie in 1856, Isabelle in 1859.
In 1860 daughter Elise married in St Norbert to Alexandre MORIN (1836-), son of Marie Anne MILLET BEAUCHEMIN & Louis COMTOIS MORIN
Around 1861 daughter Marguerite married in St Boniface to Francois LABERGE (b-c1838).
In 1862 son Patrice was born in Ste Agathe.
In 1863 daughter Monique married George KLYNE in St Norbert.
In 1864 daughter Caroline married Louis HOULE in St Norbert.
In 1866 Joseph's father (Toussaint) died in St Norbert (just south of St Vital and Winnipeg). By this time, son Joseph Jr. was married to Francoise CARON, daughter of Angelique ST GERMAIN & Antoine CARON (1784-), both French Canadians.
Canadian Confederation
1867
On July 1, 1867 the British colonies in North America were united under the British North American Act to become the Dominion of Canada. 
Marguerite Dies
Joseph remarries to Widow Angelique (nee CARON-LAFERTE) CADOTTE
1868
On July 9, 1868 Marguerite in Point Coupe(e), Manitoba (St Norbert area) soon after giving birth to her 10th child, Julienne who also died the next day,
In February of 1868 son Antoine married Catherine LAFERTE, daughter of Madeleine ROY & Oivier LAFERTE
In November of 1868 in St Norbert Joseph (age 59) married Widow Angelique (nee LAFERTE) CADOTTE (age 29), daughter of Angelique CARON & Louis LAFERTE(1794-1885).
On July 15,1870 Manitoba became the fifth province of Canada, the Canadian Government having acquired the territory previously governed by the HBC. In December a Census of Red River was completed. The results recorded 5, 757 French-speaking Métis; 4, 803 white settlers and 558 Indians in the census region. This information would be later used to determine who would be eligible for Land Grants and Scrip.
In 1870 Joseph's family was recorded in Ste Agathe; children as Marie (age 15), Josephine (13), Isaebelle (11), Patrice (9), Eliza (2) and Victorine (age 1).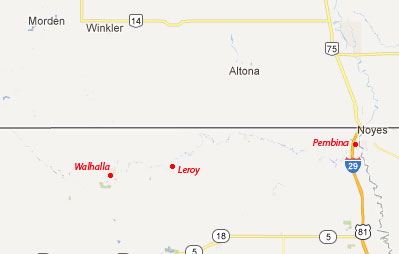 USA – Canadian Boundary Survey
1872-73
On Sep 20, 1872The Boundary Commissioners, consisting of Canadian and American surveyors, first met in Pembina, North Dakota. They camped just north of the HBC post of North Pembina. This place was described as consisting of a palisaded HBC fort, a log building used as the Canada Customs House and four or five log cabins. The Spring of 1873 found them with all the surveying done and the line carefully marked with posts from the Northwest Angle of the Lake of the Woods to the Red River (the 49th parallel).
In 1874 daughter Josephine married Joseph VANDAL in Ste Agathe, son of Rosalie HAMELIN & Pierre VANDAL (b-1812). Also that year, daughter Marie married Charles ROUSSIN in Walhalla, North Dakota, USA, son of Marguerite CARON & Eustache ROUSSIN.
In December of 1875, Joseph (of St Agathe Parish) claimed Scrip for himself and for his children (Angelique CARON indicated as their mother): 1) Isabelle; 2) Patrice; 3) Elise and 4) Victorine.
In 1880 son Patrice married Marie Vitaline LATRAILLE in Leroy, North Dakota.
US Census 1880: Pembina, Dakota Territory, HH-65: Joseph BERTHELET, farmer, age 68 (born c1812 in Minnesota); wife Angelique, age 41 (born c1839 in Canada). Children: Elise 11, Victorine 10, Agathe 7, Angelique 4, Rosalie 1. Also in HH-66: Patrice, age 19 (White, born c1861 in Canada) and his wife Vitaline, age 19 (Indian born in Dakota Territory).
In 1883 daughter Elise married Jean Baptiste VENNE in Walhalla, ND, son of Isabelle HOULE & Jean Baptiste VENNE SR.
In 1886 daughter Victorine married Romain LATREILLE in Leroy, ND, son of Marguerite GOULET-JOLIBOIS & Felix LALONDE-LATRIELLE
Joseph BERTHELET died on May 25, 1894 (re Kibby) in Walhalla, Pembina, ND. Joseph had fathered no less than 16 children by two wives. In addition he was the step-father of his second wife's (Angelique') child (Isabelle CADOTTE) from her previous marriage.
In 1895, son Paul married Rose Emma MARTINEAU in Walhalla, ND, daughter of Marie LATRIELLE & Adrien MARTINEAU.
On April 14, 1912 Angelique died in St Joseph-Leroy district, being buried April 16th 1912 in the St Joseph's Churchyard Cemetery, Leroy, Walhalla, North Dakota
Please post comments and queries at this Link: JOSEPH BERTHELET (1809-1894)
============================= Family Details =============================
Children by Joseph & Marguerite DUBOIS:
1. Jan 22, 1835 JOSEPH BERTHELET (m. Francoise CARON)
2. c1840 MARGUERITE BERTHELET (m. Francois LABERGE)
3. Mar 10, 1842 ELISE BERTHELET (m. Alexandre MORIN)
4. May 10, 1846 MONIQUE BERTHELET (m. George KLYNE)
5. May 20, 1849 CAROLINE BERTHELET (m. Louis HOULE)
6. Mar 10, 1851 ANTOINE BERTHELET (m. Catherine LAFERTE)
7. c1854 JOSEPHINE BERTHELET (m. Joseph VANDAL)
8. Sep 10, 1856 MARIE BERTHELET (m. Charles ROUSSIN)
Child by Angelique LAFERTE & Augustin CADOTTE:
1. Feb 3, 1859 ISABELLE CADOTTE aka BERTHELET (m. Alexander DUBOIS)
More Children by Marguerite DUBOIS:
9. Sep 6, 1862 PATRICE BERTHELET/ BARTLETTE (m. Marie Vitaline LATRAILLE)
10. July, 1868 JULIENNE BERTHELET (Died in infancy)  
Children  by Angelique LAFERTE & Joseph BERTHELET:
1. Jul 25, 1869 ELISE (ELIZA) BERTHELET (m. Jean Baptiste VENNE)
2. Jul 23, 1870 VICTORINE BERTHELET (m. Romain LATREILLE)
3. Feb 11, 1872 PAUL BERTHELET (m. Rose Emma MARTINEAU)
4. 1873 AGATHE BERTHELET (m. Joseph Alfred BOYER)
5. 1876 ANGELIQUE BERTHELET (m. Joachim BOYER)
6. 1879 ROSALIE BERTHELET