TOUSSAINT BERTHELET dit SAVOYARD (1780-1866)
MARGUERITE SAUTEUSE (1776-?)
(Last Updated: June 26, 2017)
The earliest and most reliable sources of information regarding Toussaint BERTHELET are the ones which appears in the Tables of Sprague & Frye's book (denoted hereafter as S&F), and in the In the Hudson's Bay Company (HBC) Archives (HBCA) which in turn refers to the Genealogical Compendium authored by Gail Morin. In these references he is said to have been of European origin, born around 1780; his wife: Marguerite, and Indian (Saulteaux) born around 1776.
In succeeding generations the BERTHELET surname takes on several other spelling variations including BERTHELETTE, BARTHELET, BARTHELETTE and BARTLETTE.
Many researchers refer to him as Toussaint BERTHELET dit SAVOYARD, indicating that the dit SAVOYARD is a name associated with his birthplace in France. With Toussaint's descendants the SAVOYARD part of his name is soon dropped altogether.
There is also a Red River ancestor named Francois SAVOYARD (also from S&F) who was born around 1784, suggesting that he may have been Toussaint's brother. There is however no 'BERTHELET' attached to Francois SAVOYARD or to his descendants, and the SAVOYARD surname is retained in succeeding generations.
==================== // ====================
Toussaint BERTHELET dit SAVOYARD was born around 1780, probably in France, son of Marguerite HAY & Toussaint BERTHELET SR (born around 1753).
.
The earliest records refer to him as a French Canadian living in Red River (MB).
Marriage to Marguerite (Indian)
1800
Around 1800 Toussaint's first child, Pierre, was born in Red River. According to Sprague & Frye the mother was Marguerite, an Indian.
HBCA: In 1804 Toussaint was a Voyageur for the North West Company (NWC) at Fond du Lac. This is essentially all that is said about his occupation or whereabouts in that reference. He apparently never worked for the HBC (which absorbed the NWC in the 1821 Merger of the two companies).
In 1809 son Joseph was born in the "North West", probably in the region of Red River.
The First Selkirk Settlers arrive at Red River
1812
In 1814 daughter Genevieve was born in St Vital, MB.
The Red River Métis Rebellion
1815-1817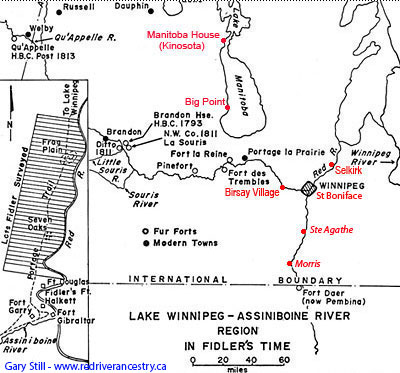 In 1817 daughter Marguerite was born in the USA (most likely in the Pembina district of North Dakota).
HBC – NWC Merger
1821
In 1824 daughter Marie was born in Ste Agathe, MB.
Around 1825 daughter Marguerite married Antoine VANDAL b-1809, son of Angelique (Saulteaux) & Antoine VANDAL SR (1785-1870).
Around 1830 son Pierre married Louise (Elise) DUBOIS, daughter of Angelique LARIVIERE & Francois DUBOIS b-(1775-1825). ** MORE ABOUT FRANCOIS DUBOIS
In 1831 daughter Genevieve married Pierre LAROCQUE, son of Pierre LAROCQUE SR (1786-1848).
In 1834 son Joseph married Louise's sister, Marguerite DUBOIS in St Boniface (married to his brother, Pierre).
On Jan 4, 1838 Pierre LAROCQUE died at Fort Pelly (of smallpox), and later that year Genevieve re-married at Norway House to Louis CHASTELLAIN (1808-1894), son of Josephte PINAUD & Jacques CHASTELLAIN (French Canadian born around 1770). ** MORE ABOUT JACQUES CHASTELLAIN
In 1842 daughter Marie married Louis LAROCQUE (brother of Pierre LAROCQUE, widow of her sister, Genevieve).
On Sep 8, 1866, Toussaint BERTHELET died in St Norbert.
Comments & Queries welcomed: FORUM Discussing the TOUSSAINT BERTHELET FAMILY
============================= Family Details =============================
Children:
1. 1800 PIERRE BERTHELET (m. Louise (Elise) DUBOIS)
2. Nov 25, 1809 JOSEPH BERTHELET (m1. Marguerite DUBOIS; m2. Angelique LAFERTE)
** MORE ABOUT JOSEPH BERTHELET
3. 1814 GENEVIEVE BERTHELET (m1. Pierre LAROCQUE, m2. Louis CHASTELAIN)
4. 1817 MARGUERITE BERTHELET (m. Antoine VANDAL)
5. May 14, 1824 MARIE BERTHELET (m. Louis LAROCQUE)