PIERRE LAROCQUE (1786-1874)
MARGUERITE CREE (1788-1850)
JOSEPHTE DESCOTEAUX (1805-1875)
(Last Updated: June 14, 2014)
Pierre LAROCQUE was born on Apr 4, 1786 in Quebec (near Montreal).
North West Company – Red River
1800-1804
Pierre LAROCQUE began to work for the North West Company (NWC) as a voyageur around the turn of the century (800).  His short biography which appears in the Hudson's Bay Company (HBC) Archives indicates that Pierre LAROCQUE "may have been employed by the NWC before 1804." ** MORE ABOUT PIERRE LAROCQUE in HBC ARCHIVES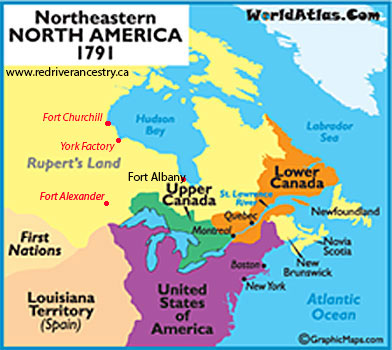 Upper and Lower Canada were created in 1791
Perhaps the earliest mention of the name Pierre LAROCQUE in the Northwest (Rupert's Land) appears in the journals of Alexander HENRY the YOUNGER (1765-1814) regarding his Red River Brigade in 1800-1801.  On July 20, 1800 Alexander HENRY travelled from the Grand Portage to Lake Winnipeg by way of the Rainy River route. On Aug 21 he recorded in his journal that his expedition left for the forks of the Red River and Assiniboine Rivers on route for the Pembina Region, the base of operations for the 1800-01 fur season (CHABOILLEZ's Post). One Pierre LAROCQUE is mentioned as being a member of this Red River Brigade. This was more likely to have been the elder Pierre LAROCQUE, but there are indications that some of the men in his brigade had their sons with them and that might have included Pierre Jr. who would have been about 15 years old at that time.
** MORE ABOUT ALEXANDER HENRY the YOUNGER in DCBO

At that time voyageurs usually transported trade goods to remote trading posts in the far northwest (Rupert's Land on the map above) in the late summer. They often overwintered at these outposts during the fur-trading season and then transported the furs back east in the early summer.
Great Bear Lake and Athabasca
1804-1821
Biographical Notes by Lloyd Keith: After 1804 Pierre LAROCQUE was taken on by the North West Company and served under Alexander "The Emperor" McKENZIE (1767-1830) at Great Bear Lake in 1805-06. He seems to have performed the duties normally assigned an engage at a fur trading post until Jan 30, when he and another man named GUILBORD were sent with the winter express to Slave Lake. They were to retrace the route they had come on, delivering lettess to Fort of the Forks and Slave Lake along the way. GUILBORD and LAROCQUE decided to shorten their trip by taking a more direct route by way of Lac La Martre. When NANEAWZIE, their Indian guide, returned to Bear Lake and informed McKENZIE, the Emperor was outraged. He ordered a search party to go after them and retrieve the letters, but they failed to catch up with the two innovative couriers. Apparently, LAROCQUE did not return to the Mackenzie, for no further mention is made of him. However, he must have mended his errant ways, because he served the NWC in the Athabasca continuously until 1821, after which time his name disappears from the record.
** MORE ABOUT ALEXANDER McKENZIE in DCBO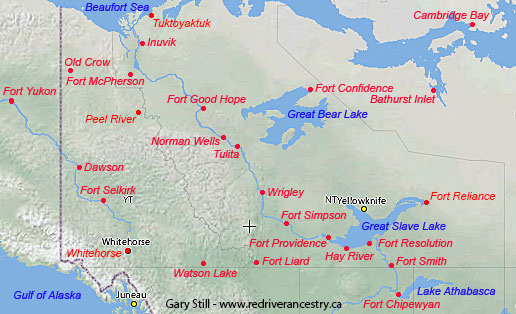 Pierre and a Cree woman named Marguerite
1814
Around 1814 Pierre's wife was a Cree woman named Marguerite who gave birth to son Pierre Jr. around that time. In 1819 son Louis was born.
Union of the North West Company with the Hudson's Bay Company
1821
In 1821 the union of the North West Company (NWC) and the Hudson's Bay Company (HBC) occurred, ending the years of bitter rivalry for dominance of the fur trade in Western Canada. Soon after, George SIMPSON (1786-1860) became the Governor of Rupert's Land. After the union, Louis became an HBC servant in the Upper Red River District.
In 1824 Pierre retired from the HBC and became a colonist/ Freeman in Red River. Son Francois was born that year.
In the Red River Census of 1827 Pierre LAROCQUE (age 40) was recorded with a wife, three sons and a daughter. He had a stable and a canoe and he had eight acres of land under cultivation. The sons would have been Pierre Jr. (about age 13), Louis (6) and Francois (about two years old. Who the daughter was is uncertain at this time.
In 1832-33 Louis had an account at Lower Red River.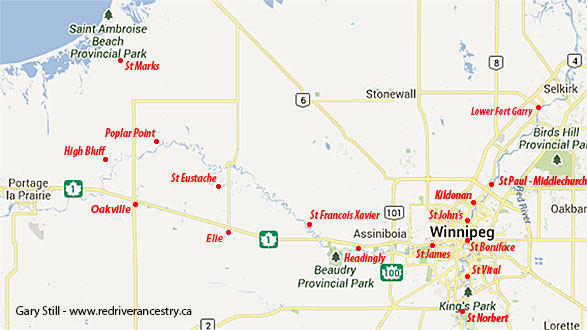 In 1831 eldest son Louis Jr. married Genevieve SAVOYARD in St Boniface
In 1841 son Francois married Angelique SAYIS aka SAYER in St Boniface, daughter of Marguerite (Indian) and Louis SAYIS of uncertain origins.
In 1842 son Louis married Marie BERTHELET in Red River, daughter of Marguerite (Indian) & TOUSSAINT BERTHELET (1780-1866). ** MORE ABOUT TOUSSAINT BERTHELET
In 1850 Pierre's Cree wife Marguerite died. (Sprague & Frye)
Marriage to Josphte DESCOTEAUX
1853
On Oct 24, 1853 Pierre re-married to Josephte DESCOTEAUX in St Francois Xavier, daughter of Half-breed Madeleine DUMILLO & Joseph DESCOTEAUX, a French Canadian.
On Mar 7, 1874 Pierre LAROCQUE died in St Boniface.
In 1875 Josephte (nee DESCOTEAUX) LAROCQUE claimed Scrip as the widow of Pierre LAROCQUE. She was living in St Francois Xavier at the time.
On Dec 17, 1875 Josephte (nee DESCOTEAUX) LAROCQUE died in St Boniface.
Comments and queries at this link: FORUM DISCUSSING PIERRE LAROCQUE and his DESCENDANTS
========================== Family Details ==========================
Children by Marguerite Cree:
1. 1814 PIERRE LAROCQUE (m1. Genevieve SAVOYARD; m2. Marie PINAUD)
2. Jul 17, 1819 LOUIS LAROCQUE (m. Marie BERTHELET)
3. Jun 7, 1824 FRANCOIS LAROCQUE (m. Angelique SAYIS)