JOSEPH BERTHELET (1835-1916)
FRANCOISE CARON (1838-1916)
(Last Updated: August 28, 2012)
Joseph BERTHLET was born Jan 22, 1835 in St Vital, son of Marguerite DUBOIS & Joseph BERTHELET SR (born 1809). This from his Scrip Affidavit of 1875. ** MORE ABOUT JOSEPH BERTHELET (1809-1894)
Marriage to Francoise CARON
1856
By 1856 Joseph was married to Francoise CARON, daughter of Angelique ST GERMAIN & Antoine CARON (1784-), both French Canadians.
Canadian Confederation
The Red River Métis Resistance
Manitoba becomes a Province
1867-1870
On July 1, 1867 the British colonies in North America were united under the British North American Act to become the Dominion of Canada. Sir John A MACDONALD (1815-1891) was appointed as Canada's first Prime Minister. William McDOUGALL (1822-1905) became the Minister of Public Works, and he began negotiations to acquire Rupert's Land from the HBC. He appointed Surveyor Colonel John Stoughton DENNIS (1820-1885) to draw up a plan for the laying out of townships in the North-West, in anticipation of a vast migration of settlers.
On Oct 11, 1869, Louis RIEL (1844-1885) placed his foot on the surveyors' chain to tell them their work was finished. On learning of McDOUGALL's plan, the French Métis and English half-breeds of the Settlement (and many Selkirk Settlers as well) were much displeased with his plan to take over their territory without first consulting with them to arrange terms for doing so. Under the leadership of RIEL, the Métis seized control of Upper Fort Garry and; a Provisional Government was formed.
On July 15, 1870, Manitoba became the fifth province of Canada, the Canadian Government having acquired the territory previously governed by the HBC. That fall,Colonel Garnet Joseph WOLSELY (1833-1913) and his soldiers arrived at Red River. They forced their way into Upper Fort Garry. RIEL, having learned that the soldiers were planning to lynch him, fled, just a few hours before they arrived. The Rebellion was over.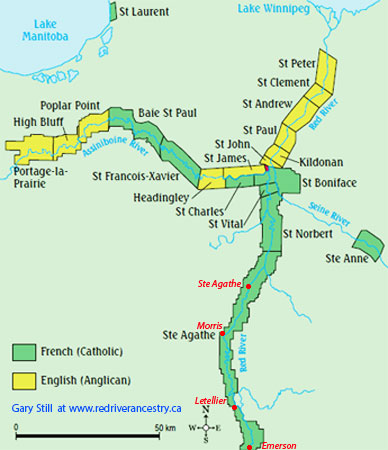 Red River Settlement Parishes around 1870
In order to determine who would be eligible for Land Grants and Halfbreed Scrip at the time of the Transfer (July 15, 1870), a Red River Census was conducted. The BERTHELET family was living on Lot 585 in Ste Agathe (see map above); children were recorded as Joseph Jr. (age 15), Marguerite (13), Edward (11), Charles (8), Philomene (5), Marie (4) and Jean Baptiste (age 1).
In June of 1875 application for Land Scrip began to flow in (for families resident in Red River as of July 15, 1870).  On Dec 18 that year, Joseph claimed Scrip for the children recorded in 1870.
Around 1878 eldest daughter Marguerite married William DELORME, son of Cecile BRUCE & Louis DELORME (b-1818).
On Dec 7, 1878 the first train from St. Paul (Minnesota), via Emerson, steamed into the Station at Winnipeg.
Around 1879 daughter Marie married Antoine BOUDREAU, son of Emilie AUBICHON & Francois BOUDREAU (b-c1811).
Western Land Grants: Document dated Apr 2, 1880 - Joseph BERTHELET SR - Lot 589 in the Parish of Ste Agathe - 142.65 acres.

Around 1881 eldest son Joseph married Philomene BOUDREAU, daughter of Emilie AUBICHON & Francois BOUDREAU (b-1811), his sister-in-law.
On Aug 6, 1881, son Alexander was born.
On Aug 13, 1881 in Ste Agathe son Charles married Marie LAPLANTE, daughter of Angelique LAROCQUE & Boniface LAPLANTE (1838-1954).
The Last Spike - The First Passenger Train from Montreal to the Pacific
1885-1886
On Nov 7, 1885 (9:30 am) the railway was completed when Lord Strathcona (Donald SMITH) drove the last spike at Craigellachie, British Columbia. The first through passenger train of the new CPR left Montreal for the Pacific on June 28, 1886 and arrived in Winnipeg crossing the Louise Bridge on July 1, 1886 and arrived at the BC Terminal at one minute to noon hour on July 4, 1886 heading for the Pacific.
Around 1894 son Jean Baptiste married Marguerite DUBOIS, daughter of Isabella CADOTTE & Alexander DUBOIS (b-1855).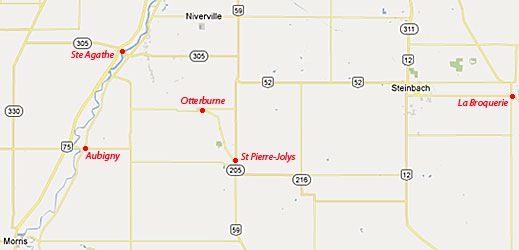 Francoise & Joseph lived the rest of their lives in the Morris-Aubigny area. Son Alex was with them until 1903 when he married Maria Alvina VANDAL, daughter of Marguerite ST DENIS & Antoine VANDAL (1809-1882). The young couple remained with Alex's parents at least until 1906, at which time they were recorded there with two youngsters, Roger (age 2) and Joseph (age 1).
In the Census of 1911 Francoise (age 72) and Joseph (age 75) were recorded alone on Lot 48 in Aubigny.
Feb 24, 1916, Frances CARON- BERTHELETTE died in St Agathe, age 78
On Mar 11, 1916 Joseph BARTLETT died in Selkirk, age 81. ** This from Vital Stats; looks like our Joseph with his last name misspelled.
Comments & queries about this family are welcomed: FORUM DISCUSSING JOSEPH BERTHELET (1835-1916)
============================= Family Details =============================
Children:
1. Oct 5, 1856 JOSEPH BERTHELET (m. Philomene BOUDREAU)
2. May 2, 1858 MARGUERITE BERTHELET (m. William DELORME)
3. Oct 9, 1859 EDOUARD (EDWARD) BERTHELET (m. Marguerite)
4. Feb 22, 1862 CHARLES BERTHELET (m. Marie LAPLANTE)
5. Aug 20, 1865 PHILOMENE BERTHELET (Died in infancy)
6. Oct 11, 1867 MARIE BERTHELET (m. Antoine BOUDREAU)
7. Nov 17, 1869 JEAN BAPTISTE BERTHELET (m. Marguerite DUBOIS)
8. Aug 6, 1881 JOSEPH ALEXANDRE BERTHELET (m. Marie Alvina VANDAL)