JOHN THOMAS BIRSTON (1875-1950)
ELIZA (nee FIDLER) McKENZIE (1872-1965)
(Last Updated: February 02, 2014)
On Aug 5, 1872 Eliza FIDLER was born in Mapleton, daughter of Nancy PRUDEN and Henry FIDLER (1831-1908).
** MORE ABOUT HENRY FIDLER
John Thomas BIRSTON was born Jan 23, 1875 in Mapleton, the eldest son of Nancy FOLSTER and Henry George BIRSTON (1849-1918). ** MORE ABOUT HENRY GEORGE BIRSTON
Census 1881, 1891:  John Thomas BIRSTON (age 6, 16) and Eliza FIDLER (age 8, 18) with their respective parents in Mapleton. They were neighbours throughout their childhood years. Both would have attended the St Clements Church.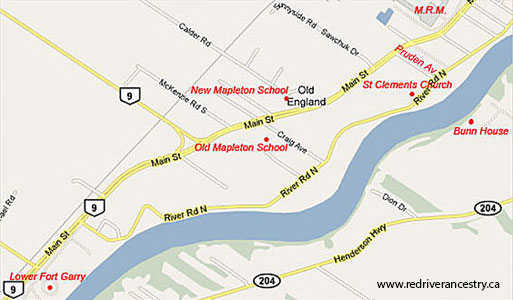 The original Birston property (River Lot 7) extended two miles west of the Red River
Along the south side of what is shown as Craig Avenue on this map.
The Fidler property was along the north side of Craig Avenue.
Eliza FIDLER's marriage to Peter McKENZIE
1893-1898
In 1893 Eliza FIDLER married Peter Lawrence Clarke McKENZIE at St Clements Church in Mapleton, son of Christina (nee BELL) PEERS and Alexander Black McKENZIE (1825-1873).  
** MORE ABOUT ALEXANDER BLACK McKENZIE
In 1898 Peter McKENZIE died of pleurisy at Rat Portage (Kenora), leaving Eliza a widow with two young children (Lawrence & Christina McKENZIE).
John BIRSTON and Widow Eliza (nee FIDLER) McKENZIE
1900
On Aug 22, 1900 baby Hilda BIRSTON was born out of wedlock to Widow Eliza (nee FIDLER) McKENZIE. John Thomas BIRSTON was the father.
Census 1901: John Thomas BIRSTON (age 26) with his parents in Mapleton. Widow Eliza McKENZIE (age 28) was recorded separately that year, alone with her children Lawrence (age 6), Christina (age 4) and baby Hilda (age 7 months).
On Aug 7, 1902 John & Eliza were church-wed in Selkirk.
In 1911 John's father, Henry BIRSTON donated the piece of his property on which the Old Mapleton School was built in 1912. ** MORE ABOUT MAPLETON SCHOOL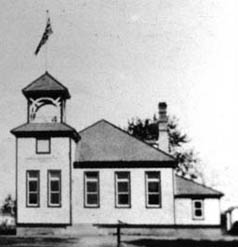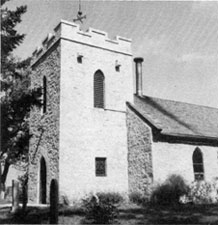 The old Mapleton School and St Clements Church
World War I
1914-1919
On Aug 4, 1914 Great Britain (Canada on Aug 5) declared war on Germany and Austria-Hungary to uphold treaties with France and Belgium which were under German attack. This marked the beginning of World War I.
Census 1916: (Lot 7, St Andrews; Mapleton): John T BIRSTON, age 41; wife Eliza, age 43. Children: Hilda (age 15); Agnes Irene (13); Clifford S (11); Cecil Herbert (8); Freda Lilian 6; Rosella C (3); Sybil May (1) and baby Inez Ruth (8 months). Step-children: Laurence McKENZIE (age 21) and Christina McKENZIE (age 19).
In 1918 step-son Lawrence McKENZIE enlisted for war service at Winnipeg.
November 11,1919, Armistice Day (Remembrance Day) marked the end of the First World War.
In 1920 step-daughter Tina McKENZIE married George Walter "Muddy" LONGBOTTOM, son of Lydia LEASK and George Edward LONGBOTTOM (born 1884 in England). Muddy was a veteran of World War I. He served with the Royal Winnipeg Rifles (Little Black Devils) during the entire Great War. 
Around 1920 daughter Hilda BIRSTON married Edward "Manny" HOUGHTON, daughter of Helga INGIMUNDSON and Edward HOUGHTON SR (born 1872 in England). Edward was also a young veteran of the First World War.
Standing Left: Tina Longbottom – Standing Right: Hilda Houghton
Sitting: Lawrence McKenzie
(From Bea & Patty Still)
Census 1921 in Mapleton: John T BIRSTON, farmer, age 46; wife Eliza, age 48. Children: Cecil (age 13), Irene (16), Frieda (10), Rosella (8), Sybil (6), Inez (5) and step-son Lawrence McKENZIE (age 26).
Uncertain when, but son Clifford married Gladys WESTOVER, daughter of Helen Maria BOYSE and William John WESTOVER (1866-1954) from Ontario.
In 1924 daughter Agnes Irene married William Bennett MAITLAND in Winnipeg, son of Sarah BENNETT and James MAITLAND (1880-1916).
In 1927 step-son Lawrence McKENZIE married Victoria Harriet CALDER b-1900, daughter of Grace MATHESON and John Thomas CALDER (1865-1946).
In 1931 son Cecil Herbert married Amilka (Nellie) Edith BARSKI in St Vital, daughter of Tekla CIPURA and John BARSKI (b-1887) from the Brokenhead district.
World War II
1939-1945
On Sept 4, 1939 Canada and Britain declared war on Germany, and almost immediately new recruits began pouring into Winnipeg to sign up with the Winnipeg Grenadiers and the Royal Rifles of Canada.
On May 7, 1945 Germany surrendered and the War in Europe ended; the next day, May 8, is declared VE Day.
In 1947 daughter Frieda married Urho JARVI, son of Lempi and Otto JARVI of Thunder Bay.
In 1948 youngest daughter Inez married Benjamin Johnston "Benny" MAYO in Selkirk, son of Flora Ann LYONS and Benjamin MAYO SR (1881-1938). ** MORE ABOUT BENJAMIN MAYO SR
On Sep 3, 1950 John Thomas BIRSTON died and on Feb 7, 1965 wife Eliza BIRSTON died; both are buried the St Clements Churchyard at Mapleton.
Comments and queries at this link: FORUM DISCUSSING the JOHN THOMAS BIRSTON FAMILY
======================= Family Details =======================
Children of Eliza FIDLER and Peter McKENZIE:
1. Aug 27, 1894 LAWRENCE CLARKE McKENZIE (m. Victoria Harriet CALDER)
2. July 24, 1896 CHRISTINA BELLE "TINA" McKENZIE (m. George Walter LONGBOTTOM)
Children of Eliza FIDLER & John BIRSTON:
1. Aug 22, 1900 HILDA EMILY BIRSTON (m. Edward "Manny" HOUGHTON)
2. Feb, 1903 SIDNEY CLIFFORD BIRSTON (m. Gladys WESTOVER)
3. Feb, 1905 AGNES IRENE BIRSTON (m. William MAITLAND)
4. July 2, 1907 CECIL HERBERT BIRSTON (m. Nellie Edith BARSKI)
5. June 27, 1910 FRIEDA LILLIAN BIRSTON (m. Urho JARVIE)
6. Aug 27, 1912 ROSELLA KATHLEEN BIRSTON (Died 1975)
7. Sep 25, 1914 SYBIL MAE BIRSTON (Died age 23 in 1937)
8. Jan 22, 1916 INEZ RUTH BIRSTON (m. Benjamin Johnson "Benny" MAYO)