WILLIAM (WASYL) BURZUIK (1884-1966)
PAULINA KOZICZKI (1889-1959)
(Last Updated: March 04, 2016)
William (Wasyl) BURZUIK was born around 1884 in Brodie (Brody), Austria (Poland), son of Mary and Nicholas BURZUIK (1865-1956) from Austria/ Poland.
In 1905 William (age 21) came to Canada. Perhaps around 1909 William married Paulina KOZICZKI and they made their home in Mapleton, south of Selkirk, MB. They lived on Lot 24 (St Andrews Parish), almost directly across from Pruden Ave on Hsy 9A, where the MRM is located.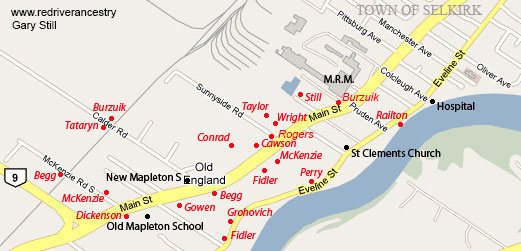 Mapleton Families in the 1950's
 (Note: Pete Burzuik west of the tracks on Calder Road; Norm Burzuik near MRM)
World War I
1914-1918
On Aug 4, 1914 Great Britain (Canada on Aug 5) declared war on Germany and Austria-Hungary to uphold treaties with France and Belgium which were under German attack. This marked the beginning of World War I.
November 11, 1918, Armistice Day (Remembrance Day) marked the end of the First World War.
Census of 1916 in the RM of St Andrews (Mapleton): Wasyl BURZUIK; wife Paulina, age 27. Children: Gerick (Kenneth), age 5,  Mike (3) and Peter (age 1). In this record Wasy is indicated as a laborer at the Manitoba Rolling Mills (MRM).

Manitoba Rolling Mills c.1920
In 1938 eldest son Kenneth married Helen Margaret McKENZIE, daughter of Minota BEGG and Ferdinand McKENZIE (1880-1968).
World War II
1939-1945
On Sept 4, 1939 Canada and Britain declared war on Germany, and almost immediately new recruits began pouring into Winnipeg to sign up with the Winnipeg Grenadiers and the Royal Rifles of Canada.
Son Michael (Mike) was a veteran of this War. He served in the Navy.
In 1943 son Peter (Pete) enlisted, serving overseas until the end of the War.
Son Joseph also served in the Army during the War.
On May 7, 1945 Germany surrendered and the War in Europe ended; the next day, May 8, is declared VE Day.
Son Michael married Stephanie WOZNIAK of uncertain origins.
In 1945 son Norman also married a lady named Stephanie of uncertain origins. They later divorced.
In 1946 son Peter married Dorothy SUTHERLAND at the St Clements Church in Mapleton, daughter of Rose McDONALD and William Colin SUTHERLAND (1870-1931). ** MORE ABOUT WILLIAM COLIN SUTHERLAND
Son Joseph married Bernice BLAKELY who was born 1924 in Vancouver.
In 1956 son Norman began a common-law relationship with Margaret Elizabeth McRAE, daughter of Mary Helen (nee KIRTON) McIVOR and Neil McRAE (1893-1982) from the Clandeboye area. ** On Dec 19, 1970 they were legally married.
On Sep 15, 1959 Paulina(nee KOZICZKI) BURZUIK died.
On Mar 29, 1966 Wasyl BURZUIK died in Selkirk.
Comments and queries at this link: FORUM DISCUSSING DESCENDANTS OF WILLIAM BURZUIK
========================= Family Details =========================
Children:
1. Feb 14, 1910 KENNETH BURZUIK (m. Helen McKENZIE)
2. Dec 9, 1912 MICHAEL "MIKE" BURZUIK (m. Stephanie WOZNIAK)
3. Jun 17, 1915 PETER "PETE" BURZUIK (m. Dorothy SUTHERLAND)
4. Mar 10, 1918 JOSEPH BURZUIK (m. Bernice BLAKELY)
5. Oct 12, 1925 NORMAN BURZUIK (m1, Stephanie; m2. Margaret Elizabeth "Betty" McRAE)