WILLIAM COLIN SUTHERLAND (1870-1931)
CATHERINE TAYLOR (1875-1904)
MARY MATILDA CORRIGAL (1881-1906)
ROSABEL "ROSE" McDONALD (1887-1982)
(Last Updated: February 04, 2015)
William Collin SUTHERLAND was born Dec 25, 1870 in St Andrews Parish, son of Margaret INKSTER & William Richard SUTHERLAND (1833-1906). At that time the family was on Lot 252, on the east side of the Red River across from Lambert's Point (See map below).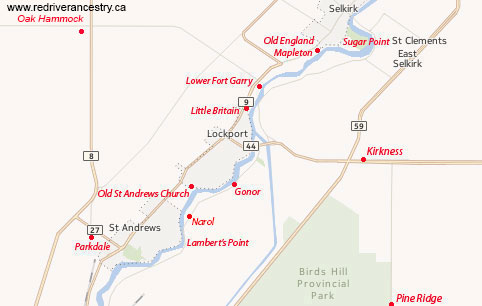 Marriage to Catherine TAYLOR
1898-1904
On Jan 5, 1898, Colin married in St Andrews to Catherine "Kate" TAYLOR, daughter of Mary BIRSTON & William McKay TAYLOR (1848-1926).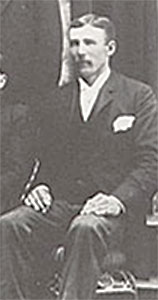 Colin Sutherland from a family photo (Glenbow Archives)
In the1901 Census in St Andrews Parish Colin SUTHERLAND was recorded as age 30, wife Kate, age 25, and their children as Mildred (age 2) and baby John Hector (age 11 months). In 1902 daughter Agnes was born.
On June 25, 1904 Catherine (nee TAYLOR) SUTHERLAND died in St Andrews Parish. She was only 29 years old. Children at that time were Mildred (age 6), Hector (4) and Agnes (age 2).
Marriage to Mary Matilda CORRIGAL
1905-1906
On July 12, 1905 Colin (a 35 year old widower) re-married to Mary Matilda CORRIGA, daughter of Maria HALCRO and John Henry CORRIGAL(1836-1906+).
On June 23, 1906 Mary Matilda (nee CORRIGAL) SUTHERLAND died in St Andrews, seven months after giving birth to a son (Colin Howard). In the Census that year Colin Sr. was recorded with four children: Mildred (age 8); Hector (6); Agnes (4) and baby Colin Jr. who died on Aug 10 (only 5 months old).
Colin Meets Rose McDONALD
1911
In the 1911 census we find Colin's oldest youngsters, Mildred (age 13) and Hector (age 12) were in the care of his brother, John Richard SUTHERAND (1865-1929) and his wife Margaret (nee BROWN) who were living in the Cloverdale area with a large young family of their own. Colin's youngest child, Agnes (age 8) had been adopted by his sister Isabella (SUTHERLAND) and her husband Alexander "Big Alex" SETTER (1856-1924) who were living in the Meadowdale area.
In the Census of 1911: Collin's children (Mildred, Hector and Colin) are with their aunt/ uncle (Margaret & John Richard SUTHERLAND) in the Pigeon Bluff area (west of Selkirk). Agnes (age 8) is still with her adoptive parents (aunt/ uncle, Isabella (nee SUTHERLAND) & "Big Alex" SETTER in the Meadowdale area (also west of Selkirk).
In 1911 Colin began to work at the Selkirk Mental Hospital) as an attendant. It was there that he met and fell in love with Rose McDONALD who was also working there as a Nurse's Aide. Rose (age 24) was the daughter of Charlotte HARCUS & Robert McDONALD (1848-1927) from Gonor (See map above). On Oct 30, 1912 Rose and Colin were married in St Andrews.
In 1912 Rose and Colin settled on Section 14-4-Epm (Pigeon Bluff – See map below).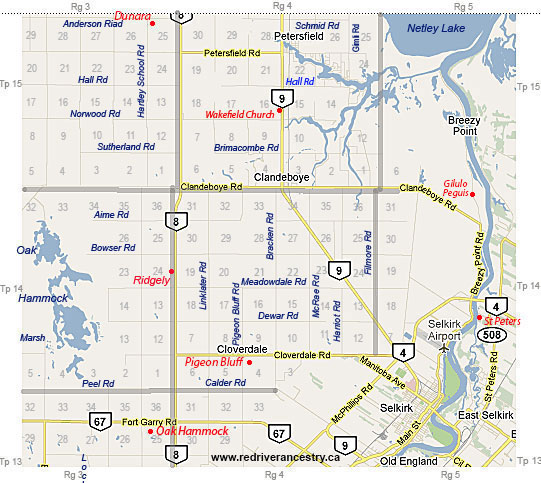 World War I
1914-1918
On Aug 4, 1914 Great Britain (Canada on Aug 5) declared war on Germany and Austria-Hungary to uphold treaties with France and Belgium which were under German attack. This marked the beginning of World War I.
.
Census 1916: Manitoba (#10), SD-10, pg 13, HH-134 (14-4-E1; Pigeon Bluff): Colin SUTHERLAND, age 45; wife Rosabel, age 29. Children: Mildred (age 17), Hector (16), Lillian (2) and baby Gertrude.
November 11,1918, Armistice Day (Remembrance Day) marked the end of the First World War.
Census 1921: Selkirk (#35). SD-6 (St Andrews), pg 10, HH-100 (4-14-4-Epm): William Colin SUTHERLAND, age 30; wife Rosabell, age 34. Children: Mildred (age 22), Hector (21), Lillian Victoria (7), Gertrude (5), Irene (3) and Robert George (age 1).
In 1927 eldest daughter Mildred married Bjarni (Barney) BJARNASON in Selkirk, son of Gudrun OLAFSDITTIR and Sig BJARNASON (b-1871) from Iceland.
Son Hector married Freda BROWN, daughter of Alice NAYLOR & Arthur BROWN (b-1875).
On March 16, 1931 William Colin SUTHERLAND died in Pigeon Bluff at the age of 60.

In 1935 daughter Gertrude married Wilfred MASSEY, son of Sophia SMITH and John Edward MASSEY (1857-1934).
** MORE ABOUT JOHN EDWARD MASSEY
World War II
1939-1945
On Sept 4, 1939 Canada and Britain declared war on Germany, and almost immediately new recruits began pouring into Winnipeg to sign up with the Winnipeg Grenadiers and the Royal Rifles of Canada.
In 1940 daughter Lillian married John WASNIE in Cloverdale, son of Annie HOROWLSKI and Metro WASNIE (born in Austria; immigrated 1901).
In 1942 son Robert married Nellie DEWAR, the daughter of Jean GRIEVE & Walter George "Punch" DEWAR (1897-1960).
On May 7, 1945 Germany surrendered and the War in Europe ended; the next day, May 8, is declared VE Day.
Widow Rose moves to Selkirk
1946
In 1946 Widow Rose and her daughter Irene moved to Selkirk. Son Robert took over the farm at Cloverdale.
In 1946 son Walter Lorne married Helen Marie SUTHERLAND in Clandeboye, the daughter of Mabel CAMPBELL and Charles William TRUTHWAITE (1887-1949).
Also in 1946 daughter Dorothy married Pete BURZUIK at Mapleton, the son of Paulline KOZICZKI and William BURZUIK(1884-1966). ** MORE ABOUT WILLIAM BURZUIK
In 1949 daughter Maude married John Edward MASSEY in Selkirk, son of Kate SLATER and Benjamin MASSEY (1896-1973).
Dorothy:  Rose continued living there (Cloverdale) until 1946, when she and Irene moved to Selkirk.

On March 3, 1982 Rosabel (nee McDONALD) SUTHERLAND died at the Betel Home in Selkirk at the age of 94. Her obituary indicates that she was survived by four daughters living in Selkirk: Lillian (husband Wilfred MASSEY); Irene SUTHERLAND; Dorothy BURZUIK; Maud (husband Jack MASSEY); a step-daughter Agnes living in BC and two sons in Clandeboye: Robert (wife Nellie) and Lorne (wife Helen).
Comments and queries at this link: FORUM DISCUSSING the FAMILY OF WILLIAM COLIN SUTHERLAND
==================== Family Details ====================
Children with Catherine TAYLOR: 
1. Nov 11, 1898 MILDRED MARY SUTHERLAND (m. Barney BJARNSON)
2. Apr 2, 1900 JOHN HECTOR SUTHERLAND (m. Freda BROWN)
3. Sep 12, 1902 AGNES MARGARET SUTHERLAND
Child with Matilda CORRIGAL:
1. Feb 27, 1906 COLIN HOWARD SUTHERLAND (Died in infancy, 5 months)
Children with Rose McDONALD: 
1. 1914 LILLIAN VICTORIA SUTHERLAND (m. John WASNIE)
2. 1916 GERTRUDE SUTHERLAND (m. Wilfred MASSEY)
3. Nov 10, 1917 IRENE SUTHERLAND
4. 1920 ROBERT GEORGE SUTHERLAND (m. Nellie DEWAR)
5. 1923 WALTER LORNE SUTHERLAND (m. Helen Marie TRUTHWAITE)
6. 1925 DOROTHY SUTHERLAND (m. Peter BURZUIK)
7. Jun 1, 1928 MAUDE SARAH SUTHERLAND (m. John Edward "Jack" MASSEY)