JAMES (ST GERMAIN) CRATE (1844-1931)
BETSY ELIZABETH (ISABELLA?) BEIOLEY (1855-1938)
(Last Updated: August 23, 2015)
James CRATE was born Sep 15, 1844 in Norway House, son of Sarah NAKAHWIN and Jacques ST GERMAIN (1774-1851).
In 1851 James' father (Jacques ST GERMAIN) died at Norway House. His widowed mother (Sarah) re-married in 1852 to Charles CRATE (1816-1884) from Quebec. ** MORE ABOUT CHARLES CRATE
Canadian Confederation
A Red River Rebellion
Manitoba becomes a Province
Signing of Treaty Number One
1867-1871
On July 1, 1867 the British colonies in North America were united under the British North American Act to become the Dominion of Canada.  Sir John A MACDONALD (1815-1891) was appointed as Canada's first Prime Minister. William McDOUGALL (1822-1905) became the Minister of Public Works, and he began negotiations to acquire Rupert's Land from the HBC; surveyors were sent to Red River to prepare the way for an expected influx of settlers.
In 1869 James CRATE married Betsy Elizabeth BEIOLEY at Norway House, daughter of Elizabeth STEVENS and Joseph BEIOLEY (1814-1864).
On Oct 11, 1869, Louis RIEL (1844-1885) placed his foot on the surveyors' chain to tell them their work was finished! This marked the beginning of the historic Red River Métis Rebellion.
On July 15, 1870 the Rebellion ended when RIEL's Provisional Government accepted the terms of the Manitoba Act and Manitoba became the fifth province of Canada.
In 1871 Chief Henry PRINCE or RED EAGLE (1819-1902) signed Treaty Number One on behalf of the St Peters Indians.
** MORE ABOUT CHIEF HENRY PRINCE
Treaty Number 5
Move from Norway House to Fisher River
1875
In September of 1875 Governor Alexander MORRIS (1826-1889) concluded Treaty Number 5 between the Crown and the Saulteaux and Swampy Cree bands around Lake Winnipeg in the District of Keewatin. As part of the agreement, an initial group of some 200 Norway House people relocated to Fisher River. Chief David RUNDLE was the leader of this group and was instrumental in establishing the Fisher River Reserve.
However, there was a delay in the move due to an outbreak of small pox in the Icelandic colony just south of the proposed reserve site. So, in the summer of 1877, when the quarantine was lifted, 200 people (43 families) made the 200 mile journey south to the present day Fisher River Reserve. Upon arrival, the people built homes and divided up the land to be used for farming.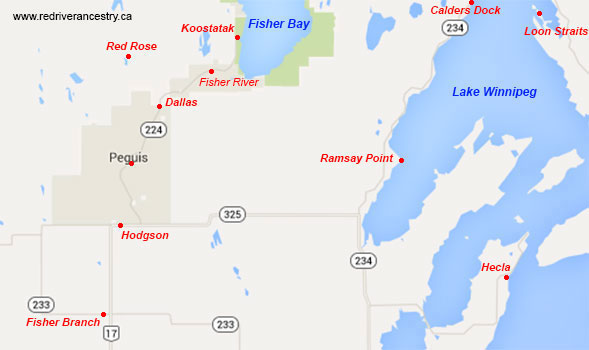 Census of 1881 - Lake Winnipeg:  James CRATE, age 26; wife Isabella (?) age 22. Children: William (age 8); James (6); Mary (4) and Alexander (age 2).
During 1887-88 James had a work contract as a fisherman with the Hudson's Bay Company.
In 1897 eldest son William married Annie COCHRANE of uncertain origins.
In 1901 son James married Margaret MURDOCK, in Fisher River, daughter of Madeleine THOMAS and William MURDOCK (1846-1911+).
Around 1903 son Joseph married Sarah COCHRANE of uncertain origins.
Census of 1906 in the Fisher River Reserve: James CRATE, age 56; wife Betsey, age 48. Children: Sarah (age 14) and Mary (age 11).
Census of 1911 in the Fisher River Reserve: James CRATE, age 68; wife Betsey, age 56; daughter Mary Ann, age 15.
World War I
1914-1918
On Aug 4, 1914 Great Britain (Canada on Aug 5) declared war on Germany and Austria-Hungary to uphold treaties with France and Belgium which were under German attack. This marked the beginning of World War I.
Census of 1916 in the Fisher River Reserve: James CRATE, fisherman, age 75; wife Betsy, age 50; daughter Mary Ann (age 20). Grandchildren: Walter AMOS, age 11; Joseph CRATE, age 12; Alice CRATE, age 10; and Elizabeth CRATE, age 8 (born 1908).
November 11, 1918, Armistice Day (Remembrance Day) marked the end of the First World War.
Census of 1921 in the Fisher River Reserve: James CRATE, age 60; wife Betsy, age 65 (b-1856); daughter Mary Ann (age 23). Grandchildren: William CRATE, age 15 (b-1906) and Alice CRATE, age 13 (b-1908). These are children of son Joseph b-1882.
In 1931 James CRATE died in the Fisher River Reserve.

In 1938 Elizabeth (nee BEIOLEY) CRATE died in Fisher River.
Comments and queries at this link: FORUM DISCUSSING THE JAMES CRATE FAMILY
======================== Family Details ========================
Children:
1. 1874 WILLIAM CRATE (m. Annie COCHRANE)
2. 1875 JAMES CRATE (m. Margaret MURDOCK)
3. 1877 MARY JANE CRATE
4. 1879 ALEXANDER CRATE
5. Nov 27, 1882 JOSEPH CRATE (m1. Sarah COCHRANE, m2. Mary Jane HAMILTON)
6. Aug 6, 1890 ANGUS McKAY CRATE (Died age 4)
7. 1892 SARAH CRATE (m. Maurice BOUCHEY)
8. 1894 ADELAIDE CRATE
9. Jun 2, 1895 MARY ANN CRATE