CHARLES CRATE (1816-1884)
Widow SARAH (nee NEKAWHIN/ NEKAHWIW) ST GERMAIN (1820-1887+)
(Last Updated: August 23, 2015)
In 1816 Charles CRATE was born in Quebec.
Sarah NEKAWHIN was born 1820 at Norway House, the daughter of halfbreed Elizabeth BUDD and Charles NEKAHWIW, a Cree Indian. In 1843 Sarah married Jacques ST GERMAIN (1774-1851) at Norway House. He died there in 1851 leaving Sarah with three youngsters, James(age 7), Clara (5) and Louis (age 2).
** Note: It would be interesting to see a follow-up regarding the ancestors of Elizabeth BUDD and Charles NEKAHWIW. It seems that Sarah NEKAHWIW's parents were Elizabeth BUDD and Charles NEKAHWIW and that Elizabeth BUDD's parents were Elizabeth (Betsy) CURLEYHEAD and James CASK-BUDD (1799-1829, son of Agathas COCKING and MUSKEGO CREE BUDD (1765-1811).** MORE ABOUT MUSKEGO CREE BUDD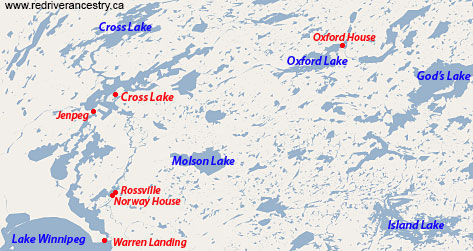 Marriage to Charles CRATE
1852
In 1852 Widow Sarah (nee NEHAWHIN) ST GERMAIN re-married to Charles CRATE at Norway House.
In 1852 at Norway House, step-son James ST GERMAIN aka CRATE married Betsy Elizabeth BEOILEY, daughter of Betsy ANDREWS and Joseph Anderson BEOILEY (1855-1938).
In 1865 at Norway House, step-daughter Clara ST GERMAIN aka CRATE married August Henry ROCAN BASTIEN (1842-1917) from Quebec, son of Tharsille RICHARD and Augustin ROCAN BASTIEN (1813-1818).
In 1869 at Norway House, daughter Adelaide married Thomas (James) GARSON, an HBC carpenter who was born about 1847 in the Orkneys of Scotland.
Around 1875 at Norway House, step-son Louis married Flora SPENCE of uncertain origins.
According to various family trees on Ancestry.ca, in 1878 youngest daughter Maria married James BEACHAM; in 1880 she married Henry Charles McLEOD; in 1885 she married William FLETT and finally in 1904 she married William BOUCHER. All of this definitely needs further scrutiny and more solid evidence. We are all anxious to hear from anyone who can clarify these relationships.
Around 1879 son William married Martha ANDERSON of uncertain origins.
In 1884 Charles CRATE died.
In 1887 Sarah CRATE of Norway House, having received a Discharge from Treaty as a former member of the Norway House Indian Band, claimed Half-breed Scrip as the widow of Charles CRATE. In her Scrip affidavit Sarah listed seven living children as James, Clara and Louis (children of ST GERMAIN); Adele, Alexander, Willie, and Maria. Four children who died before 1870 she listed as Margaret, Charles, Henry and John.
Around 1900 son Alexander married Mary Jane SUTHERLAND of uncertain origins.
Comments and queries at this link: FORUM DISCUSSING THE CHARLES CRATE FAMILY
======================= Family Details =======================
Step-children – Children of Sarah NAKAHWIN and Jacques ST GERMAIN:
1. Sep 15, 1844 JAMES ST GERMAIN aka CRATE (m. Betsy Elizabeth BEOILEY)
** MORE ABOUT JAMES ST GERMAIN aka CRATE
2. 1846 CLARA ST GERMAIN aka CRATE (m. August Henry BASTIEN)
3. 1849 LOUIS ST GERMAIN aka CRATE (m. Flora SPENCE)
Children of Sarah NAKAHWIN and Charles CRATE:
1. 1853 ADELAIDE CRATE (m. Thomas James GARSON)
2. 1855 ALEXANDER CRATE (m1. Eliza, m2. Mary Jane SUTHERLAND)
3. 1858 WILLIAM CRATE (m. Martha ANDERSON)
4. Apr 6, 1859 MARIA CRATE (m1. James BEACHAM; m2. Henry McLEOD; m3 William FLETT;
m4. William BOUCHER)
5. 1861 MARGARET CRATE (Died before 1870)
6. 1863 HENRY CRATE (Died before 1870)
7. 1865 CHARLES CRATE (Died before 1870)
8. 1867 JOHN CRATE (Died before 1870)