BERTRAM SYDNEY STEVENS "BERT" DICKENSON (1890-1979)
JESSIE PRUDEN (1897-1971)
(Last Updated: August 28, 2012)
Bertram Sydney Stevens "Bert" DICKENSON was born June 4, 1890 in Woodfalls, Salisbury, England. This is located at the south of England northwest of Southampton.
Bert spent three years in the Cadet Corps at Shropshire, England, before he immigrated, apparently first to New York, USA, where it is said he spent a few years before coming to Winnipeg, MB.
World War I
1914-1919
On Aug 4, 1914 Great Britain (Canada on Aug 5) declared war on Germany and Austria-Hungary to uphold treaties with France and Belgium which were under German attack. This marked the beginning of World War I.
Most of what we know of Bert's bachelor years in Canada can be gleaned from his military records. It seems that Bert must have been living in the Petersfield area when the War broke out. There, he became good friends with John Archibald PRUDEN (1896-1940), son of Katherine JOHNSTONE & Tom Alex PRUDEN (1869-1945). John PRUDEN and Jessie PRUDEN (Bert's wife-to-be) were cousins, and they both lived in the Petersfield area during the War. They shared the same grandfather, John Peter PRUDEN (1829-1897).  ** MORE ABOUT JOHN PETER PRUDEN
In December of 1915 Bert's friend, John PRUDEN enlisted in the Army at Selkirk. John was seriously wounded in France during the War; remained in a hospital in England where he received a Gold Bar before returning to his home on Wavey Creek.
On March 24, 1916 Bert DICKENSON enlisted. He was described as almost 26 years old; fair complexion, blue eyes, auburn hair, with scald scar on his right arm muscle. Interestingly, when he enlisted he stated his next-of-kin as John PRUDEN, his friend at Petersfield (then referred to as St Louis, Gilbert). This suggests that he did not have any close relatives still living.
After serving 17 months with the Cavalry, Bert received a discharge. However, on Apr 19, 1918 he re-enlisted at Winnipeg. This time his Attestation Record indicated his next-of-kin as a young lady named Miss Annie LEANAGHAN of 1648 Portage Avenue in Winnipeg. This may in fact have been 20 year old Annie LANIGAN whose parents lived on Marion Street in St Boniface.
1918 Passenger List: Returned Canadians: Vessel: Militia: Bertram DICKENSON. Port of Departure: Liverpool, England. Port of Arrival: St John, NB (arrived Dec 18, 1918); Destination: Petersfield.
Section 33-3-E1 (about 3-4 miles NW of Petersfield) was one of the areas acquired by the Soldier Settlement Board (Established in 1917) to assist returned servicemen to set up farms. It is very likely that Bert was able to participate in this program; he certainly qualified.
Bert marries Jessie PRUDEN
1920
On March 25, 1920, Bert married Jessie PRUDEN at St George's Wakefield Church (north of Clandeboye, MB). Jessie was the daughter of Margaret Ann JOHNSTONE & John Peter PRUDEN (1856-1937). Bert and Jessie would have four children (Bessie, Howard, Clarice and Patricia); unfortunately I do not have birth-dates for therm.
Move to Mapleton
1931
Around 1926 Bert lost the farm in Petersfield and in 1931 he won a small share in an Irish Sweepstake - enough to buy property and build a home at Mapleton. In the mid 1930's Bert got a job at the Manitoba Rolling Mills.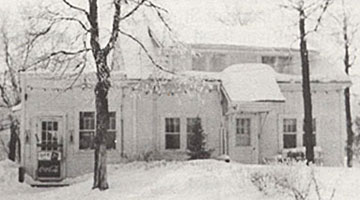 Dickenson House & Country Store in Old England-Mapleton
A well-known landmark for over 30 years was Dickenson's Store at Old England, about a half mile north of Lower Ft Garry (Mapleton).

Daughter Bessie's Recollections: The day they opened the store (July 12, 1936) the temperature rose to 108 degrees (hottest on record). The family remembered well that the store did a brisk business in ice cream and drinks that day, even though the ice in the drink cooler had all melted. The ice-man (Mr GOODBRANDSON) came up the two miles from Selkirk and sometimes when it was very hot, as it was that summer, the ice would be half melted by the time his horse-drawn ice wagon reached the store.
Although electricity was available, there were those who still used oil lamps (as did my Grandpa CONRAD) and to serve those customers the Dickenson Store kept a barrel of coal oil from which to fill customers' one gallon containers.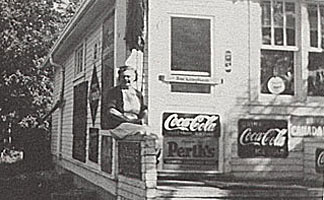 Hilda Houghton at Dickenson's Store
Winnipeg Free Press, Sep 3, 1936: Record Vote at Mapleton: Sep 3 (Special – A record vote was polled Monday at the annual election of school trustees for Mapleton School District, when Bert DICKINSON was elected by 83 votes for his second term in office. His opponent, Victor CANVIN, received 64 votes.
There are fond memories held by those who helped Mr DICKENSON in the store. They were many, and a few that we recall are Hilda HOUGHTON, Eva KIRKNESS, Inez MAYO, Beatrice STILL (nee BEGG), Sadie BEGG, Lynn PRUDEN, and in the 1960's a young boy named Allan CORBY, Mrs DICKENSON's grandson (Bessie's son).
In 1966 when Mrs DICKENSON was no longer able to manage the store, they closed the door.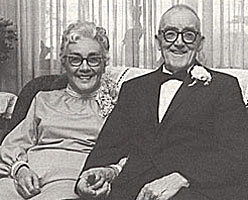 Jessie & Bert on their 50th Wedding Anniversary
Old England, 1970
Jessie died in 1971 and Bert in 1979.
Please post comments & queries at this link: FORUM DISCUSSING the BERT DICKENSON FAMILY
======================== Family Details ========================
Children:
1. 1921 ELIZABETH "BESSIE" DICKENSON (m. Andrew David CORBY)
2. April, 1923 HOWARD DICKENSON (m. Dorothy (Dolly) McCONNELL)
3. August, 1932 CLARICE DICKENSON (m. Brian HOBSON)
4. March, 1936 PATRICIA DICKENSON (m. Robert PENWARDEN)