HENRY FIDLER (1861-1922)
SARAH ANN McLEOD (1863-)
(Last Updated: June 13, 2015)
Henry FIDLER or FIDDLER was born Aug 5, 1861 in St James (Red River) son of Jane BIRSTON and Cornelius FIDLER (1832-1909). ** MORE ABOUT CORNELIUS FIDLER
Henry and Sarah Ann McLEOD
1886
On Dec 11, 1886 Donald FIDLER was born in Whitemouth (MB). Manitoba Vital Stats indicates that his parents were Henry FIDLER and his cousin, Sarah Ann McLEOD, the daughter of Mathilda "Hilda" (nee FIDLER) SINCLAIR and Donald McLEOD (1831-1890). Four days later, on Dec 15, 1886, Henry and Sarah were legally married in Whitemouth. I guess we could call this "a Shotgun wedding".
Census of 1891 in St Francois Xavier (MB): Henry FIDDLER, age 29; wife Sarah, age 25. Children: Donald (age 4), Jane (2) and Cornelius (age 1).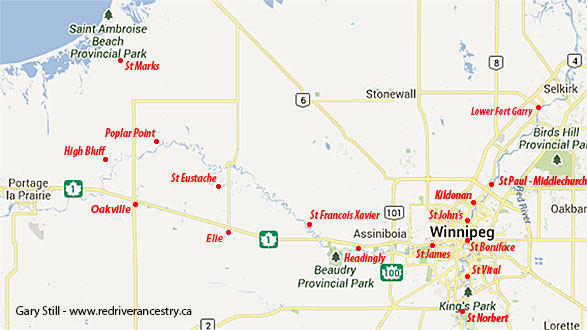 On May 22, 1896 eldest son Donald died at the age of 10.
Census of 1901 in St Francois Xavier: Henry FIDLER, age 39; wife Sarah, age 37. Children: Daisy (age 13), Cornelius (11), Christina (9), William (7), Frederick (4) and baby Mary Ann (age 4 months).
Census 1906 in Belcourt, Lot 69: Henry FIDDLER, age 45; wife Sarah, age 42. Children: Matilda Jane (age 18), Cornelius (16), Christina (14), William (12), Frederick (9), Mary Ann (5) and James (age 1). The RM of Belcourt was located east of Elie which is shown on the above map.
In 1911 daughter Matilda married James PRITCHARD, son of Catherine McGILLIVRAY and Richard PRITCHARD (1835-1914). ** MORE ABOUT RICHARD PRITCHARD
Census of 1911 in Winnipeg [Jasper Av (now part of Riverton Av)]: Henry FIDLER, age 49; wife Sarah. Children: Cornelius (age 21), Willie (17), Fred (14), Mary (10) and James (age 6).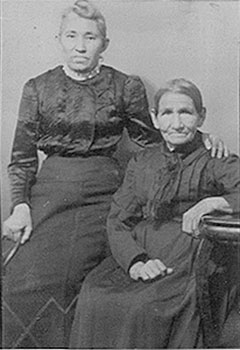 Standing: Henry Fidler's wife, Sarah Ann (nee McLeod)
Sitting: Cornelius Fidler's wife, Jane (nee Birston)
World War I
1914-1918
On Aug 4, 1914 Great Britain (Canada on Aug 5) declared war on Germany and Austria-Hungary to uphold treaties with France and Belgium which were under German attack. This marked the beginning of World War I.
On Jan 12, 1916 son Cornelius, an Engineer, enlisted at Winnipeg.
Census of 1916 in East Kildonan (Winnipeg; 363 Montrose): Henry FIDDLER, Teamster, age 54; wife Sarah, age 52. Children: Cornel (age 26), Mary Ann (15) and James Arthur (age 11).
In 1917 daughter Christina Bell married Earl LEMAR in Winnipeg, son of Elizabeth REES and John LEMAR (1847-1889) from the USA.
On Jan 11, 1918 son William Henry enlisted at Winnipeg, and on Sep 6, 1918 he died a soldier overseas at the age of 24.
November 11, 1918, Armistice Day (Remembrance Day) marked the end of the First World War.
Census 1921 in RM of Woodlands (11-13-4-Wpm): Henry FIDLER, age 59; wife Sarah, age 58. Children: Mary Ann (age 21) and James (age 16). This location is northeast of Poplar Point on above map.

On July 9, 1922 Henry FIDLER died in Poplar Point.

Daughter Mary Ann is said to have married William ROBERTSON of unknown origins.
In 1928 youngest son James married Mary JOHANSEN in Winnipeg. This may be the same James FIDLER who later married Rose Isabelle HOGUE of uncertain origins.
Comments and queries at this link: FORUM DISCUSSING the HENRY FIDLER FAMILY
========================== Family Details ==========================
Children:
1. Dec 11, 1886 DONALD FIDLER (Died age 10)
2. Mar 21, 1888 MATHILDA JANE FIDLER (m. James PRITCHARD)
3. Mar 16, 1890 CORNELIUS FIDLER
4. Jan 28, 1892 CHRISTINA BELL FIDLER (m. Earl LEMAR)
5. Dec 25, 1893 WILLIAM HENRY FIDLER (Died a soldier, age 24)
6. Mar 10, 1897 FREDERICK JAMES FIDLER
7. Nov 25, 1900 MARY ANN FIDLER (m. William ROBERTSON)
8. Jan 5, 1905 JAMES ARTHUR FIDLER (m1. Mary JOHANSEN; m2. Rose Isabelle HOGUE)