LOUIS GIDEON GAGNON (1860-1917)
JANE DALLAS McKAY (1863-1916)
(Last Updated: March 23, 2016)
Louis Gideon GAGNON was born Aug 22, 1860 in Ontario, son of Marie LAVERGNE and Louis Ulderic GAGNON (1834-1870) who was born in Quebec.
Winnipeg, Manitoba
1880
On March 11, 1880 it was announced in the Manitoba Gazette that Louis GAGNON of Winnipeg was appointed as Assistant County Court Clerk for the County Court of Selkirk.
Census of 1881 in Winnipeg: Louis GAGNON (age 21) and his sisters, Matilda (age 25) and Celina (age 22).
Marriage to Jane McKAY
1881
On Aug 29, 1881 Louis married Jane Dallas McKAY in St Charles (Winnipeg), the daughter of Margaret ROWAND and the Honorable James McKAY (1827-1879) of Deer Lodge.
** MORE ABOUT JAMES McKAY in DCBO

Jane was a granddaughter of Marguerite GLADU and James McKAY (1797-1887) from Scotland.
** MORE ABOUT the ELDER JAMES McKAY
St Anne, Manitoba
1891
Census of 1891 in the RM of St Anne: Louis Gideon GAGNON, age 30; wife Jane D A, age 27. Children: M. Dallas (age 8), M R Amanda (6), Orille Demers (5), M Eva (3), M Cora (2) and baby M Desmond (age 1 month).
In 1900 a Hotel Licence that had been granted to Louis GAGNON of the Southeastern Hotel was cancelled by his request.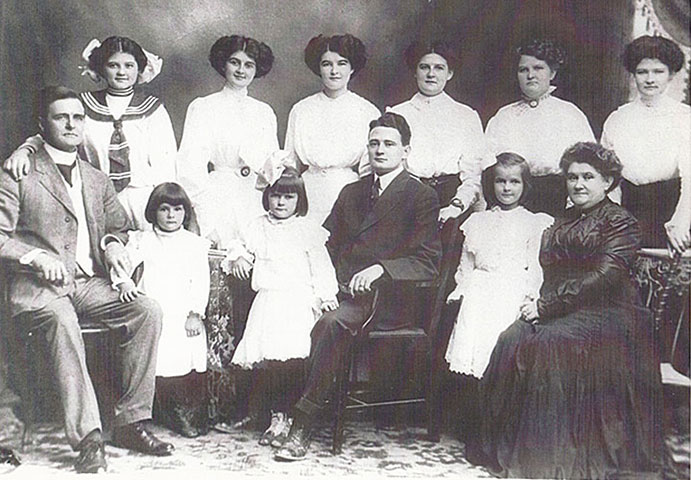 The Louis Gagnon Family
Front Row L-R: Louis GAGNON (father), Claire, Camile Anthony, Louise and Jane (mother).
Back Row L-R:Margaret, Desmond, Cora, Rosamond, Eva and Dallas

Customs Officer at Emerson, Manitoba
1901
Census of 1901 in Emerson: Louis G GAGNON, Customs Officer, age 40; wife Jane D, age 37. Children: Dallas (age 18), Rosmond (16), Oril (15), Eva (13), Cora (11), Desmond (10) and Rowand M (age 5).
Back to Winnipeg
1911
Census of 1911 in Winnipeg (115 Donald): Louis G GAGNON, Civil Servant (Customs), age 50; wife Jane, age 47. Children: Dallas (age 28), Rosamond (26), Gideon (25), Eva (23), Cora (22), Desmond (15), Camille (8) and Claire (age 6).
In October of 1912 a newspaper article indicated that Louis had resigned from his position with Canada Customs and was now doing a financial and general brokerage business in Winnipeg.
In 1913 daughter Rosmaond married Cecil Holman SHANNON in Winnipeg, son of Mary Sophia HOLMAN and Louis Winfield SHANNON (1860-1903).
World War I
1914-1918
On Aug 4, 1914 Great Britain (Canada on Aug 5) declared war on Germany and Austria-Hungary to uphold treaties with France and Belgium which were under German attack. This marked the beginning of World War I.
On Jan 5, 1915 son Oril Gedeon enlisted in Winnipeg. At that time he was living at 119 Munro St. in St James with his parents.
Census of 1916 in St James (119 Munro): Louis Gedeon GAGNON, Accountant, Provincial Jail), age 55; wife Jane, age 52. Children: Dallas(age 31), Oril Gedeon (29), Eva (27), Cora (25), Esmond (24), Rowand (20), Camille (12) and Claire (age 10).
Jane and Louis GAGNON both die in St James
1916-1917
On Oct 6, 1916 Jane Dallas (nee McKAY) GAGNON died, and on Jan 24, 1917 Louis Gedeon GAGNON died in St James, age 56.

In 1917  eldest daughter Marie Dallas died in St Boniface at the age of 33.
November 11, 1918, Armistice Day (Remembrance Day) marked the end of the First World War.
In 1921 daughter Rowand married Donald James MOORMAN in Montreal, the son of Sophia DONALD and James Bennetto MOORMAN (1852-1932).
In 1923 daughter Cora married Frank McGAVIN in the RM of Ritchot, the son of Mary Ann and Robert McGAVIN (born 1841 in Scotland).
In 1924 daughter Camillle married Roland Taylor CLARK in Winnipeg, son of Sarah and Bertram James CLARK (born 1867 in Prince Edward Island).
Also in 1924 youngest daughter Marie Claire married Frank Victor GANGE in Winnipeg, He was born Dec, 1899 in Bristol, Gloucestershire, England and died Apr 26, 1963 in Winnipeg.
Comments and queries at this link: FORUM DISCUSSING the LOUIS GAGNON FAMILY
========================== Family Details ==========================
Children:
1. Oct 29, 1882 MARIE DALLAS GAGNON (Died age 33)
2. Oct 9, 1884 MARIE ROSAMOND BEATRIX GAGNON (m. Cecil Holman SHANNON)
3. Feb 27, 1886 GIDEON ORILLE DEMER GAGNON (Died age 39)
4. Dec 26, 1887 MARIE EVA MABEL GAGNON
5. Apr 10, 1889 MARIA CORA ALEXANDRIA GAGNON (m. Francis Herbert (Frank) McGAVIN)
6. Mar 9, 1891 MARIE LOUISE DESMOND GAGNON (Died age 33)
7. Aug 24, 1895 MARIE MARGUERITE ROWAND GAGNON (m. Donald James MOORMAN)
8. Sep 15, 1897 MARIE JEANNE GAGNON  (Died in infancy)
9. May 9, 1899 JAMES LOUIS PHILLIPE GAGNON (Died in infancy)
10. Jul 6, 1901 MATILDA LOUISE GAGNON (Died in infancy)
11. 1903 CAMILLE GAGNON (m. Roland Taylor CLARK)
12. Dec 10, 1904 MARY CLAIRE GERALDINE GAGNON (m. Frederick Victor GANGE)
13. Jan 31, 1906 LOUIS JOHN GAGNON (Died in infancy)