JAMES McKAY (1797-1887)
MARGUERITE GLADU (1800-?)
(Last Updated: April 28, 2015)
James McKAY was born around 1797 in Farr, Scotland, son of Elizabeth and Angus McKAY (b-1780).
Saskatchewan River District
Around 1815 James was hired by the Hudson's Bay Company (HBC), and from 1818 to 1833 he was a voyageur (canoe middleman and steersman) out of Edmonton in the Saskatchewan River District.
Union of the North West Company with the Hudson's Bay Company
1821
In 1821 the union of the North West Company (NWC) and the Hudson's Bay Company (HBC) occurred, ending the years of bitter rivalry for dominance of the fur trade in Western Canada. George SIMPSON (1786-1860) became the Governor of Rupert's Land.
James and Marguerite GLADU
1826
By about 1826 James was in a connubial relationship with Marguerite GLADU, the daughter Charles GLADU, a French Canadian born about 1776 in Quebec. ** Note: It is uncertain who Marguerite's mother was.  In 1878 her son, the Hon. James McKAY, filed an affidavit regarding his mother Margaret in which he indicates that she was Mary McDONALD, an Indian woman. Other sources differ and conflict regarding Margaret's mother.
In 1827 son James Jr. was born at Edmonton House, followed by son John in 1831, and son George in 1833.
With George BACK on his Arctic Expedition
1833-34
In the summer of 1833 James was with George BACK (1796-1878) on his Arctic expedition, in the capacity of a steersman, guide and fisherman. From Fort Resolution they set out to search for the Thlew-ee-choh (Back River) and located it on August 29. They then returned to the expedition's wintering station at Fort Reliance, at the eastern end of Great Slave Lake.
** MORE ABOUT GEORGE BACK in DCBO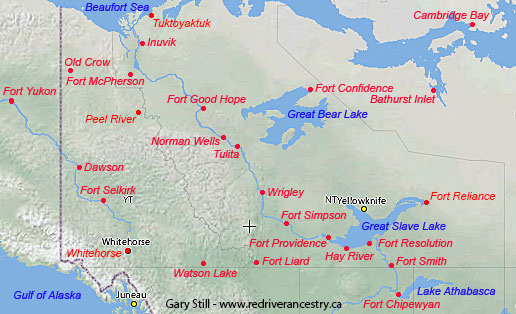 The Back River is located southeast of Great Bear Lake and north of Great Slave Lake.
From 1834 to 1836 James was back at Edmonton, again as a steersman and guide in along the Saskatchewan River. Son Angus was born there in 1835.
Arctic Discovery Expedition
1836-39
From 1836 to 1839 Peter Warren DEASE (1788-1863) and Thomas SIMPSON (1808-1840), Governor George SIMPSON's cousin, explored the coast of the Arctic Ocean in Canada and Alaska from the mouth of the Mackenzie River to Point Barrow.  They also mapped the southern shores of Victoria and King William islands.  James McKAY accompanied them as a guide.
Retired to Red River
1840
In 1840 James was retired to Red River. At that time his children would have been James Jr.(age 13), John(9), George (7) and Angus (age 5). These children became students at the Red River Academy (St Johns School) which was managed by headmaster and teacher John MACALLUM (1806-1849).
** MORE ABOUT JOHN MACALLUM and the RED RIVER ACADEMY in DCBO
In 1859 eldest son James Jr. married Margaret ROWAND, daughter of Louise HUMPHREYVILLE John ROWAND (1787-1854). ** MORE ABOUT JOHN ROWAND
Canadian Confederation
A Red River Rebellion
Manitoba becomes a Province
1867-1870
On July 1, 1867 the British colonies in North America were united under the British North American Act to become the Dominion of Canada.  Sir John A MACDONALD (1815-1891) was appointed as Canada's first Prime Minister. William McDOUGALL (1822-1905) became the Minister of Public Works, and he began negotiations to acquire Rupert's Land from the HBC; surveyors were sent to Red River to prepare the way for an expected influx of settlers.
In 1868 son James Jr. was appointed a member of the Council of Assiniboia and president of the Whitehorse Plains District Court.
On Oct 11, 1869, Louis RIEL (1844-1885) placed his foot on the surveyors' chain to tell them their work was finished! This marked the beginning of the historic Red River Métis Rebellion.
On July 15, 1870 the Rebellion ended when RIEL's Provisional Government accepted the terms of the Manitoba Act and Manitoba became the fifth province of Canada.
In 1870 youngest son Angus married Virginia ROLETTE in Red River, the daughter of Angelique JEROME and Joseph ROLETTE (1820-1871).
Census of 1870 in Poplar Point (Red River):James McKAY (age 70) and his wife Margaret (age 63).

By about 1870 son George had married Sarah TAIT, daughter of Mary AULD & William TAIT (1790-1872), an HBC voyageur from the Orkneys.
Around 1873 James' son, the Reverend John McKAY, married Christina McBEATH in Kildonan, the daughter of Mary McLEAN and Robert McBEATH (1808-1886) who came to Red River with the Selkirk Settlers in 1815. John became one of the first Presbyterian missionaries to the Indians in what was then the Northwest Territories (The Mistawasis Reserve, southwest of Prince Albert, SK).
On Dec 28, 1887 James McKAY died at the home of his son, Reverend John McKAY, on the Mistawasis Reserve in Saskatchewan.
Comments and queries at this link: FORUM DISCUSSING the JAMES McKAY FAMILY
=========================== Family Details ===========================
Children:
1. Feb 5, 1827 JAMES McKAY (m. Margaret ROWAND)
2.  March, 1831 JOHN McKAY (m. Christina McBEATH)
3. 1833 GEORGE McKAY (m. Sarah TAIT)
4. Nov 1, 1835 ANGUS McKAY (m. Virginia ROLETTE)