JAMES GERROND (1860-1937)
MARY JANE MONKMAN (1871-?)
DORA MARTHA LAWRENCE (1883-1940)
(Last Updated: November 15, 2016)
On May 18, 1860 James GERROND was born in Goderich, Huron County (Ontario), son of Isabella RIEKIE and William GERROND (1827-1912), a school teacher who emigrated from Scotland around 1848.
Canadian Confederation
1867
On July 1, 1867 the British colonies in North America were united under the British North American Act to become the Dominion of Canada. Sir John A MACDONALD (1815-1891) was appointed as Canada's first Prime Minister.
Red Deer Hill District of Saskatchewan
1880's
Sometime in the 1880's the GERROND family moved from Ontario to the Red Deer Hill District of Saskatchewan.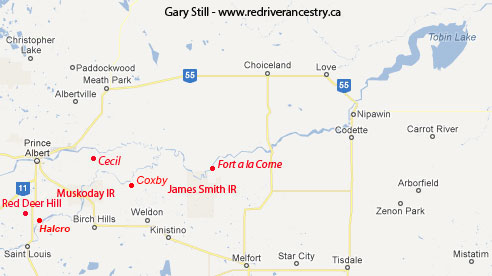 The Halcro Settlement is located to the southeast of Red Deer Hill
Marriage to Mary Jane MONKMAN
1887
Around 1887 James was married to Mary Jane MONKMAN, daughter of Margaret HALCRO and James DUCHARME aka MONKMAN b-1843. ** MORE ABOUT JAMES DUCHARME aka MONKMAN

Census of 189 1in the Red Deer Hill district: James JERROND (GERROND), age 29; wife Mary, age 21; and son John (age 2).

Census of 1901 in Prince Albert East: James GERROND, widowed Drayman, age 40 (born May 18, 1860 in ON). He's a lodger in the household of Mary E and Thomas MURTON, age 21 (born Jun 4, 1879 in England; immigrated 1888).
** This record indicates that James is widowed, conflicting with some sources that indicate his wife, May Jane, didn't die until 1908. Need help on this one.
On Nov 18, 1908 Mary Jane (nee MONKMAN) GERROND died in Portage la Prairie, MB.
Marriage to Dora Martha LAWRENCE
1909
Around 1909 James GERROND re-married to Dora Martha LAWRENCE in Saskatchewan. Dora was born about 1883 in Germany and came to Canada in 1896 at the age of 13.

Census of 1916 in the Prince Albert District (45-26-W2): James GERROND; wife Dora, age 30. Children: Allen (age 6), Ruby (5) and Margaret (age 2). ** This township is located a few miles east of St Louis which is shown on the map above.
Census of 1921 in the Prince Albert District (45-26-W2):  James GERRAND, farmer, age 56; wife Dora, age 38. Children: Allen (age 10), Ruby (8), Margaret (6) and Nora Cathleen (age 1). Sister: Annie Elizabeth GERRAND, age 64 (born 1857 in Ontario). Aunt: Jessie GERRAND, age 88 (born 1833 in Scotland; immigrated 1860). Niece: Alice GERRAND, age 38 (born 1883 in ON).

On Feb 27, 1937 James GERROND died in Prince Albert, Saskatchewan.

On Dec 11, 1940 Dora Martha (nee LAWRENCE) GERROND died. She was buried in St Andrews Cemetery in Prince Albert.
Daughter Margaret married John George CROMARTY, son of Elizabeth BOSWELL-BIRD and John Robert CROMARTY b-1870.
Temporary Image for GlengarryBarbara:

Comments and queries at this link: FORUM DISCUSSING the JAMES GERROND FAMILY
========================== Family Details ==========================
Children with Mary Jane MONKMAN
1. Dec 23, 1888 JOHN GERROND (m. Dora IRVINE)
2. Nov 2, 1892 MABEL ISABELLA GERROND (Died in infancy)
Children with Dora LAWRENCE:
1. 1910 ALLAN WILLIAM GERROND (m. BREMNER)
2. 1912 RUBY GERROND
3. Mar 17, 1914 MARGARET GERROND (m. John George CROMARTY)
4. 1920 NORA CATHLEEN GERROND