JOHN GERROND (1888-1959)
DORA IRVINE (1890-1959)
(Last Updated: June 19, 2015)
On Dec 23, 1888 John GERROND was born in Prince Albert, Saskatchewan, the son of Mary Jane MONKMAN and James GERROND (1800-1937). ** MORE ABOUT JAMES GERROND
** Inspiration to develop a series of Family Pages for John Gerrond and his ancestors came from John's granddaughter Barbara Petepiece who made a donation and is sharing her excellent research and pictures of these families.. See her comments under the various related Forum Topics.
In 1893 when John was only about five years old, his mother (Mary Jane nee MONKMAN) died. John and his father were taken in by his widowed grandfather, William GERROND (1827-1912), a schoolteacher who was born in Scotland, then living in Halcro, Saskatchewan.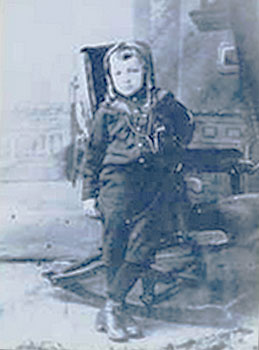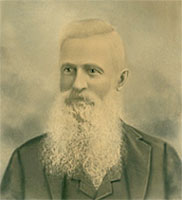 Barbara, Left: My grandfather (John) as a young boy, still in short pants and long ringlets
Right: John's grandfather, William Gerrond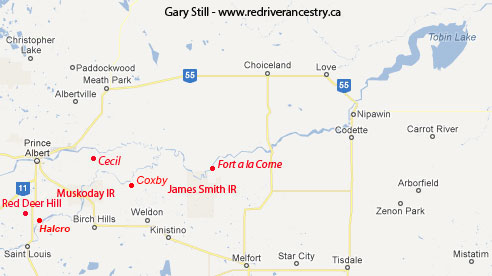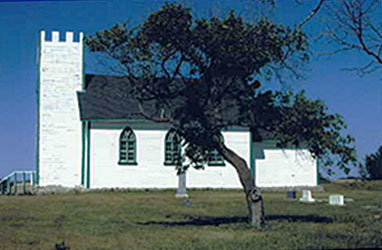 St Andrews (Halcro) Anglican Church. The original log church built in 1878
Census of 1901: John (age 12) with his 73 year old grandfather William GERROND in Halcro.
In 1909 John's father re-married to Dora LAWRENCE from Germany.
Marriage to Dora IRVINE
1911
On Oct 19, 1911 John married Dora IRVINE in Prince Albert, daughter of Margaret PRITCHARD and William IRVINE (1843-1918). ** MORE ABOUT WILLIAM IRVINE
On Dec 22, 1912 Grandpa William GERROND died in Red Deer Hill.
Census of 1916: in the Halcro area (45-26-W2): John GERROND, age 26; wife Dora, age 23. Children: Mona (age 5), Phyllis (3) and Jessie (age 1). Brother: William GERROND, age 62. Sister: Annie GERROND, age 60. Aunt: Jessie GERROND, age 81.
Saskatoon, Saskatchewan
1921
Census of 1921 in Saskatoon, Saskatchewan: John GERRAND, Clerk in Singer Sewing Shop): Children: Mona (age 8) Phyllis (6), Jessie (5) and Stanley (age 3).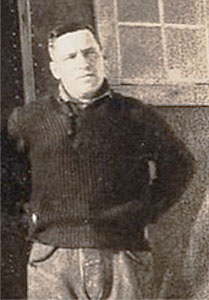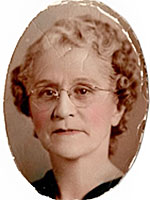 Left: John Gerrond about 1934. Right: Dora (Irvine) Gerrond
Kingston - Rockport, Ontario
1936
Barbara: It was probably around 1936 that the GERROND family moved to Kingston, Ontario. My mother first went to high school in Toronto. - - My grandfather (John GERROND) found he could no longer adequately support his family in Saskatchewan during the years of the Great Depression, and he found work in road and highway construction in Ontario. Sometime before the war, they and some of their eight children moved closer to the Kingston Ontario area, and lived for a time near Rockport (the Thousand Islands area of the St. Lawrence River; northeast of Toronto).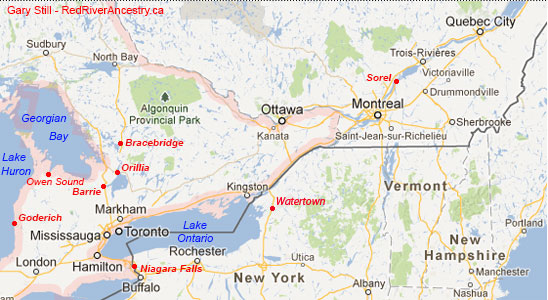 In the mid to late 1930's daughter Jessie married Olaf Andreas JENSEN (born Mar 4, 1898 in Norway).
World War II
1939-1945
On Sept 4, 1939 Canada and Britain declared war on Germany.
Son Irvine James "Jimmie" was a tail-gunner in a RCAF Lancaster Bomber, stationed in England during WWII. His brother Stanley (Buddy) was also in the RCAF, a mechanic stationed at the same base.
In 1941 daughter Phyllis married John HUTALO in Long Lac, ON. He was born 1910 in Finland.
In 1942 eldest daughter Mona married Richard Gordon CLARKE, son of Agnes and Latham Ernest CLARK (b-1878).
In 1943 daughter Olive married William Chesley BLANCHARD in Kingston (Barbara's parents).
On May 7, 1945 Germany surrendered and the War in Europe ended; the next day, May 8, is declared VE Day.
Barbara: After the war, John and Dora were able to buy a home in Kingston on North Alfred Street, a new war-time housing development, which is the home I remember visiting during my grandparents' lifetime.
In 1945 son Irvine James married Mary MACDONALD in Kingston.
In 1952 youngest son Douglas married Elaine Isobel FREEMAN in Kingston.
On July 10, 1959 Dora (nee IRVINE) GERROND died in Kingston, Ontatio.

On Oct 16, 1959 John GERROND died in Kingston.
Comments and queries at this link: FORUM DISCUSSING THE JOHN GERROND FAMILY
========================== Family Details ==========================
Children:
1. Nov 16, 1912 ELSIE MONA GERROND (m. Richard Gordon CLARKE)
2. Jun 20, 1914 PHYLLIS NORMA GERROND (m1. Victor Henry HARRISON; m2. John HUTALO)
3. Jul 13, 1915 JESSIE MARGARET GERROND (m. Olaf Andreas JENSEN)
4. Dec 20, 1917 WILLIAM STANLEY (BUDDY) GERROND
5. Dec 29, 1918 NAOMI FLORENCE GERROND (Died in infancy)
6. Jan 29, 1922 OLIVE JACQUELINE (JACIE) GERROND (m. William Chesley BLANCHARD)
7. Jun 18, 1924 IRVINE JAMES GERROND (m. Mary MACDONALD)
8. Dec 27, 1927 DOUGLAS KEITH GERROND (m. Elaine Isobel FREEMAN)